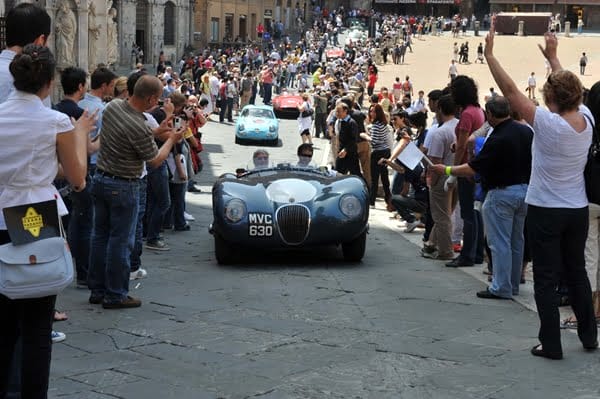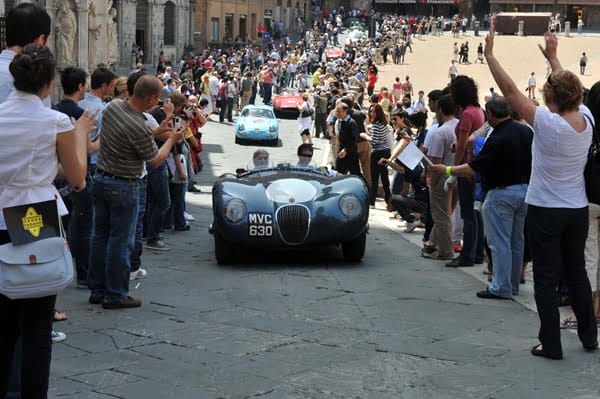 Jaguar is once again a key sponsor of, and due to compete in, the classic Mille Miglia revival event – a stern test of drivers and machinery taking in some of the most challenging and beautiful roads in Italy. Fittingly, six officially-entered examples of Jaguar's most elegant models from the past will be competing, among them a C- and D-type as well as an XK120, supported by Jaguar Cars and the Jaguar Heritage Trust.
Jaguar's participation in the 2011 Mille Miglia builds on a long connection with the race. Back in 1950, the company fielded a four-strong team of XK120s, and a young Stirling Moss took the wheel of a works car the following year.
"The Mille Miglia is one of the world's premier driving events, and one where Jaguar has always felt very much at home," said Adrian Hallmark, Global Brand Director, Jaguar Cars. 'I'm honoured to be taking part this year and am looking forward to taking the start in a C-type with a mix of trepidation and excitement. I'm sure it will be a very special moment,' he added.
In the 1950s heyday of the event, the XK120 and XK140s were a regular sight and C-types and even a D-type also competed. In fact, the very first disc brakes were fitted to the C-Type raced by Stirling Moss and Norman Dewis in the 1952 Mille Miglia. Italian race officials were mystified by the new technology and demanded a demonstration to prove it was a brake and not some illegal addition.
The 2011 Mille Miglia takes place over a 1,000km course starting from Brescia in northern Italy, mirroring the classic event which became synonymous with legendary displays of driving skill and bravery between 1927 and 1957.
The current retrospective format offers an ideal opportunity to showcase some of Jaguar's most famous vehicles where they belong: competing with other classic sports cars on the open road.
Supporting the cars from Jaguar's past are models firmly rooted in the present with an example of the current XJ following each car, providing comfortable and spacious transport for the engineers charged with maintaining the Jaguar heritage vehicles.
This year's Mille Miglia starts on May 12 from Piazza della Loggia, Brescia. The 375 cars (built between 1927 and 1957) were selected from among 1,400 requests. They will cross the picturesque historic centers of approximately 147 towns including Modena, Bologna, Spoleto, Siena, Florence, and Rome, to then return to Brescia on May 14.