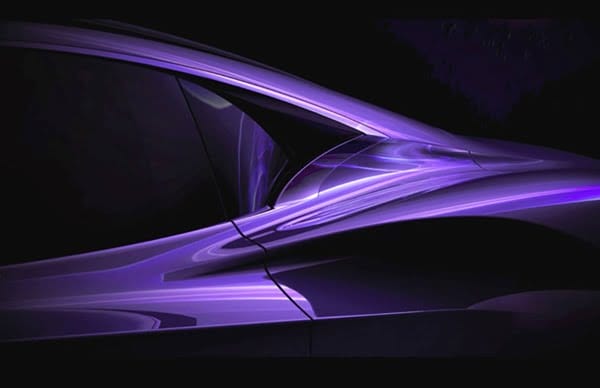 Development of Infiniti's advanced sports car concept, due for global reveal at the 2012 Geneva Motor Show, continues apace. Lightweight with the offer of low emissions, the sports car concept will be the first Infiniti to have not only a range-extender drivetrain but also one mounted in a mid-ship package for optimal weight distribution and therefore handling.
Infiniti already enjoys a lead in high performance, low emission technologies with its Infiniti M Hybrid. But the purpose of the Geneva concept is to explore what might be the next stage in how to deliver a vivid, engaging and sophisticated driving experience from an electrically-propelled vehicle. The mid-ship mechanical layout could be a vital ingredient.
The as yet unnamed car will minimize the traditional compromise between thrilling performance and sustainable mobility. Its style, content and mid-ship package are all new to Infiniti, although the character of this striking, sports car concept remain absolutely true to the brand, as does the direction of its innovative electric vehicle engineering which is to combine extreme, low emission open-road performance with zero emission operation in urban situations.
The Geneva show wll reveal
Range extended electric sports car concept combines low emission, high performance on the open-road with zero emission urban mobility
Mid-ship layout for optimal weight distribution, at the same time facilitating a change in vocabulary for Infiniti's design language
2nd video released giving more behind-the-scenes information, this time from Francois Bacon, Infiniti's Divisional General Manager for Advanced Product Planning
Further news of this exciting project will be released at its world premiere at the 2012 Geneva Motor Show.