Haven't heard of Infiniti? Infiniti is a performance luxury car maker from Japan which, under the Nissan-Renault alliance, has achieved success in the European, US and Asian markets since its launch in 1989. Since its re-entry into the Australian market in late 2012, Infiniti has been slowly garnering the attention of many luxury car enthusiasts.
Infiniti has a tough gig though. Its price range puts their range in direct competition with the likes of the Jaguar XF, Audi A6, BMW 5 Series and Lexus GS as well as the base models of the Mercedes-Benz E-Class range. However, strip away the reputation and branding of these cars, and the Infiniti M fits in effortlessly. Recently we had the opportunity to test the M37 and M30d and not only was I pleasantly surprised, they both surpassed any expectations.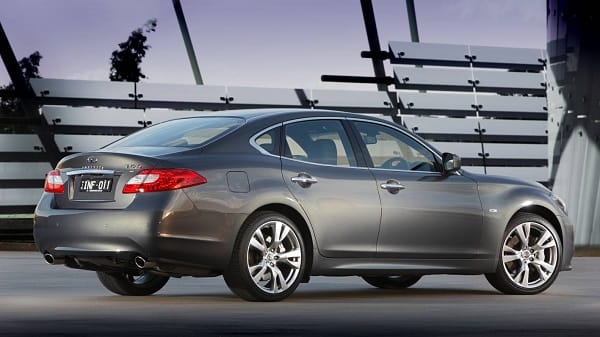 The M37 is powered by a petrol V6 engine producing 235kW of power @ 7,000 rpm and 360Nm of torque @ 5,200 rpm. The M30d is powered by a diesel V6 engine producing 175kW of power @ 3,750 rpm and 550Nm of torque @ 1,750 rpm. Both are equipped with a 7 speed automatic transmission with manual mode. The driver-adaptive learning algorithm senses your driving style and adjusts the automatic shifts accordingly resulting in an effortlessly smooth and responsive driving experience.
While both provide a wonderful driving experience, the diesel stands out for its lower fuel consumption, 7.5L/100km compared to 10.2L/100km, and significantly lower CO¬2 emissions for those who are environmentally conscious, 199g/km compared to 235g/km. The M37 however benefits from slightly more boot space.
Now to the feature that captures the attention of any prospective buyer – the exterior styling. Infiniti has created an incredibly attractive and appealing exterior with fluidic lines, prominent nose and distinctive grille. Both the M37 and M30d boast 18" alloy wheels, Bi-Xenon front lights with auto levelling and dusk sensors, chrome handles & grille, tilting side mirrors while reversing, dual exhaust, Follow-me-Home headlights and double glazed windows. The elegant and curvaceous design also provides the M class with some of the best aerodynamics on the market.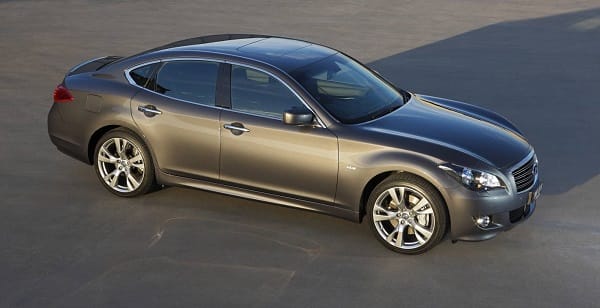 Certainly the most impressive detail about the M37 and M30d is the long list of features included as standard. Infiniti recognises the challenge of luring buyers away from the established brands and has equipped the M range with plenty of 'must-have' features and even some unique ones. Perhaps the only thing missing here is a heads up display.
The Active Noise Control system works similar to the noise cancelling headphones popular in the market today. The speakers actually emit white noise aimed at cancelling out some of the unpleasant road noises. I would have to say it works rather well as the cabin noise was very minimal. One of the unique features from Infiniti is its 'Forest Air' system. An advanced climate control system that neutralises odours and cleanses and purifies the interior air to remove any bacteria and potential allergens.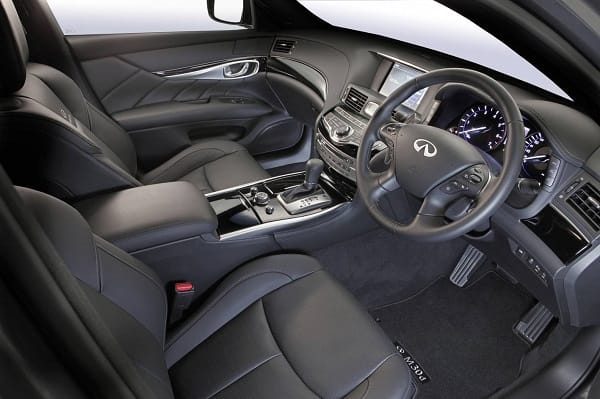 The Drive Mode Selector is an integrated vehicle control system that allows you to configure the Infiniti M's engine and transmission mapping to one of four modes (Normal, Sport, Snow or Eco) with the turn of a switch – so that you can refine the M's driving character according to your situation or preference.
The satellite navigation system is easy to use and there is of course a reversing camera with parking sensors. Both the M37 and M30d are equipped with Bluetooth for phone and audio, benefit from I-Key technology with remote keyless entry and a 6 speaker audio system with 10GB Music Box, USB, MP3 and AUX. I however would recommend upgrading to the S option pack purely to benefit from the 16 speaker BOSE system with studio surround sound. The S option pack also gives you 20" alloy wheels.
Of great surprise and importance is the angle of the centre dash controls. They are tilted perfectly for the driver to be able to see, read and use without having to take your eyes off the road. While this may seem inconsequential to most, I guarantee once you experience this, you will sorely miss it in any other car!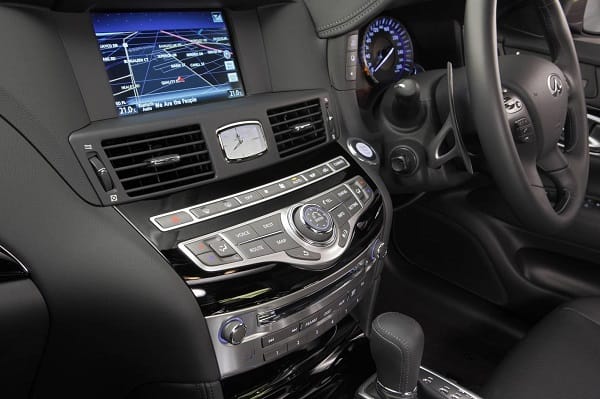 Back to the entry level (which is anything but standard), all occupants travel in comfort. The front seats are both 10-way adjustable with lumbar supports and benefit from heating and cooling. The rear seats provide support and comfort for two adults. The 2-driver memory positions not only store seat position but steering wheel, exterior mirrors & climate control preferences.
As to be expected, the Infiniti M range ensures safety is optimum for all occupants. All models are equipped with 6 airbags (front driver and passenger airbags, front hip-thorax side airbags and front-to-rear curtain airbags), rain sensor and light sensor with auto hazard, auto dimming rear view mirror, cruise control and Tyre Pressure Monitoring System (TPMS) with display. On the S option pack buyers benefit from the Dynamic Safety Shield Package with Blind Spot Intervention™ (BSI), Blind Spot Warning (BSW), Distance Control Assist (DCA), Forward Collision Warning (FCW), Lane Departure Prevention (LDP), Lane Departure Warning (LDW) and Low Speed Following (LSF) just to name a few features on the jam-packed list.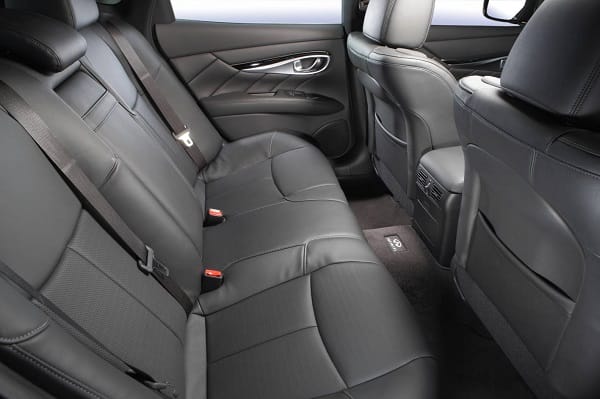 The Infiniti M37 and M30d both provide excellent value for money and are easily comparable with its more established competitors. Equipped with unique features, an enticing exterior and an effortless drive, the Infiniti M range is certainly one to be considered.
Price: (drive away for postcode 2000)
| | |
| --- | --- |
| M37 | $84,811 |
| M37 S | $95,312 |
| M30d | $86,911 |
| M30d S | $97,411 |