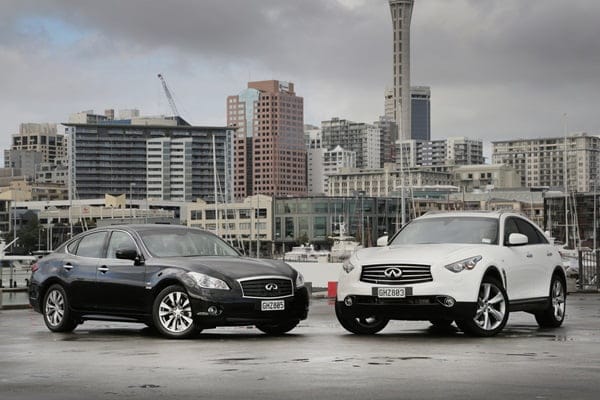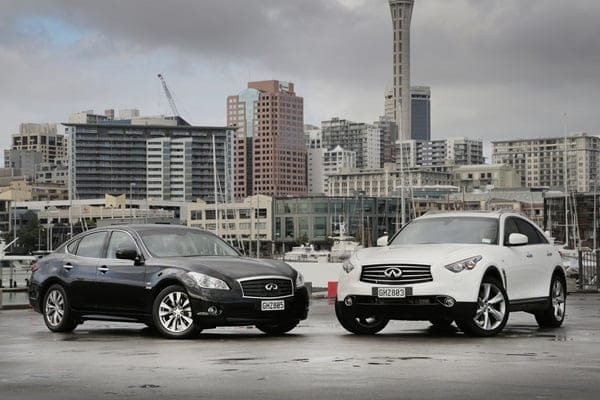 Infiniti Cars Australia has announced local prices and equipment for its first two Australian market entry models, the Infiniti FX performance crossover and the Infiniti M sedan, both of which go on sale later next month.
Today's price and equipment announcement reveals another highly anticipated piece of Infiniti's local plan. The performance luxury car maker from Japan has received an unexpected number of enquiries from prospective customers and has therefore elected to reveal these details, which the company says have been tailored according to extensive local market research.
"Infiniti knows Australian luxury car buyers want three fundamental things when they select a luxury car," Kevin Snell, General Manager of Infiniti Cars Australia said. "They want an engaging brand that reflects their values; they want a dynamic car that is exciting to drive; and they want service that matches both the luxury nature of their chosen brand and the scale of their purchase.
"Infiniti's Australian model range, equipment levels and prices have been developed with these three facts front of mind and they all deliver according to Infiniti's brand trademarks of performance, luxury and technology."
Infiniti has taken a bottom-up approach to developing its local pricing and equipment model. Rather than choose the simple road of adding features to makes its standard equipment lists look longer compared to other market offerings, the company has instead taken direction from local customers.
"Luxury car buyers expect value so my team and I listened carefully before finalising Infiniti's Australian prices and equipment packages," Snell said, emphasising Infiniti has taken a different road. "We have sought to make the equipment and prices for each of our cars transparent and simple to understand so our customers will enjoy a better purchase and ownership experience with us."
Infiniti's generous Australian product and service equation includes a four-year/100,000km new car warranty. Partnering this will be a matching four-year, 24-hour roadside assistance program that even includes roadside help for any Infiniti customer's non-Infiniti car.
"Our target has been to offer Australian luxury car customers exciting vehicles and personalised service that matches their needs and desires," Snell said. "After all, luxury should be special."
Infiniti: Australian model range
Infiniti will release two models when it commences sales later next month. Their details follow.
Infiniti FX performance crossover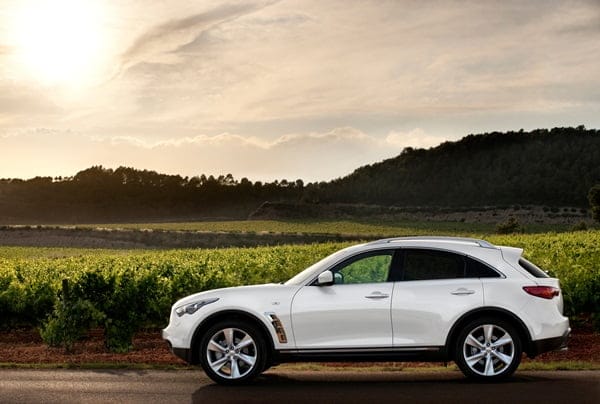 Overview
The FX is a radical expression of sport and utility, combining exceptional levels of power, refinement and driving exhilaration with head-turning styling. Its advanced sports platform is matched to a choice of three V6 and V8 engines. All are fitted with a smooth-shifting seven-speed automatic transmission that features Adaptive Shift Control (ASC), Downshift Rev Matching (DRM) and magnesium paddle shifters. Directing drive is the FX's Intelligent All-wheel Drive system which automatically determines the amount of drive between the front and rear wheels, sending as much as 50 per cent to the front in certain driving conditions. Drive is directed predominantly to the FX's rear wheels, contributing to its sports car-like handling.
The Infiniti FX range has been specified with a rich standard equipment list. Stunning 20-inch alloy wheels, a 30GB HDD navigation system, Bose® 11-speaker sound system, Rear-view Camera, adaptive Xenon headlamps and Tyre Pressure Monitoring System are only some of the many features included as standard.
A rich array of technological features are available in the Infiniti FX S and S Premium range, covering safety, such as Lane Departure Prevention, Around View Monitor and a Forward Collision Warning system; comfort, as with Active Damping Control; and performance, such as Rear Active Steer.
The Infiniti FX performance crossover at a glance:
ENGINE POWER TORQUE TRANS. FUEL CONS. CO2
FX37 3.7l petrol V6 235kW 360Nm 7-sp. Auto 12.1l/100km 282g/km
FX30d 3.0l turbo-diesel V6 175kW 550Nm 7-sp. Auto 9.0l/100km 238g/km
FX50 5.0l petrol V8 287kW 500Nm 7-sp. Auto 13.1l/100km 307g/km
Infiniti M sedan
The Infiniti M sedan embraces the essence of all things Infiniti – style, performance, luxury, craftsmanship and technology. It's a driver's car for those who want luxury that feels special and exclusive. When the Infiniti M goes on sale next month, Australian customers will have the choice of three V6 engines. Like the FX, all are fitted with a seven-speed automatic transmission featuring Adaptive Shift Control (ASC) and Downshift Rev Matching (DRM).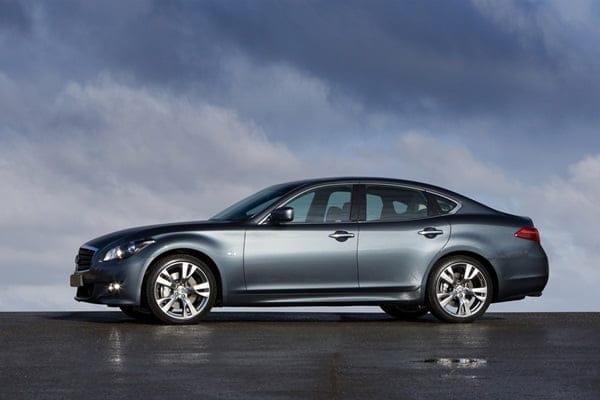 Underpinning the Infiniti M's dynamic cornering abilities is a front mid-ship platform that uses rear-wheel drive and positions the engine towards the rear of the engine compartment for improved handling.
Demonstrating Infiniti's different approach to hybrid technology is the petrol-electric-powered Infiniti M35h, which uses Infiniti's Direct Response Hybrid technology to deliver a 0-100km/h time of 5.5 seconds. Its performance even gives it a place in the Guinness Book of World Records. The M35h's single electric motor uses two clutches to transition seamlessly between petrol and electric power, delivering the kind of acceleration that makes this a true driver's car.
Technologically, the Infiniti M is a stand-out. In superior grades, available to Australian customers will be features such as Distance Control Assist, Blind Spot Warning, Blind Spot intervention, and a Bose® Studio Surround premium sound system featuring the company's AudioPilot® 2.0 Noise Compensation designed to enhance the Infiniti M's cabin comfort. It's the same technology behind Bose's famed noise-cancelling headphones.
The Infiniti M sedan at a glance:
ENGINE POWER TORQUE TRANS. FUEL CONS. CO2
M37 3.7l petrol V6 235kW 360Nm 7-sp. Auto 10.2l/100km 235g/km
M30d 3.0l turbo-diesel V6 175kW 550Nm 7-sp. Auto 7.5l/100km 199g/km
M35h 3.5l petrol V6 hybrid 268kW 350Nm+270Nm 7-sp. Auto 6.9l/100km 159g/km
Future Infiniti models
Two additional models – the Infiniti G coupé and matching G convertible – will join the Australian range from December. Further details about these two exciting models will be issued closer to their date of release. Even more exciting models are scheduled to be added from next year.
Model grades and factory-fitted optional equipment
Several model grades will be available for both the Infiniti FX performance crossover and the Infiniti M sedan. In ascending order, they are:
• GT (standard specification)
• GT Premium (M35h only)
• S
• S Premium
The entry point for all Infiniti FX and Infiniti M models is the GT specification. GT Premium is standard fitment to the Infiniti M35h hybrid. S, and S Premium grades are separate equipment packages a customer can choose should they wish to add more equipment beyond the GT specification. The attached PDF documents detail the standard equipment fitted to both the Infiniti FX crossover and the Infiniti M sedan and they list the features that comprise each of the various grades.
Metallic paint is the only factory-fitted option that will be individually available.
Australian pricing details
Below are the Australian manufacturer's recommended retail prices for the Infiniti FX crossover and Infiniti M sedan. These prices include GST and LCT, but do not include dealer delivery charges or any other state based statutory charges. For a list of all standard equipment inclusions for each model, please click on the accompanying PDF documents.
Infiniti FX performance crossover
GT S S Premium
Infiniti FX37 $83,900* $92,900* $95,900*
Infiniti FX30d $85,900* $94,900* $97,900*
Infiniti FX50 – – $114,900*
*Recommended retail price for vehicle only. Excludes dealer delivery fees and statutory charges. Metallic paint $1,500 extra.
Infiniti M sedan
*Recommended retail price for vehicle only. Excludes dealer delivery fees and statutory charges. Metallic paint $1,500 extra.
Infiniti M sedan
GT GT Premium S Premium
Infiniti M37 $85,900* – $97,900*
Infiniti M30d $87,900* – $99,900*
Infiniti M35h – $99,900* –
*Recommended retail price for vehicle only. Excludes dealer delivery, fees and statutory charges. Metallic paint $1,500 extra.
Infiniti New Vehicle Warranty and Roadside Assistance
Australian-delivered Infiniti cars will enjoy a comprehensive four-year/100,000 kilometre new vehicle warranty. Partnering this will be a roadside assistance support package rich in service features, including provisions for accommodation, accident coordination and alternate vehicle supply in particular situations. The extensive program will even provide roadside assistance for an Infiniti customer's other car, even if it's not an Infiniti. What's more, it will even extend to Infiniti owners who break down when driving a car they don't even own.