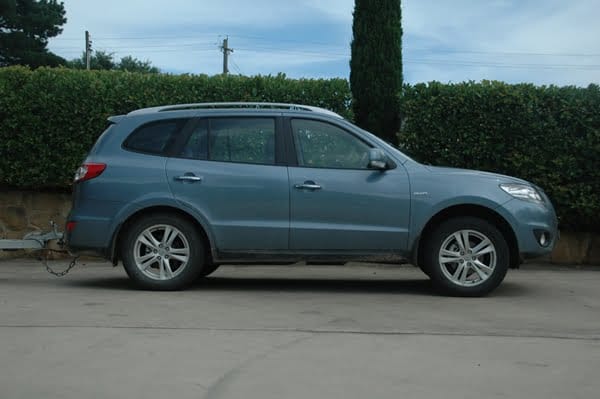 Benny is our long term tester, a Hyundai Santa Fe, and over the past month I have had the chance to take him out and go for a drive.
The reality of the situation is, many teenagers who get their p-plates don't have enough money to buy a car straight away and get stuck with the parents hand-me-downs. Most of these end up being a sort of mid size car. While most of these cars are not the sleekest and most stylish, they do have their benefits. Benny has accompanied me to school, to TAFE, out to parties, on shopping trips and an errands for Dad, so needless to say, I know it's positives and negatives.
Advantages:
1. The Hyundai Santa Fe can comfortable fit seven of my big and loud friends which is a definite plus for fitting in all them to go back for a swim during free periods at school. While the Hyundai may have been designed to cart around a family, it certainly works for taxiing around the friends to parties and school.
2. Benny's sunroof was a big hit with the friends, who were surprised the car could be "cool" enough to have a sunroof to stick their hands out of while dancing to the music.
3. Speaking of music, Hyundai has an AUX input and a USB input, so no matter what MP3 you have or what cord, you can plug it in and blast some tunes on what is a very reasonable speaker system.
4. Leather seats are a luxury that most other friends don't get in their cars and it helps to keep it cleaner and more comfortable.
5. The display screens illuminate blue at night time and it is seriously pretty!
6. Benny is a wonderful unique blue colour that isn't plain and boring and is easy to spot when your friends are walking by.
7. There are multiple storage areas and nooks and crannies to store everyone's phones, navigation systems, keys, sunnies etc.
8. A huge boot space leaves plenty of room for shopping bags and for suitcases for a weekend away with the friends.
9. The diesel engine makes it very economical, so you don't have to pay much to top it up when the parents complain you've been driving too much!
Disadvantages:
1. It may be a wonderful colour, but lets be honest, the Hyundai Santa Fe is no hotted up sports car that every p-plater dreams of. In fact, my guy friends, have started reffering to me as "Soccer Mum" whenever I'm driving Benny!
2. Since it is a medium all-wheel drive SUV, it is a little higher off the ground than most other cars that are options for p-platers, which makes it a little difficult to climb up into in high heels and short skirts for parties.
3. Due to Benny's big size, he isn't the easiest and quickest around corners or taking off at the lights or hill.
4. The Hyundai's design inside isn't tailored to the younger Generation Y market, therefore it is rather basic and doesn't have very many cool gadgets to entertain yourself with.
5. While diesel may be economical, it certainly isn't quiet or stealth. Benny doesn't purr smoothly, his engine roars.
When the only option of car to drive is your parents, let me tell you, you can do a lot worse then Benny, the Hyundai Santa Fe. It's unique colour, AUX inputs and huge amount of space, the positives certainly outweigh the negatives in this case. While the boys may call it a 'Soccer Mum' car, as my dad say's "It's better than walking!".