The Hyundai NEXO Fuel Cell Electric Vehicle (FCEV) has arrived – the first hydrogen-powered vehicle certified for sale in Australia.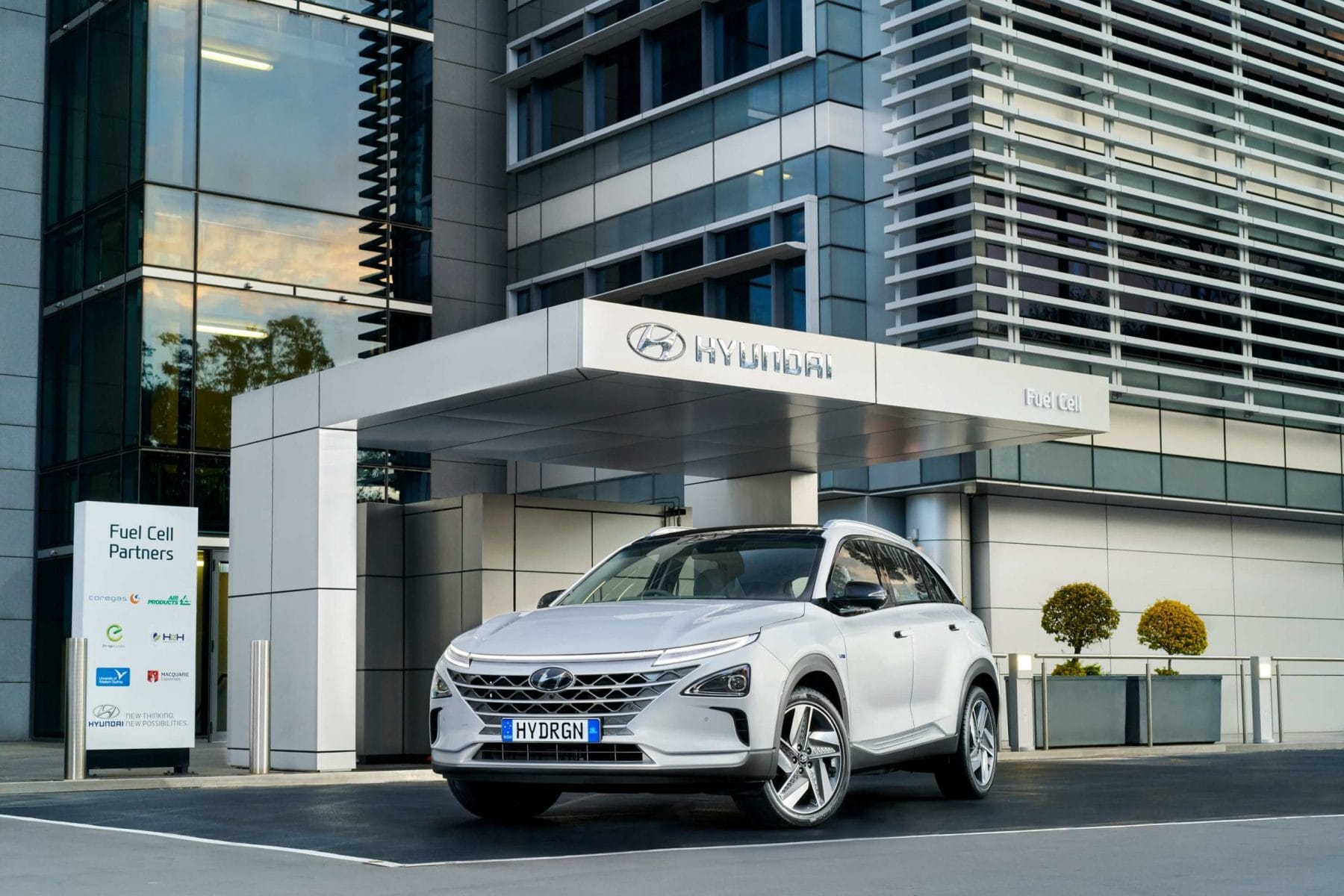 The Hyundai NEXO Fuel Cell Electric Vehicle (FCEV) has arrived – the first hydrogen-powered vehicle certified for sale in Australia
NEXO features a 666km (WLTP) long range, zero-emission Hydrogen Fuel Cell powertrain with spirited 120kW, 395Nm electric motor drive
Convenience, comfort and advanced SmartSenseTM safety technologies standard in a single feature-packed NEXO grade (5-star ANCAP rating)
Available now by special order through Hyundai Motor Company Australia with servicing and maintenance as part of an all-inclusive loan package
Available now by special order for private customers and fleets, the zero-emission NEXO SUV is packed with comfort, convenience and Hyundai-first green technologies, and crowns the Hyundai eco vehicle portfolio.
NEXO's Fuel Cell Electric Vehicle powertrain is the product of more than 20 years of research and development by Hyundai Motor Group.
Designed from the ground up as a production FCEV, NEXO showcases a series of innovations and refinements from Hyundai's first-generation mass-produced hydrogen fuel-cell vehicle, the ix35 FCEV.
The result in NEXO is a comfortable and enjoyable driving experience familiar from Hyundai's conventional vehicle range, with industry-leading hydrogen powertrain technology seamlessly at work.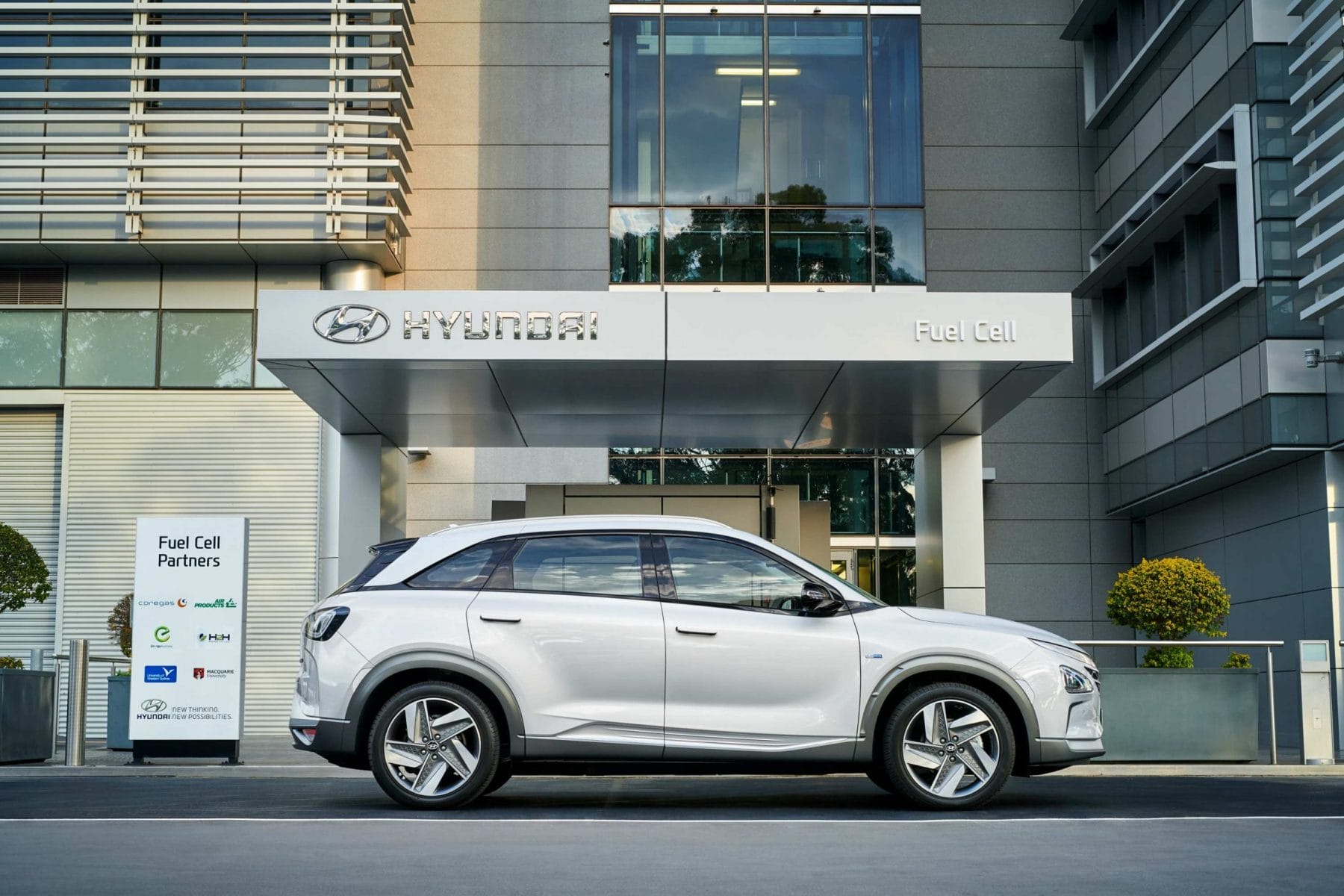 The official arrival of NEXO coincides with the opening of Australia's first public hydrogen refueling station, in Canberra, which provides the fuel for the deployment of the first 20 road-registered NEXO FCEVs as government fleet vehicles for the national capital.
NEXO's arrival on Australian roads is a milestone in Hyundai's eco mobility mission, both locally and globally, and provides a window into Hyundai's continuing position as a green vehicle innovator.
"The arrival of NEXO on Australian roads as an ADR-approved production vehicle is a landmark in Hyundai's ongoing commitment to green mobility and to hydrogen fuel cell electric vehicle technology," Hyundai Motor Company CEO, Jun Heo said.
"The hydrogen NEXO SUV is a cornerstone in the Hyundai portfolio, complementing our hybrid, plug-in hybrid and battery electric vehicles the IONIQ and Kona Electric," he said.
"NEXO is also a sign of things to come, as Hyundai continues in its long-term drive towards leadership in eco-friendly vehicles."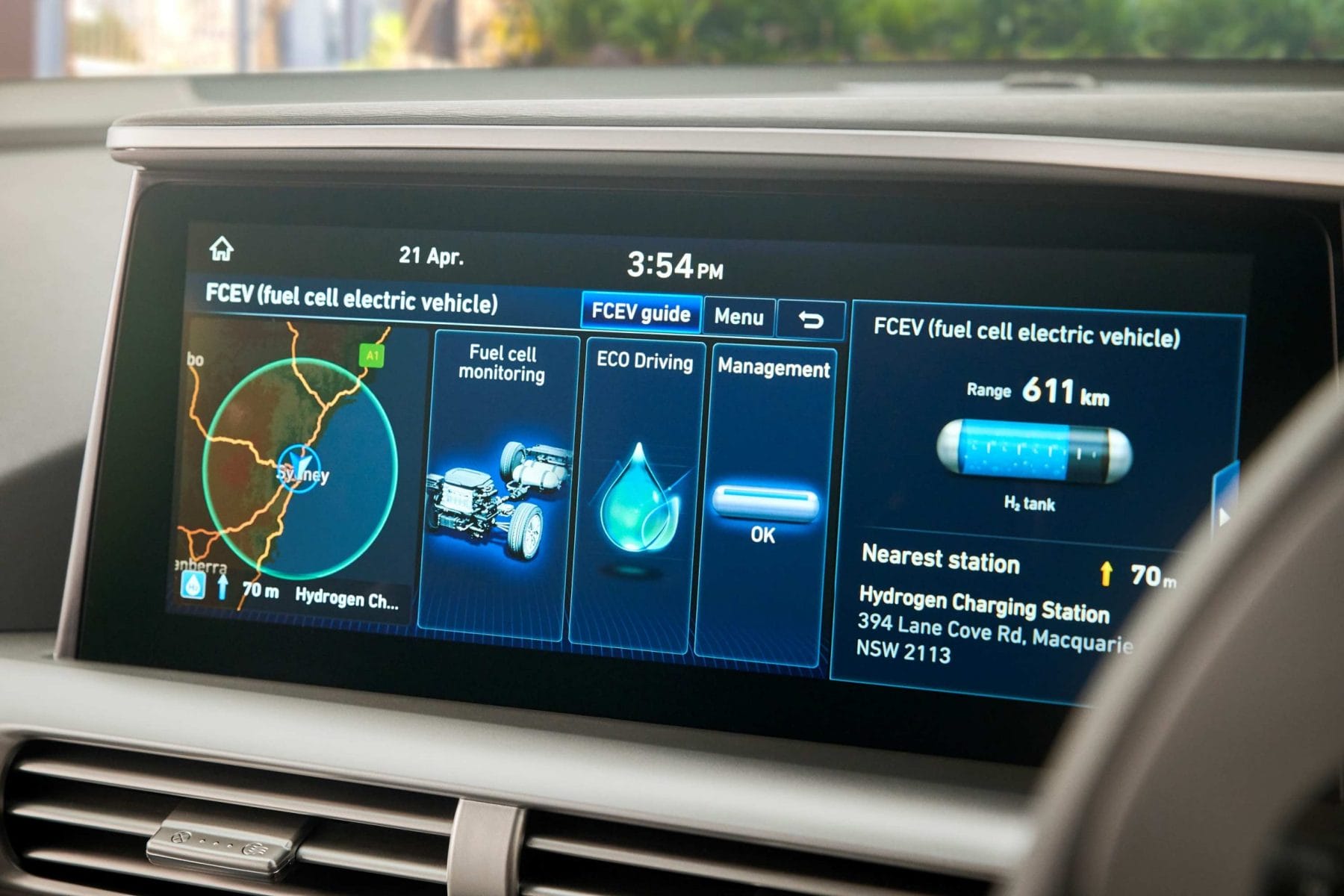 NEXO Overview
NEXO is available in one, highly equipped grade that showcases Hyundai's leading edge eco-focused technology and the latest comfort and convenience features.
At the heart of NEXO is a long-range – 666km (WLTP) – zero-emission Hydrogen Fuel Cell powertrain featuring a 120kW, 395Nm electric motor drive and a lithium-ion polymer battery, with Shift by Wire gear selection and paddle shifter control for the regenerative braking system.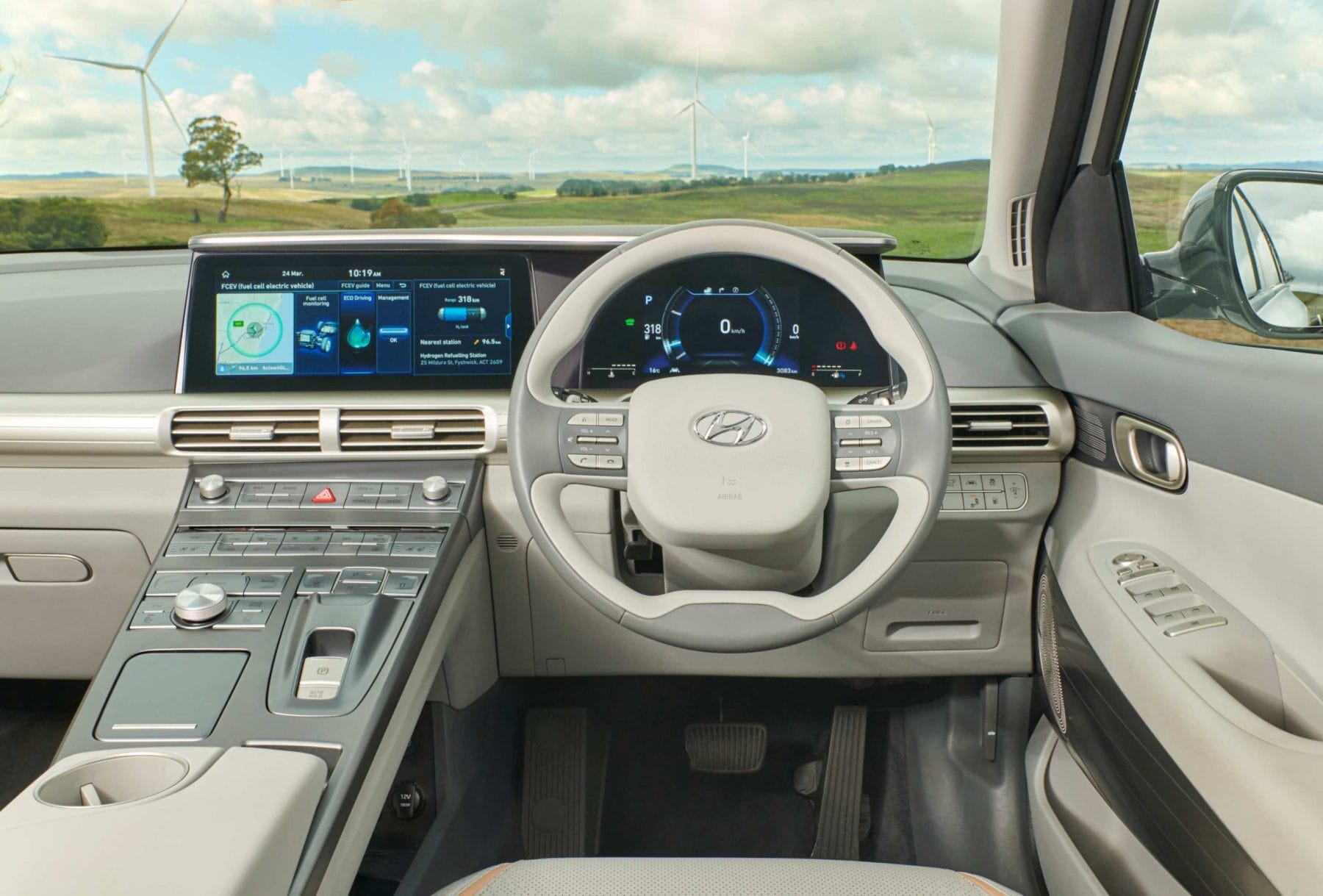 Headlining inside are a 12.3-inch satellite navigation multimedia unit with Apple CarPlayTM and Android AutoTM smartphone mirroring, a 7.0-inch colour instrument cluster display, and a wireless (Qi standard) smartphone charger.
NEXO features a leather-appointed interior with a full-width glass sunroof, Krell Premium Audio, 19-inch alloy wheels, and LED headlights and DRLs.
The convenience features include a Surround View Monitor, Remote Engine Start, Remote Smart Parking Assist, and a Smart Power Tailgate.
And comforts include dual-zone climate control, heated and ventilated, power-adjustable front seats, a heated steering wheel, and heated rear outboard seats.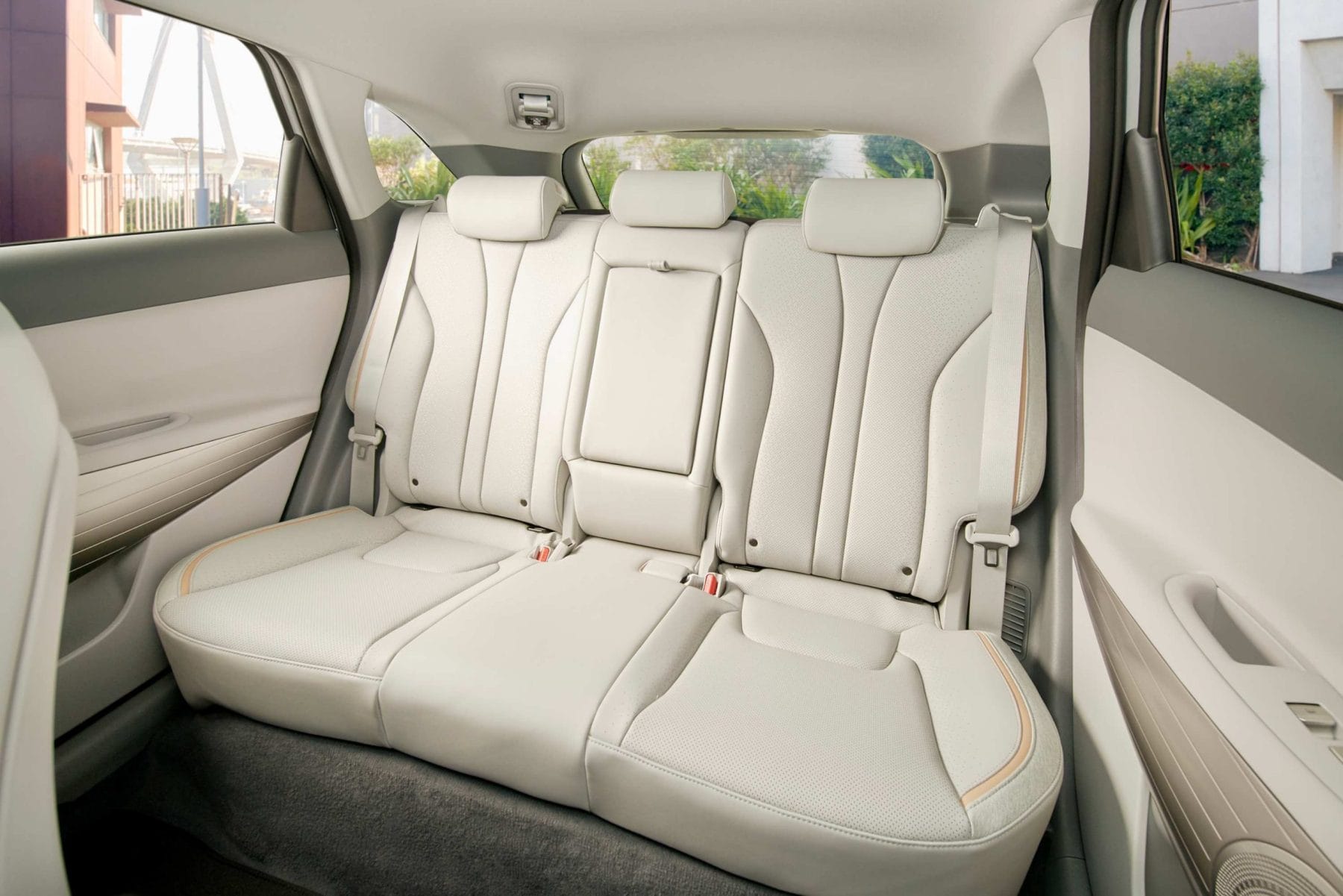 An extensive standard SmartSenseTM safety suite in NEXO includes Forward Collision Avoidance Assist (FCA), Driver Attention Warning (DAW) and a radar-based Blind-Spot Collision Avoidance Assist (BCA-R) system.
There are also Lane Keeping Assist (LKA), Rear Cross-Traffic Collision-Avoidance Assist (RCCA) and Smart Cruise Control (SCC) with Stop & Go.
NEXO's sleek, aerodynamic form draws cues from Hyundai's LE Fuel Cell Concept as well as taking inspiration from nature.
A signature full-width LED headlight design creates a futuristic first impression while short front and rear overhangs give NEXO a confident stance and a robust road presence.
NEXO's interior continues the futuristic theme, featuring wide, integrated displays and an ergonomic high-mount bridge-type centre console.
NEXO is available in four exterior colours, with White Cream Mica and Dusk Blue Metallic teamed with a Stone Grey two-tone interior, and Cocoon Silver and Copper Metallic teamed with a Dark Blue interior.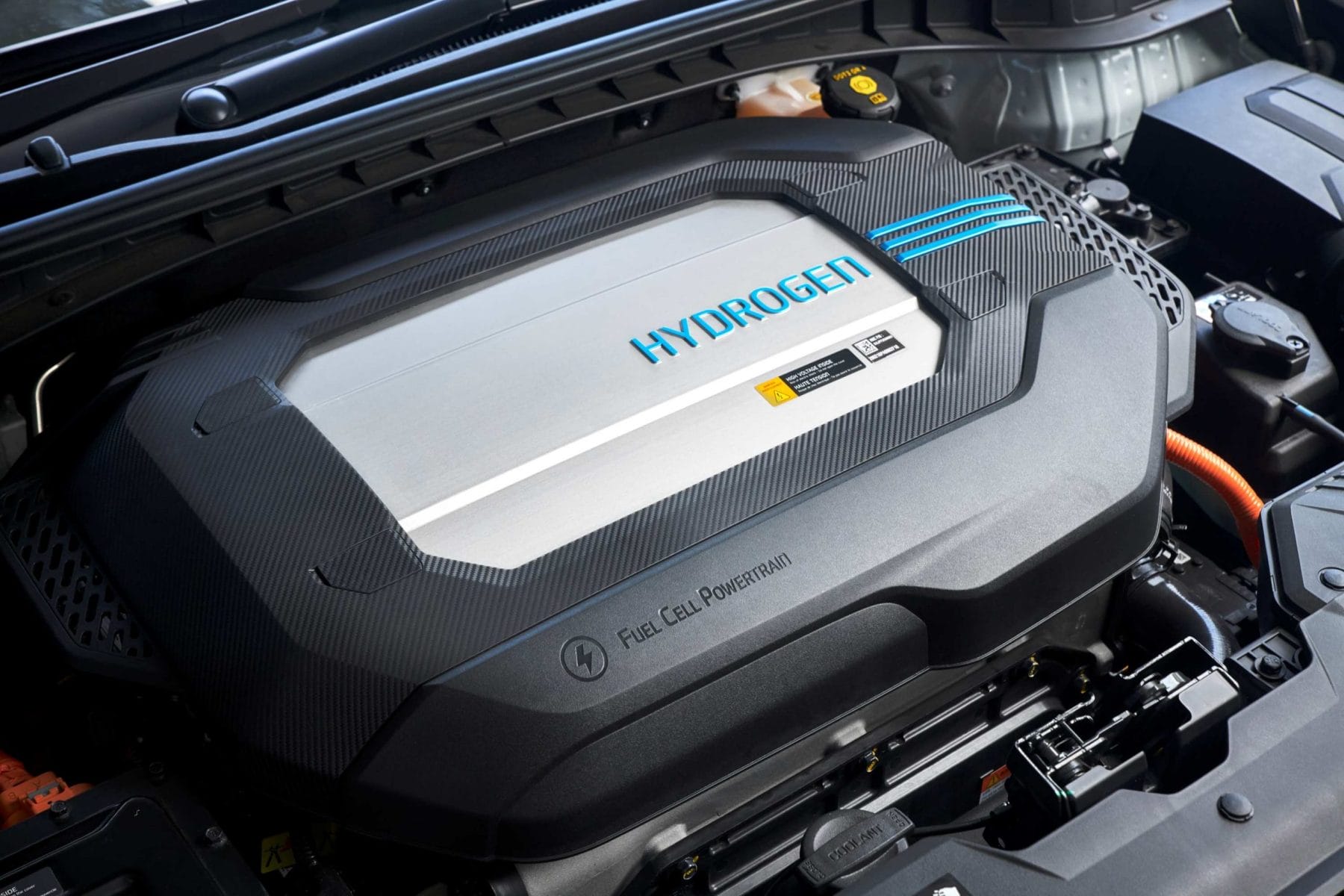 Eco-friendly powertrain overview
NEXO is the fourth green powertrain in the Australian Hyundai line-up, complementing the petrol/electric and plug-in hybrid IONIQ, and the pure electric Kona Electric and IONIQ EV.
Fuel Cell Electric Vehicles are a type of electric vehicle. FCEVs are driven by an electric motor that is powered by electricity generated by an on board fuel cell, using hydrogen as fuel.
Hydrogen gas from the high-pressure fuel tanks is flowed into the fuel cell stack, where it is met with oxygen from the atmosphere.
The hydrogen and oxygen react across a catalyst membrane, combining to form water and electricity which is harnessed to power the vehicle's motor.
Excess electric energy – and electric energy recuperated during braking – is stored in a high-voltage battery to be deployed when needed.
While conventional battery electric vehicles typically take an extended time to fully recharge, FCEVs can be refilled at a hydrogen refuelling station in a matter of minutes.
Pure water and purified air are the only tailpipe outputs when driving a Hyundai NEXO FCEV.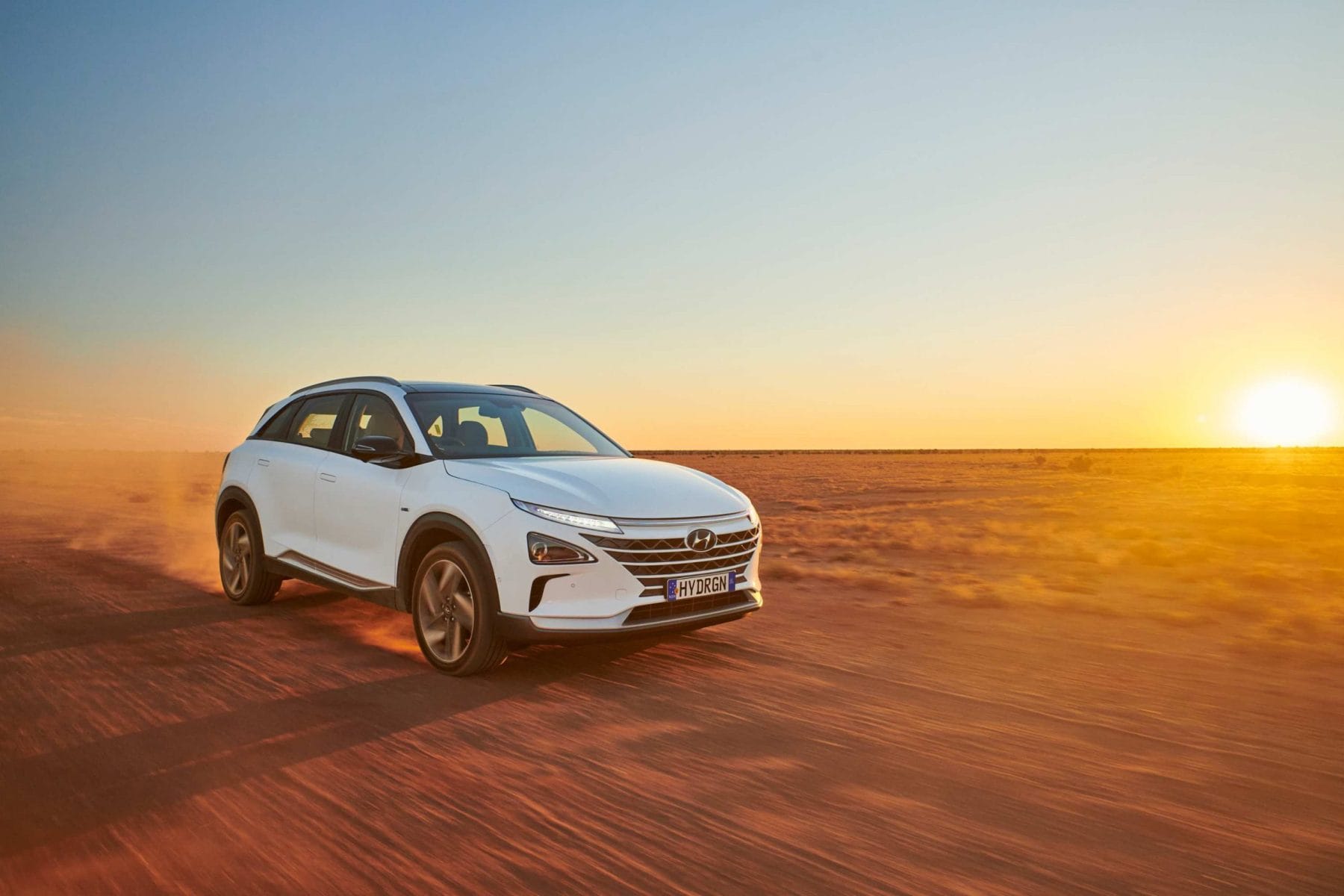 NEXO Powertrains Components
An innovative hydrogen fuel cell system and powertrain defines NEXO, making it the ultimate green vehicle, capable of delivering the longest hydrogen-powered range of any mass-produced vehicle while emitting only water and purifying the air as it drives.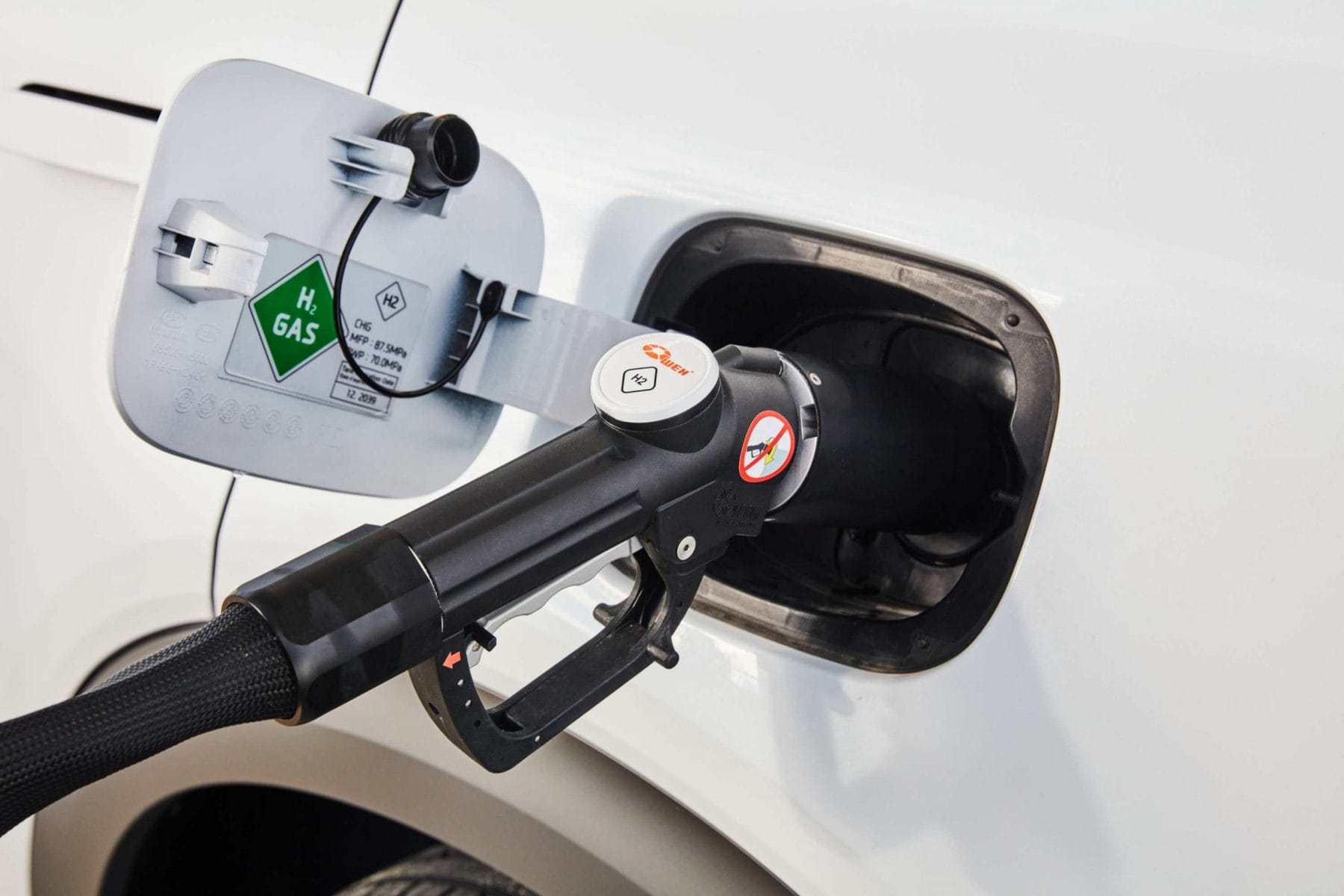 Hydrogen fuel tanks
Three high-pressure fuel tanks are cleverly packaged in the rear of NEXO, with a combined 156-litre capacity and the ability to hold up to 6.33kg of hydrogen at a pressure of 700 bar.
These high-strength, lightweight advanced carbon composite tanks are tested to ensure they maintain structural integrity in the most challenging conditions, such as in collisions.
NEXO can be refilled in minutes at a hydrogen refuelling station allowing users to experience a minimum of down time between drives.
Lithium-ion Polymer battery
A cleverly integrated battery provides the source of high and low voltage power in NEXO. 
The 240V, 1.56kWh lithium-ion Polymer (Li-Po) battery can act as ballast for excess and recuperated energy from the powertrain, and redeploys this energy to power the vehicle including on-board 12V systems.
The battery is packaged flat and low in the rear of the NEXO to allow a flat floor storage area with improved luggage volume compared with the ix35 FCEV, while delivering a 67 percent higher output and a 64 percent greater capacity.
Fuel cell system
At the heart of NEXO is a 95kW fuel cell system which, with the battery, can deliver a sustained 135kW to the motor.
Numerous design improvements compared with the ix35 FCEV system allow NEXO to achieve a 50 percent increase in power density, at 3.1kW per litre, while also increasing system efficiency by nine percent.
NEXO also boasts class-leading cold-start capability, reaching operational temperature from -29°C within 30 seconds.
Electric motor
Smooth, near-silent power is provided effortlessly by NEXO's electric motor, which is paired to a single-speed gearbox.
With maximums of 120kW of power and 395Nm of torque available on demand, NEXO feels far more spirited than its eco-friendly credentials might suggest.
The electric motor also brings the ability to decelerate NEXO while generating electricity that is then stored in the high-voltage battery.
High motor efficiency combined with the substantial 6.33kg of fuel tank capacity gives NEXO a range of 666km (WLTP), the longest of any FCEV.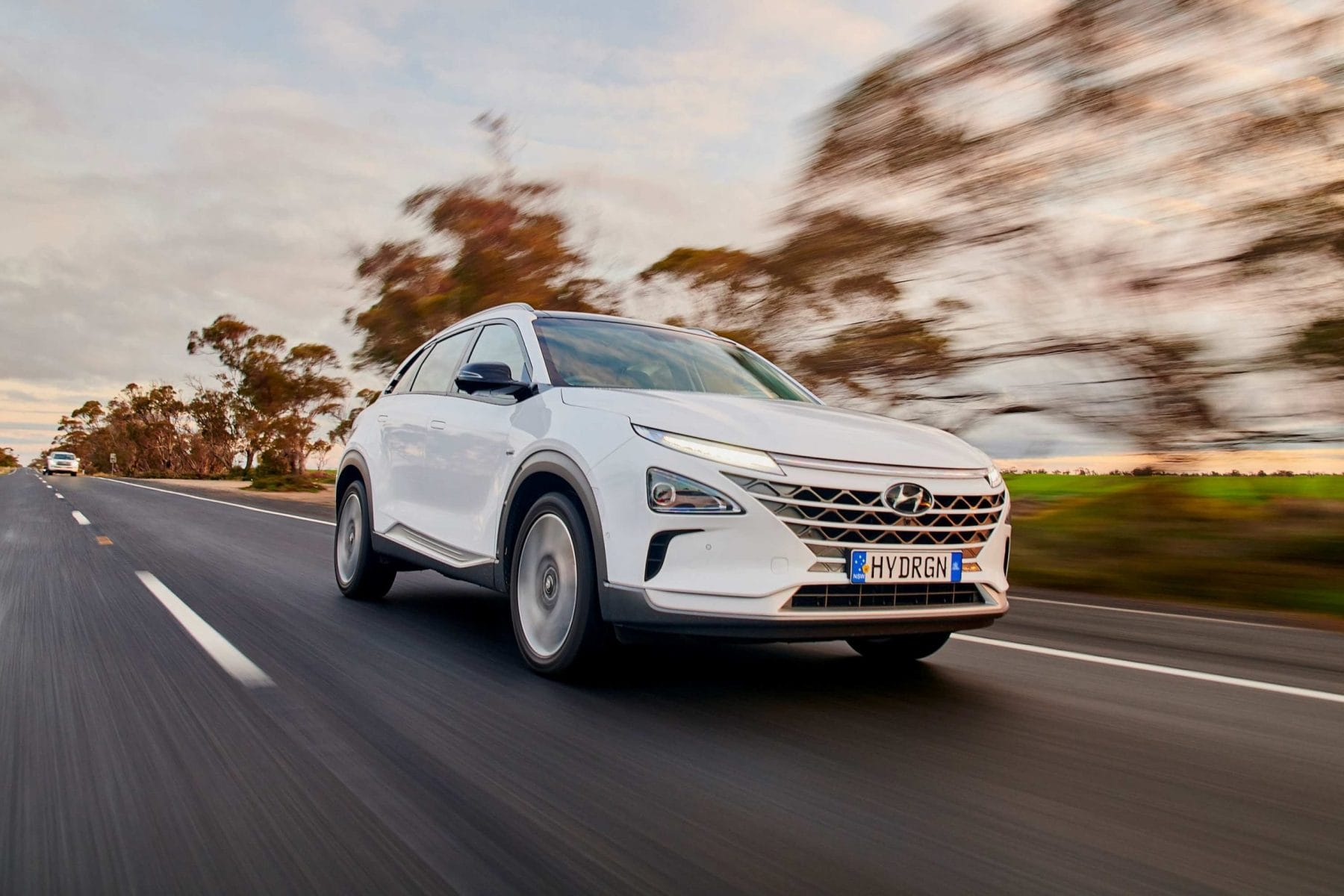 Chassis and Platform
Efficiency and safety were the primary focuses for NEXO's ground up FCEV platform development.
NEXO delivers no compromise design through innovative design and advanced materials and construction.
Lightweight materials
Bio-based materials
High-rigidity frame and tank sub-frame
Aerodynamic design elements
Australian chassis tuning
NEXO was developed across the full spectrum of challenging Australian city, highway, country and gravel roads.
The local chassis tune developed by the Hyundai Motor Company Australia ride and handling team, leverage NEXO's advanced platform design and lightweight suspension components to deliver Hyundai Australia's signature flavour of supreme comfort with surprising dynamic capability.
In addition to this, reducing noise levels in the cabin was a significant focus as part of the NEXO chassis tuning program.
"NEXO is comfort focused, however it also has excellent handling capability.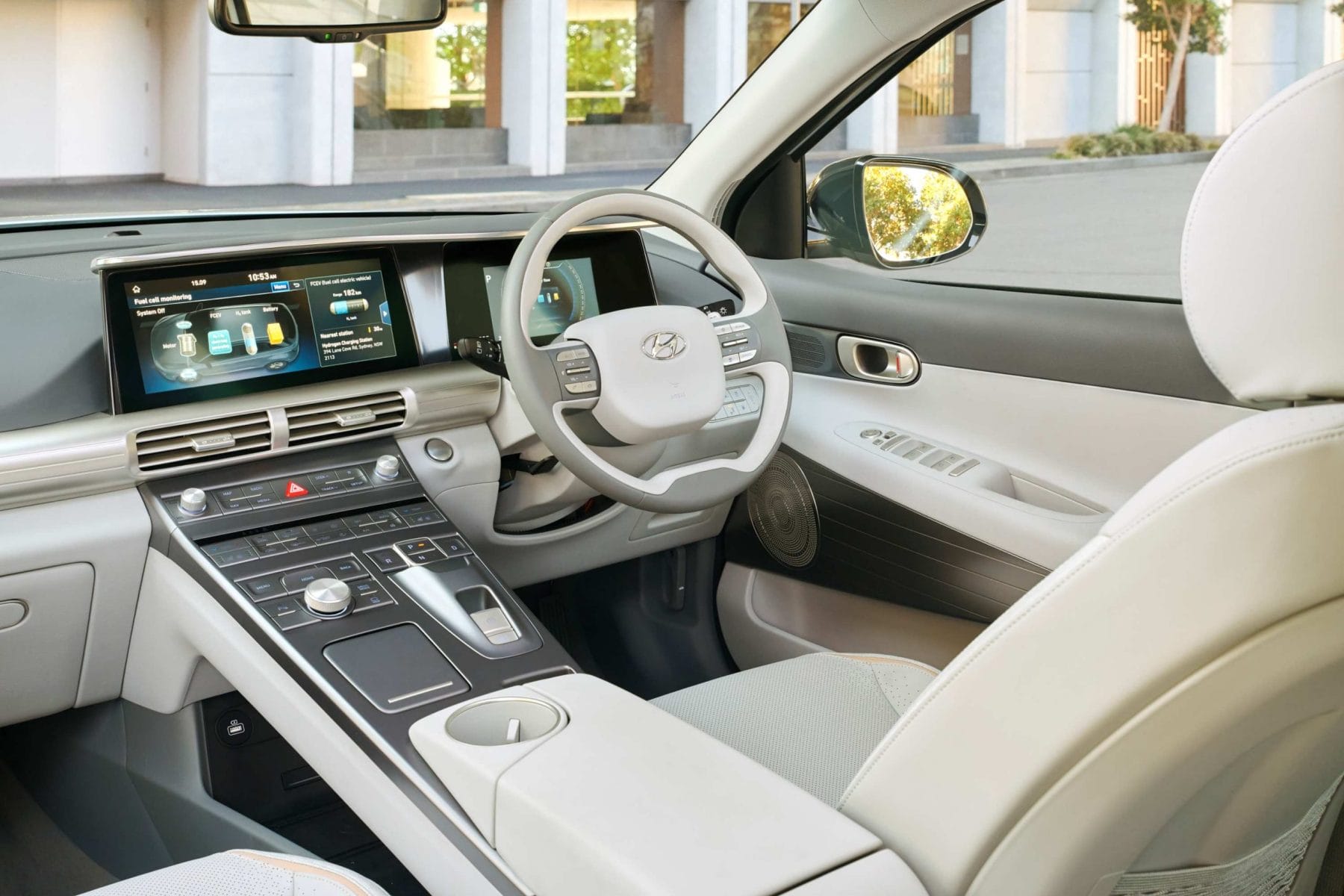 Hyundai SmartSenseTM
NEXO features six airbags and an extensive standard suite of SmartSenseTM safety technologies. These ib=nclude"
Forward Collision-Avoidance Assist (FCA)
Smart Cruise Control (SCC) with Stop & Go
High Beam Assist (HBA)
Lane Keeping Assist System (LKA)
Blind-Spot Collision-Avoidance Assist (BCA-R)
Blind-Spot View Monitor (BVM)
Surround View Monitor (SVM)
Rear Cross-Traffic Collision-Avoidance Assist (RCCA)
Driver Attention Warning (DAW)
MULTIMEDIA
High-resolution 12.3-inch screen
Fuel cell monitoring and H2 refueller navigation
Krell 8-speaker premium audio

Convenience Technology
Remote Smart Parking Assist System (RSPAS)
The Remote Smart Parking Assist System (RSPAS) allows NEXO to be moved in and out of parking spaces using controls on the Smart Key. Once parked using RSPAS, the vehicle can be shut down and locked without the need to re-enter the cabin.
RSPAS utilises ultrasonic sensors, and will pause any parking manoeuvre if it detects an object in its path or a potential collision.
The RSPAS allows NEXO to complete a range of parking manoeuvres with the driver inside or outside the vehicle.
The driver can simply hold down the parking assist button, drive along as directed by the system, then select a parking space on the multimedia screen, and continue to follow the prompts to park the vehicle.
Pricing and Aftersales
NEXO is available by special order through Hyundai Motor Company Australia's Sales department. For ordering and pricing information, please submit your enquiry to the HMCA Sales team.
NEXO is currently offered as an all-inclusive package covering service and maintenance. For specific information about NEXO aftersales support, please contact the HMCA Aftersales team.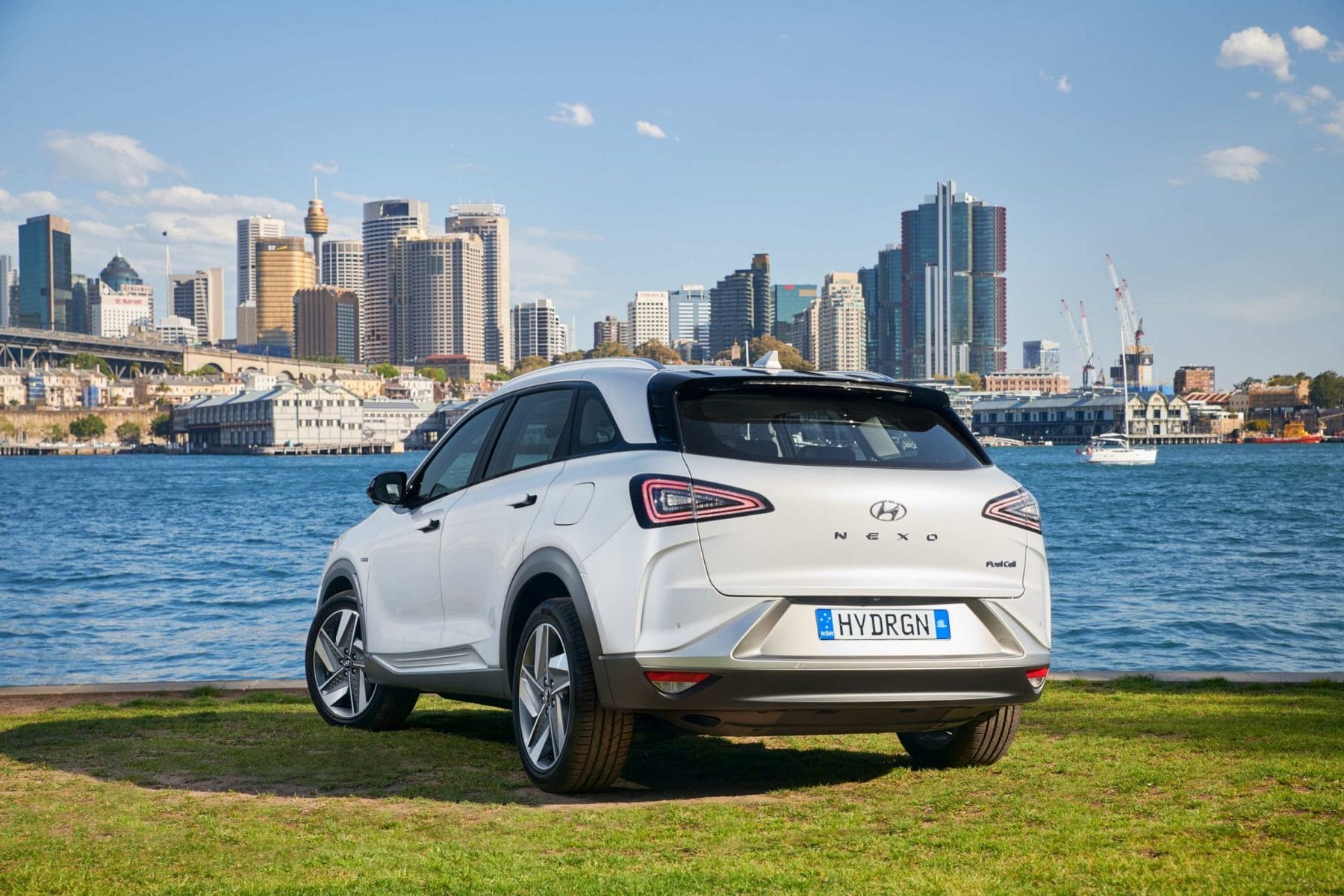 2021 NEXO Specifications 
| | | |
| --- | --- | --- |
| NEXO | |   |
| Key specifications: | | |
| 19" alloy wheels | 7" colour instrument cluster | SmartSense advanced safety:  |
| Tyre mobility kit | Smart Key with push button start | – Forward Collision-avoidance |
| 6 airbags | Auto flush door handles |    Assist – camera and radar |
| Leather appointed interior | Krell premium audio system | – Driver Attention Warning |
| Tyre Pressure Monitoring System | Driver's one-touch up/down window | – Blind-Spot Collision-avoidance  |
| Park Distance Warning – front & rear  | 2nd row ventilation ducts |    Assist – Rear |
| Rear view camera | Power folding side mirrors | – High Beam Assist |
| LED headlamps | Heated side mirrors | – Manual Speed Limit Assist |
| LED Daytime Running Lights | Roof rails and cargo blind | – Lane Keeping Assist |
| Shift By Wire | Drive mode select | – Rear Cross-traffic Collision- |
| Paddle shifters – regen control | Heated and ventilated front seats |    avoidance Assist |
| Auto light control | Heated steering wheel | – Smart Cruise Control including: |
| Electronic Parking Brake | Heated rear outboard seats |   – Lane Following Assist |
| 12.3" multimedia system | Driver's 10-way power seat |   – Lead Vehicle Departure Warning |
| Apple CarPlay and Android Auto | Passenger 8-way power seat | – Surround View Monitor |
| Wireless phone charger | Dual zone climate control | – Smart Parking Assist |
| Remote engine start | Laminated acoustic front glass | – Remote Smart Parking Assist |
| Full width glass sunroof | Smart power tailgate | |