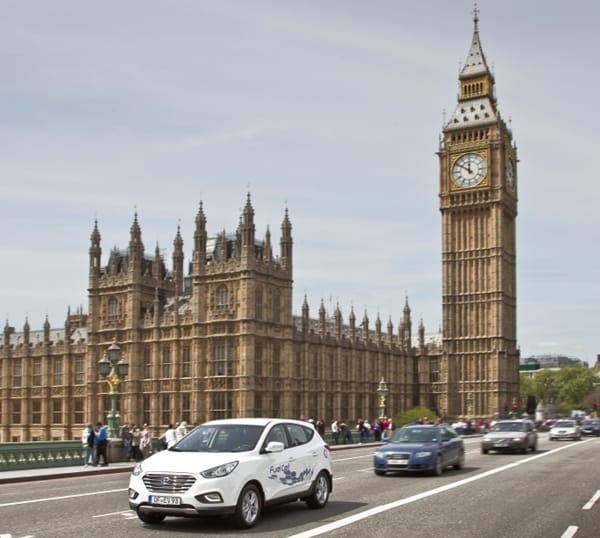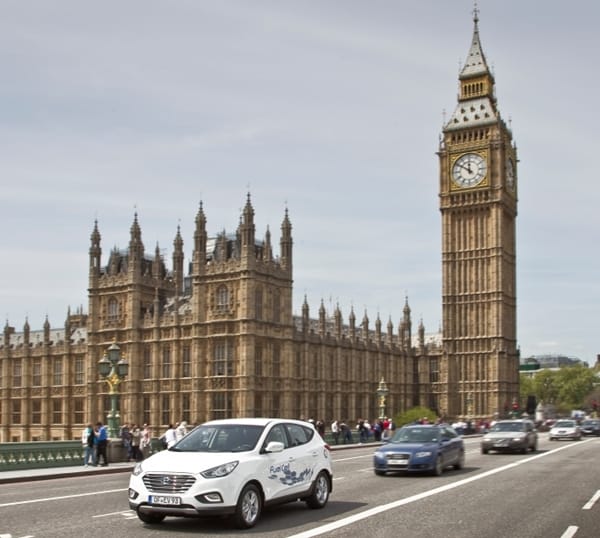 Emission-free hydrogen powered vehicles will soon be operating in London. It is the intention that five Hyundai ix35 Fuel Cell models – the first production fuel cell cars in the world – will be an integral part of the London Hydrogen Network Expansion (LNHE) project.
Earlier this year, the zero-emission Hyundai ix35 Fuel Cell was awarded the prestigious FuturAuto accolade at the 2013 Brussels Motor Show: a key reason for selection was the focus by Hyundai Motor Company to ensure the ix35 became the first mass-production, hydrogen-powered fuel cell vehicle commercially available.
Hyundai plans to manufacture 1.000 units of the hydrogen-powered ix35 Fuel Cell vehicles by 2015, targeted predominantly at public sector and private fleets, with limited mass production of 10.000 units beyond 2015. Hyundai has already signed contracts to lease the ix35 Fuel Cell to municipal fleets in Denmark and Sweden. Additionally, the EU Fuel Cells and Hydrogen Joint Undertaking (FCH JU) in Brussels has been providing since October 2011 Hyundai ix35 Fuel Cell fleet to EU policy makers and the public in order to demonstrate the market readiness of the fuel cell technology.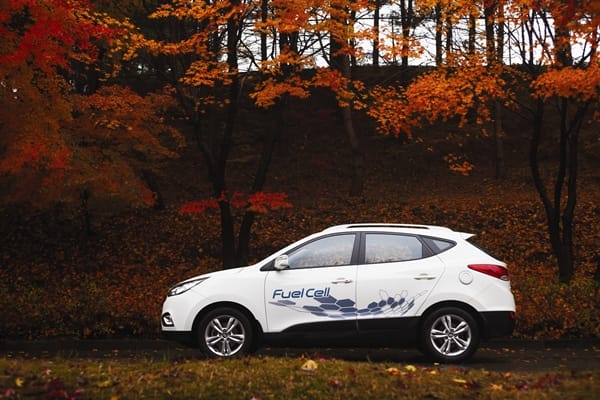 Hyundai's third-generation fuel cell vehicle, based on the ix35 compact SUV, is equipped with a 100 kW fuel cell stack and two hydrogen storage tanks, with a total capacity of 5.64 kg. This amount of stored hydrogen enables the ix35 Fuel Cell to travel a total of 594km on a single refuel. Maximum speed is 160 km/h, and it can reliably start in temperatures as low as minus 25 degrees Celsius. (-25°C). The energy developed is stored in a 24 kW lithium-polymer battery.
World's first mass produced Fuel Cell vehicle
As the first car company in the world to assembly line-produce fuel cell vehicles, Hyundai has enabled not just the real start of Europe's Hydrogen Roadmap but also accelerated London's plans to become one of the major hydrogen capitals of the world.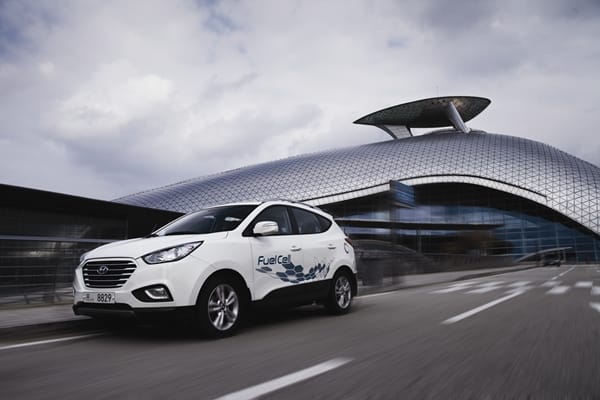 Hyundai's philosophy behind the ix35 Fuel Cell project has been to produce a car offering the same practicality, safety levels and driving experience as an ix35 driven by an internal combustion engine, but with zero tailpipe emissions. That means comparable performance – 162kmh maximum, 0-100kmh in 12.5 seconds and a range of almost 600km from each tank – but with no emissions. The only emission is water.
A Fuel Cell vehicle can be refilled in two to three minutes and, in use, an ix35 FCEV demands no compromise from the driver. Although Hyundai has been developing its Fuel Cell vehicles for more than 15 years, it is only now – with the start of a viable hydrogen refuelling network in place in some parts of the world – it can consider putting a fuel cell car into series production.
Although there is currently no hydrogen refuelling infrastructure in Australia, Hyundai Motor Company Australia (HMCA) is watching developments overseas with interest and is in constant communication with the parent company about future opportunities.
For further information on Hyundai Blue Drive visit : http://worldwide.hyundai.com/WW/Innovation/Eco/BlueDrive/index.html