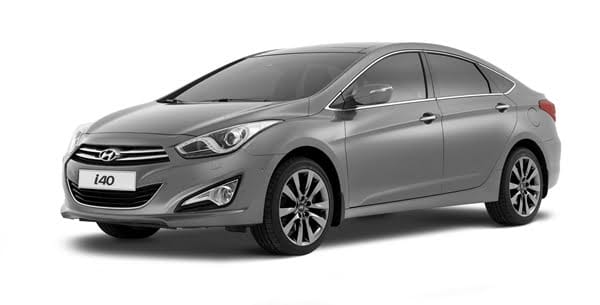 Hyundai Motor Company has unveiled its i40 mid-size sedan at the 2011 Barcelona Motor Show. The debut of the i40 sedan follows the global reveal of the i40 wagon at the Geneva Motor Show in March this year.
The all-new i40 sedan boasts a purely European pedigree having been designed and engineered at the Hyundai R&D headquarters in Rüsselsheim, Germany. This model is the latest car to be unveiled under the company's new brand slogan – 'New Thinking. New Possibilities.'
Design Inspiration
The i40 sedan represents the next evolution of Hyundai's unique design language, 'fluidic sculpture'.
The 'fluidic sculpture' design DNA is instantly recognisable in the flowing lines inspired by nature which combine to create a dynamic, 'fluid' exterior. Strong, flowing lines from front to rear are used to give i40 sedan a distinctive appearance, moving away from the typical three-box sedan to create a car in keeping with the sporty nature of its sibling i40 wagon. By sculpting a low, elongated roof line, the i40 sedan presents with a striking coupe-like silhouette.
Powertrains
The 'modern premium' concept is also evident in the efficient powertrain choices available to European i40 buyers. The all-new European i40 will be available with a choice of four Euro V-compliant engines: two petrol and two diesel. Manual and automatic transmissions will also be offered.
In Europe, Hyundai's all-new four-cylinder 2.0-litre GDI engine, called 'Nu', makes its debut in the i40. It delivers higher torque for enhanced driving pleasure, improved fuel economy and reduced emissions with excellent NVH characteristics.
The i40 sedan, equipped with the 'Nu' engine and a six-speed manual gearbox, will accelerate to 100 km/h in just 9.7 seconds, with a fuel economy of 6.8 litres /100 km (combined cycle) and achieve a CO2 rating of just 159 g/km.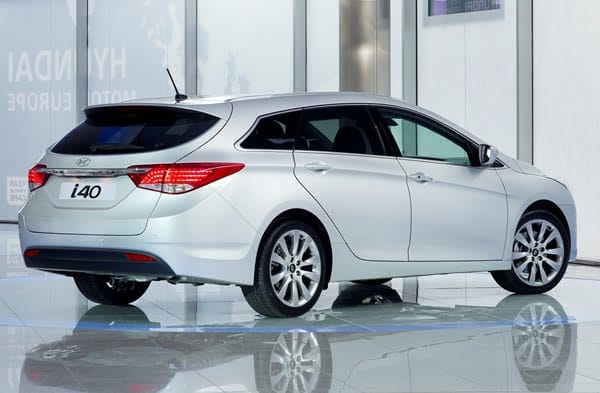 Eco credentials
Some model variants in the all-new European i40 range will feature the latest technologies developed under Hyundai's Blue Drive™ eco-friendly programme, including Integrated Stop & Go (ISG), low rolling-resistance tyres and an alternator management system (AMS).
When combined with the 1.7-litre diesel engine, the inclusion of Blue Drive technology results in the i40 achieving CO2 emissions and fuel economy figures of 113 g/km and 4.3 l/100km, respectively, making the i40 the most environmentally-friendly model in its segment.
High-tech features
By offering an extensive standard specification with numerous high-tech features, the comprehensive level of equipment available to European buyers promises to be one of i40's key attractions.
High-tech features include smart-parking assist and lane-keeping assist systems, as well as connectivity items like Bluetooth® with voice recognition and full map navigation with rear view camera. In terms of comfort and convenience, the i40 will be available with an electric parking brake, front air ventilation seats, heated and reclining rear seats, as well as new features for the segment like auto-defog system, and a heated steering wheel.
Advanced lighting innovations, such as standard day-time running lights with Xenon headlamps (optional) or a TFT (Thin Film Transistor) LCD supervision instrument cluster, will further strengthen the i40's position as the lead model in Hyundai's line-up and the European mid-size segment.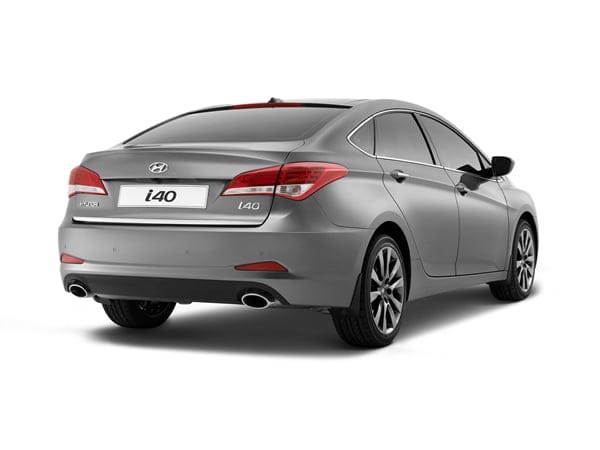 Safety
The i40 uses the latest active and passive safety technologies to ensure maximum protection for its occupants. Active safety features, fitted as standard in several countries, include ESP (Electronic Stability Program), ABS (anti-lock braking system), Hill Start Assist Control (to prevent roll-back when starting on an incline), VSM (Vehicle Stability Management), Brake Assist System and Emergency Stop Signal.
In terms of passive safety, every i40 on the road in Europe will be fitted with up to nine airbags – front, side and curtain, with driver knee airbag available as standard on all models. Hyundai anticipates the i40 to continue the company's excellent safety record and attain the maximum 5-star result under Euro NCAP's impact assessment.
Hyundai Motor Company Australia has confirmed that the i40 wagon will launch in Australia in late 2011. A decision as to whether the i40 sedan will be launched in Australia is yet to be made.