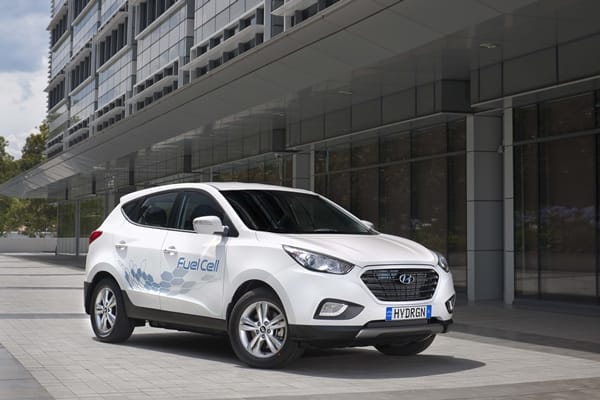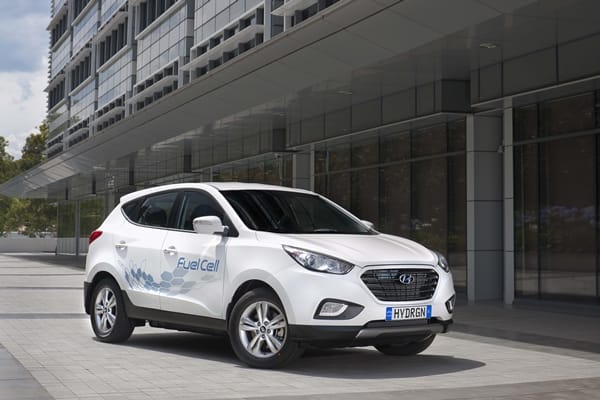 A Hyundai ix35 Fuel Cell, a hydrogen-powered, zero-emissions Fuel Cell Electric Vehicle (FCEV) built in Ulsan, South Korea, has arrived in Australia. It is the first hydrogen-powered car to be permanently imported into the country.
The vehicle is the first component of Hyundai's plan to operate a test fleet of ix35 Fuel Cell vehicles in Australia. As such, it represents a pioneering step toward the commercial availability of emissions-free hydrogen powered vehicles in Australia.
"In February 2013, Hyundai Motor Company became the first automobile manufacturer in the world to begin mass-production of a hydrogen-powered vehicle – the ix35 Fuel Cell," said Mr Charlie Kim, Chief Executive Officer, Hyundai Motor Company Australia (HMCA).
"This gave HMCA the ability to order a Fuel Cell Electric Vehicle in the same way as we order any other new Hyundai car. Now we have one, and we believe this fantastic car will help demonstrate the potential of hydrogen as a green transport solution for Australia."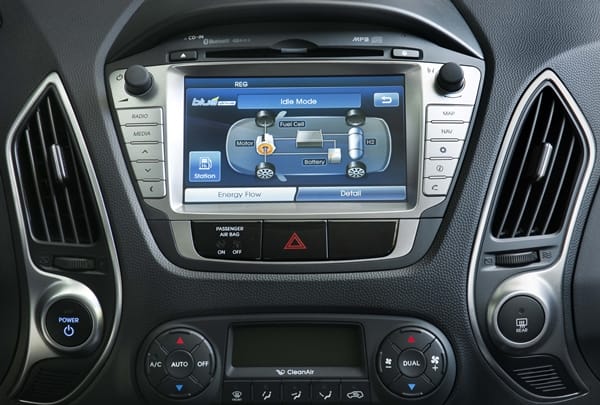 Hyundai has now begun the installation of Australia's only Hydrogen Refuelling Station (HRS) at its headquarters in Macquarie Park, Sydney, using hydrogen provided by gas partner Coregas Australia. The HRS, supplied by American company Air Products, has passed all planning permissions from Ryde Council and is expected to be fully operational early in 2015 after testing is completed during December
"Ultimately, we see no reason why Australians should not enjoy the same environmental solutions as consumers in other markets," continued Mr Kim. "Hyundai strongly supports the idea of a 'Hydrogen Highway' in Australia like those already in operation overseas, and we are committed to working with local partners to try to facilitate this."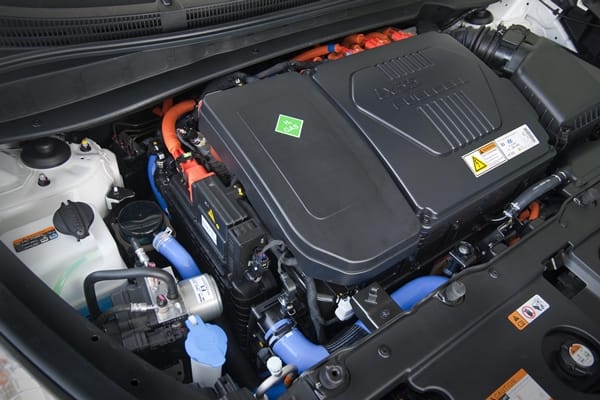 The Road to an Australian Hydrogen Highway
In Europe and the United States, 'Hydrogen Highways' have been built by government and private partnerships for use by FCEV's like the ix35 Fuel Cell, along with other hydrogen-powered vehicles such as buses. In some cases the refuelling stations generate their own hydrogen by using solar energy and electrolysers – this creates an entirely 'green' transport network, with neither the fuel generation process nor the hydrogen vehicles themselves emitting any harmful by-products or burning fossil fuels.
HMCA plans to build an electrolyser in partnership with Australian company Sefca at its headquarters in Macquarie Park in 2015, and install a solar array to power both it and the refueller – this will make its HRS fully self-sustainable, with hydrogen made on-site.
The challenge of creating and distributing hydrogen through a viable, sustainable network is a significant one.
"We are not a political entity, nor are we aligned with any political party. However, we have seen in other countries that Governments play a crucial role in developing hydrogen refuelling infrastructure," said Mr Kim. "To that end, HMCA's Fuel Cell Team has visited Canberra on a number of occasions over the last two years to brief Federal Ministers about our hydrogen car. The reaction has been very positive.
"One of our proposals was the 'Hume by Hydrogen', which could link Australia's two largest cities via the nation's capital. It would require refuelling stations in Melbourne, Sydney, Canberra and in between, and could see hydrogen vehicles, including buses, running on the Hydrogen Highway emitting nothing but water vapour.
"A project like 'Hume by Hydrogen' would surely demonstrate the benefits of hydrogen transport very effectively – we want our ix35 Fuel Cell to start a meaningful conversation about a hydrogen infrastructure in Australia for the benefit of future generations."
HMCA has begun discussions with a number of interested local partners to advance its thinking and seek support for its proposals. Further announcements will be made at the ix35 Fuel Cell's official launch early in the New Year.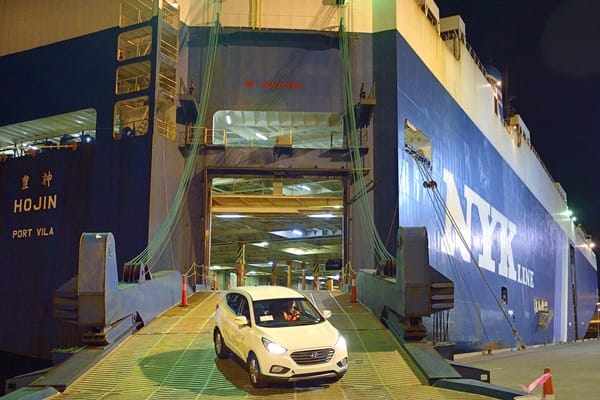 The ix35 Fuel Cell
The ix35 Fuel Cell is one of the most advanced cars in the world, running on hydrogen and emitting nothing but water vapour from its exhaust pipe.
Hydrogen from the vehicle's fuel tank is mixed with air and converted to electricity by a fuel cell stack – the electricity then powers the ix35 Fuel Cell's electric motor.
The vehicle is near-silent, efficient, and emissions-free. It is also very safe, meeting the world's most stringent vehicle safety standards. It is as practical and useful as a standard petrol- or diesel-powered ix35, with comparable interior space and similar performance.
The ix35 Fuel Cell develops 100kW of power and 300Nm of torque and has an official maximum range of 594km (see attached Q&A). A Hyundai ix35 Fuel Cell set a record in early July for the longest journey completed by a vehicle on a single tank of hydrogen, driving 700km through Norway, Sweden and Denmark.
Private customers are leasing ix35 Fuel Cell vehicles in Los Angeles as part of an advanced hydrogen scheme, and many more ix35 Fuel Cells are operational throughout Europe. The delivery of Australia's first FCEV marks a significant step in developing a hydrogen fuel infrastructure in this country.
For more information about the ix35 Fuel Cell, please visit: http://worldwide.hyundai.com/WW/Showroom/Eco/ix35-Fuel-Cell/PIP/index.html
Hyundai ix35 Fuel Cell: Q&A
Answers provided by Scott Nargar, Hyundai Motor Company Australia Product Planning Manager and head of the HMCA Fuel Cell Program
How does the ix35 Fuel Cell work?
It's essentially an electric car, with the electricity supplied by a fuel cell stack. The really clever part happens inside the fuel cell itself – in simple terms, Hydrogen molecules from the fuel tank are combined with air, and passed through a membrane in a process called electrolysis, which creates the electricity used to power the car's electric motor.
The ix35 Fuel Cell uses what's known as a PEM Fuel Cell – PEM stands for Proton Exchange Membrane or Polymer Electrolyte Membrane. Here's what happens:
1.A fuel cell has two electrodes, an anode and a cathode that are separated by a membrane.
2. Oxygen passes over one electrode and hydrogen over the other.
3. The hydrogen reacts to a catalyst on the electrode anode that converts the hydrogen gas into negatively-charged electrons (e-) and positively charged ions (H +).
4. The electrons flow out of the cell to be used as electrical energy.
5. The hydrogen ions move through the electrolyte membrane to the cathode electrode where they combine with oxygen to produce heat and water.
The diagram below shows how the process works in the car:

What is the specification of the vehicle?
It is a left-hand-drive, European-specification ix35 Fuel Cell. This model is currently not made in right hand drive.
Is the hydrogen fuel in the vehicle dangerous?
The ix35 Fuel Cell meets the strictest global vehicle safety standards, like all the safest cars do – over 30 of the vehicles have been crash-tested to verify its level of safety. Many Hyundai ix35 Fuel Cell vehicles are now operational on public roads around the world, including in California and countries throughout Europe.
Hydrogen is an ultra-light element that dissipates quickly when it comes into contact with the atmosphere, unlike petrol which can form in pools and burn – it is flammable, yes, but no more dangerous than other gases and arguably less dangerous than a fluid like petrol.
The car's hydrogen tanks are constructed with steel and carbon composite wrap, enough to contain the gas at a maximum pressure of 700bar (10,000psi). The hydrogen tanks have had bullets fired at them, have been put into fire baths and subjected to other extreme tests to verify their immense strength – fuel pressure is greatly reduced before it enters the vehicle's fuel cell stack.
In short, the ix35 Fuel Cell is extremely safe.
It's also worth noting that Australia is quite advanced with the use of other gaseous fuels like LPG and CNG, so hydrogen technology – more advanced than LPG – should represent no great challenge for Australia in safety terms.
What is it like to drive?
Surprisingly quick – it develops maximum torque at zero revs and accelerates more rapidly than you'd expect. Some members of the Australian media drove this version of the ix35 Fuel Cell recently at Hyundai's Namyang proving ground and were surprised by how 'natural' the car is to drive. It's near-silent, too, the same as any electric car.
How fast is it?
The ix35 Fuel Cell accelerates from 0-100kmh in 12.5 seconds and its maximum speed is 160kmh. It is no racing car, but it's not slow. It's like a normal car in most ways, but it's an electric vehicle, so it makes no engine noise and has no gearbox.
How long will it take to refuel?
With an advanced, full-size 700bar (10,000PSI) refueller like those used in Europe and America, fill time is about three minutes, the same as a normal petrol or diesel car.
The refueller we will install at HMCA is a small 350bar (5,000PSI) compressor. Fill time is between three and seven minutes.
What is the specification of HMCA's hydrogen refueller?
It is a 350bar refueller made by Air Products and Chemicals, Inc. of Allentown, Pennsylvania. We can provide full details of the unit if required. Refuelling at 350bar instead of 700bar will mean our vehicle will have a range of approximately 300km – ample to demonstrate its capabilities.
When will the refueller be working?
It will be operational early in 2015.
Does the refueller generate its own hydrogen?
No. It will use compressed hydrogen supplied by Coregas Australia in bottled form. The hydrogen is made by natural gas reformation at Port Kembla NSW.
Next year, HMCA is planning to install an electrolyser unit in partnership with Australian company Sefca to generate hydrogen on-site, using water extracted from the atmosphere combined with solar power. We will reveal details of this unit in good time. Meanwhile, the Air Products machine combined with Coregas-supplied hydrogen serves our purposes well.
Why are you doing this? What is the long-term plan?
Although we are fascinated by the potential of a large-scale hydrogen transport network in Australia, we are – first and foremost – a vehicle manufacturer and an advocate of the technology. We were first to mass-produce a hydrogen car and we will remain at the forefront of this technology; however, it is up to governments and other interested parties to plan and construct a transport infrastructure for the future.
We at Hyundai think there is great potential for the future with hydrogen in Australia, but we cannot fund or and plan infrastructure on our own. Events overseas would seem to show the benefits clearly – and, as we have done in other parts of the world, Hyundai will assist with partnerships in every way possible.
Over the past two years we have spoken with just about every major hydrogen infrastructure manufacturer in the world and studied hydrogen projects in California, Germany, UK, France and Scandinavia. In October this year we attended hydrogen infrastructure project meetings in Paris to learn how cooperative projects operate with the support of Governments, car makers and infrastructure manufacturers.
Could a 'Hume by Hydrogen' highway be built by 2020? Of course. The potential is there for hydrogen highways, and for even more ambitious plans to power remote communities using solar and hydrogen technology – such schemes could include completely emissions-free transport built in. Over the past two years, discussions have been held with global infrastructure manufacturers, with one even showing interest in manufacturing the Hydrogen stations in Australia – a great way to create engineering and manufacturing jobs.
Hyundai Motor Company Australia is committed to hydrogen technology, but it will only work if vehicle and infrastructure manufacturers work together with businesses and Governments to start planning for a greener future today.