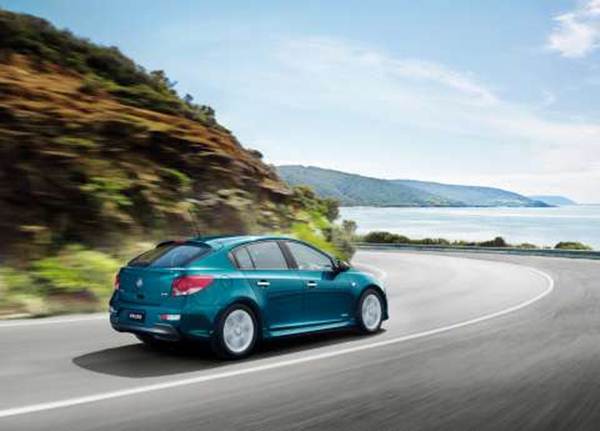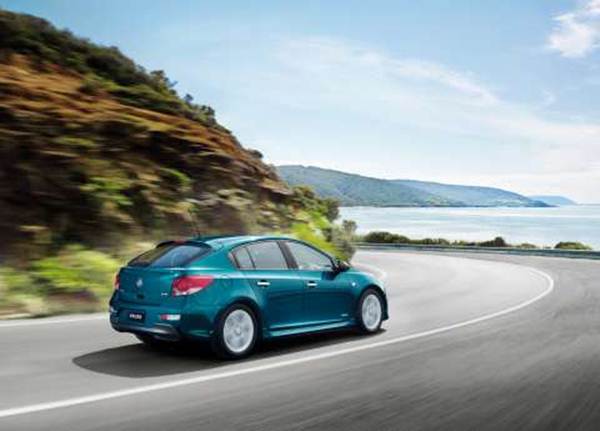 Holden engineers have not only tailored the Cruze Hatch to Australian conditions, but generated more than 20 engineering modifications which have been adopted globally.
With over 140,000 kilometres of local testing and evaluation completed, this rigorous regime has resulted in a sporty Cruze hatch that is eminently suited to Australian conditions and driver preferences, while adding further refinements to the Holden Cruze sedan as part of a Model Year 2012 update.
Holden's Program Engineering Manager for the Cruze program, Peter Siablis, said that Holden's focus on continual improvement ensured the model year 2012 Cruze hatch and sedan delivers a refined and exciting driving experience.
"With the hatch program we started with a very good base having worked on the platform since 2008 but with the introduction of a new body style we needed to reassess areas such as ride and handling, noise and vibration (NVH), and powertrain," Mr Siablis said.
"Through extensive evaluation, we've engineered and implemented a number of changes to the suspension, NVH package and transmissions to further improve driving dynamics, refinement and fuel economy."
Dynamics and Powertrain
The Cruze hatch, like the sedan, features a front MacPherson strut suspension with either a Compound Crank Axle (1.8 litre petrol and 2.0 litre diesel engines) or the performance-oriented Watts Link (1.4 litre iTi engine) rear suspension.
For the all-new Cruze hatch and updated model year 2012 sedan, Holden engineers have modified the front suspension bushes introducing a stiffer handling bush for better steering response while a softer ride bush has improved ride quality and refinement.
On models using the Compound Crank Rear Axle, Holden engineers made adjustments to rear bushes whilst both Watts Link and Compound Crank variants benefit from unique torsion beam angles to maintain a consistent road feeling and handling flavour.
In order to further improve driveability and refinement, Holden engineers undertook significant evaluation of the Cruze hatch powertrain options which resulted in a recalibration of the optional six-speed automatic transmission used with the 1.4 litre iTi engine.
The effect of this recalibration has been to improve smoothness and shift quality during downshifts at lower speeds and tip-in performance at higher speeds, resulting in a more refined automatic transmission.
The success of this recalibration of the 1.4 litre iTi automatic transmission will see this adopted globally on all Cruze models sold around the world, once again showcasing Holden's engineering expertise.
Fuel economy and CO2 emissions are equivalent to the sedan on all models except the 1.4 litre iTi SRi and SRi-V manual hatch which increases by 0.2 litres per 100 kilometres to 6.6 litres per 100 kilometres and 155 grams of CO2 per kilometre. This change is due to a slight weight increase – approximately 14kg – made necessary by the increased structure required to support the hatch tailgate and associated components.
However, real world fuel economy on both manual and automatic transmission 1.4 litre iTi models has been incrementally improved with the introduction of a new clutched AC compressor that reduces the engine load when the air conditioning is not in use.
Careful thought was also given to aerodynamics in order to maximise the Cruze hatch's fuel efficiency as hatchback bodystyles typically suffer inferior aerodynamics compared to their sedan equivalent due to the upright rear tailgate increasing rear drag.
A set of aerofins were engineered to suit the optimised rear design – the result being that Cruze hatch matches its sedan sibling for aerodynamic drag with both models recording a drag coefficient of 0.329, a significant achievement.
The aerofins also provide a worthwhile reduction of rear lift which enhances handling performance.
Noise, vibration harshness (NVH)
In addition to the raft of dynamic, refinement and efficiency gains made on the new Cruze hatch, Holden engineers also focused on delivering a car that is among the quietest and most refined in its class.
To achieve this, Holden had significant input into developing a unique rear NVH package for the Cruze hatch that has been adopted for global Cruze production.
The package uses a number of adhesive damping patches applied to specific body panels which attenuate sound travel by damping the frequency in the sheet metal reducing vibration as well as the ability of noise or vibration to travel through the panels.
Cargo volume and storage solutions
The Holden Cruze hatch offers a cargo area that is among the very best in class. With the standard tyre inflator kit fitted, the cargo volume is an impressive 413 litres with the 60/40 split rear seats upright. This increases to 1254 litres with the rear seats folded flat.
For those buyers who opt for the full-size spare – which Holden offers as a no cost option on all Cruze models – Holden's engineers have designed an inventive solution to maximise storage space.
With the raised cargo floor necessitated by the full-size spare, cargo volume is 325 litres, which is still amongst the best in the segment, even against several competitors that offer only a space-saver spare. But with the full-size spare tyre installed, Holden engineers have designed multiple storage compartments which wrap around the spare wheel well, a rare feature in this segment. Liberating nine litres of under-floor storage, these cargo compartments are perfect for storing wet clothes and towels after a day at the beach.
Genuine Accessories
Holden has developed a number of local accessories specifically designed to suit Australian drivers including tailored roof racks for the entire Cruze range that have been designed to reduce wind noise.
As Cruze SRi and SRi-V models feature a unique, Australian-developed rear fascia, Holden has designed a tow bar for these models, while a new trailer harness for electrical connections for all Cruze models has also been developed in Australia.
This newly designed harness ensures quick and easy installation at the dealership with minimal impact on the vehicle to ensure a quality and seamless fit.