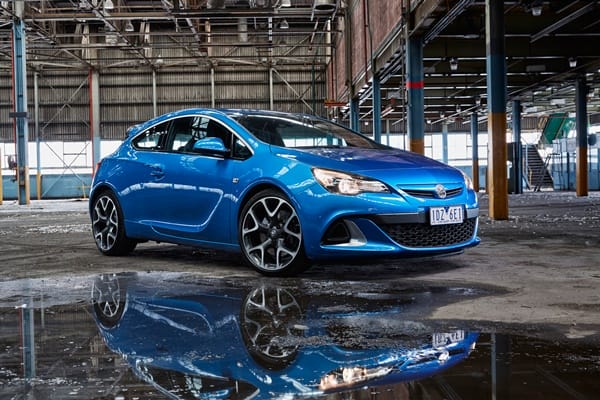 I had the opportunity to drive the Holden Astra VXR this week and I have to say it was a surprise. The surprises started when I picked it up. Thinking I was picking up a plain Jane Astra I approached and saw it was the sporty VXR.
My initial impression was it certainly looks the goods. It has a balanced sleek style that looks small from the outside but provides an amazing amount of space inside. The sports seats that are usually harsh in hot hatches were exceptionally comfortable and when I started the engine there was a crisp throaty bark from the exhaust. This was going to be fun I thought.
Driving through the city traffic the transmission is slick and crisp, the engine tractable, with the ability to cruise in sixth gear yet responsive when needed. The sound of the exhaust burble was sweet music in heavy afternoon Sydney traffic.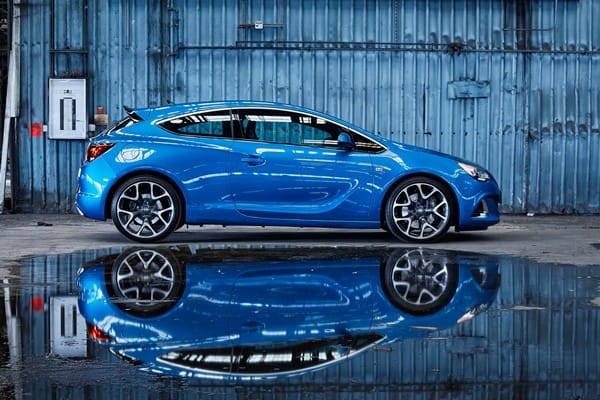 Externally the VXR is a visual delight. It rides on 20 inch alloy wheels with 245/35/ZR20 tyres and has a VXR Sports body kit and dynamic flowing lines. The wheel at each corner also adds to the appeal. It is narrow at the front and a wide rear end. It looks low sleek and purposeful.
The leather faced, heated front seats have the ability to adjust the wings for both your butt and shoulders, and there is electronic lumbar support and manual adjustments for squab adjustment and the seat back. In this class of vehicle these seats are amongst the best in class.
The driver's position suits almost all drivers. There was enough seat travel for my large 190cm frame and with a height and reach adjustable leather steering wheel I was very comfortable. While we are talking about the steering wheel, it feels so smooth in your hands, provides enough feedback and adds to the sporty flavour of the vehicle.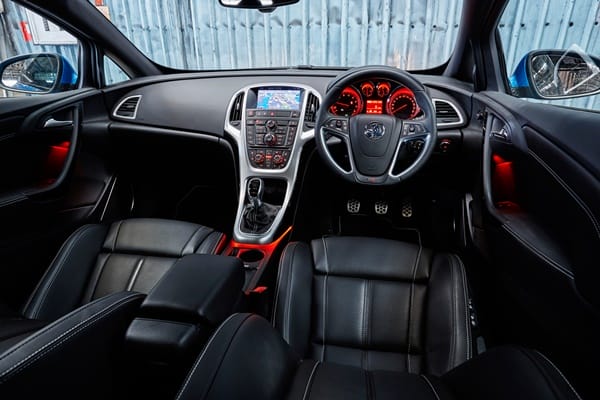 The other good thing about the steering wheel design is the stalks are visible above the spokes of the wheel, and are ideally placed to allow good hand position without moving to operate. Remember though it has a left hand indicator.
Visibility is pretty good, the rear window is large enough for clear visibility, the 'A' pillar while thick has a glass quarter panel that assists and over the shoulder visibility again is pretty good. Aiding this are a decent set of external side mirrors, unusual on sporty vehicles at the moment. The windscreen wipers aren't something I usually comment on because well we just put up with them. The VXR however has clever design where the wipers clear from the centre to the sides on both sides of the windscreen. Simple, clever, practical and effective. Why aren't all wipers like this?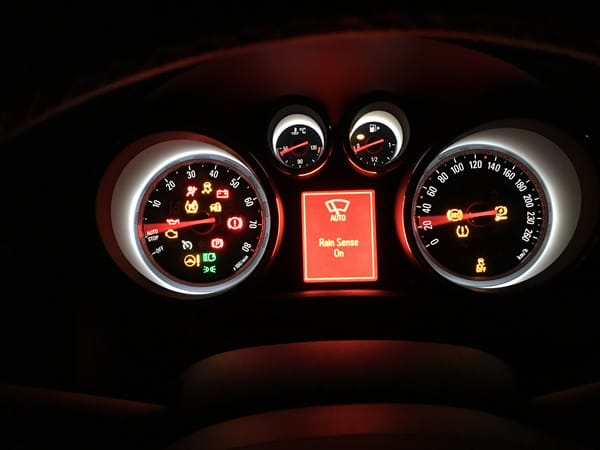 The dash has two main dials, two smaller on top and a MFD in-between the large dials. It is easy to read, clear and intuitive. Great design. The MFD provides all the necessary information and the steering wheel controls allow audio and cruise control adjustments.
The central stack requires some chatting about. The 7 inch My Link infotainment system is clear and easy to use. However it totally refused to link my phone or delete any of the existing phones attached. This is the third vehicle this has happened in, seems to be some software issue. Also rather frustratingly the radio lost reception in tunnels and even under overpasses.
Below the infotainment system there is a plethora of switches and dials. This is a classic form over function design it seems that the designers had slots to fill and put buttons there to fill them. Having said that there is a lot that is standard there. Setting destinations on the sat nav with the dial is a little fiddly.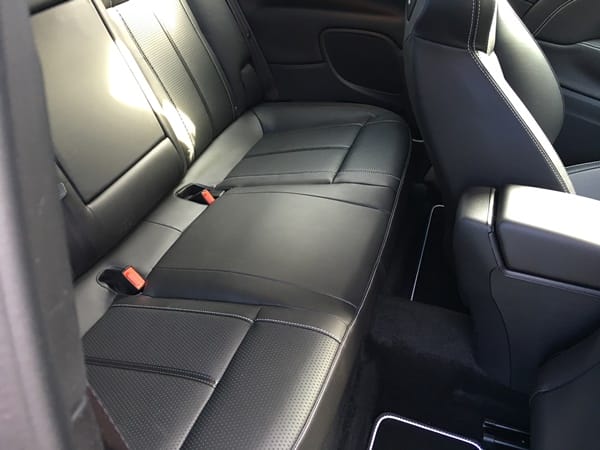 Unusually for a hot hatch there is an abundance of storage, including deep door pockets, handy sized centre console, cup holders, large glove box and phone storage.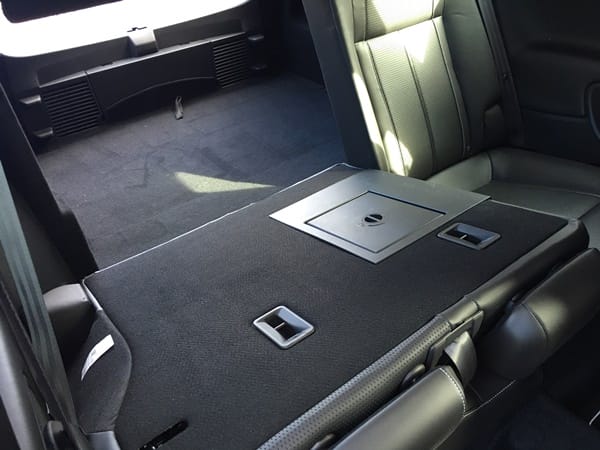 The rear seats are comfortable but useless for anything over short people and very short trips. They do however fold down almost flat to provide more than ample luggage space. The boot is huge for this class of vehicle and more than enough for a weekend away.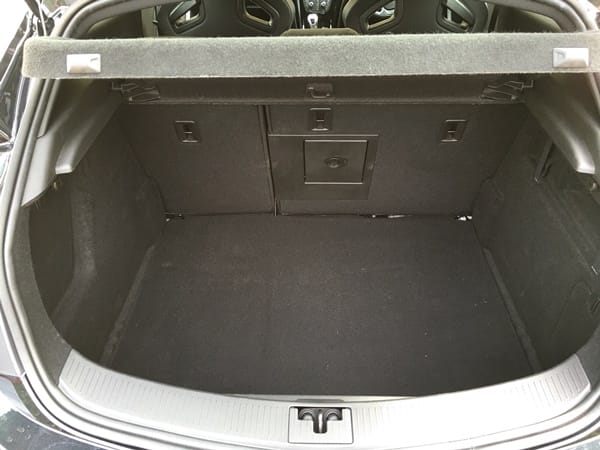 The Astra VXR is powered by a 2.0 litre turbocharged engine which is able to unleash power of 206kW @ 5300 rpm and a staggering 400Nm @ 2400 – 4800 rpm of torque.  Brembo front brakes provide a security net to accompany the Astra VXR's power, in addition to electro-hydraulic steering for a direct, engaging steering feel, allowing drivers to put the car precisely where they want it.
While these figures are impressive by themselves they translate to a very smooth and tractable daily drive. The torque band allows great flexibility of cruising in higher gears with enough acceleration through downshifting.
The combination of responsive steering, dynamic front suspension and torquey engine provides an engaging drive that is just plain FUN!!! Many years ago I owned a Honda CRX hatchback that was like a go cart and so much fun to drive. The Astra VXR reminds me of that car.
Astra VXR is a true sports hatch with daily versatility. The key to its versatility is the FlexRide tuning system which allows drivers to choose from three pre-configured ride settings according to their environment:  These include – Standard – all-round performance with comfort, Sport – stiffer chassis, improved agility and more direct steering and VXR – more direct steering, more responsive throttle, and tuned for maximum performance.
The power from the turbo can come on a little too quickly at times and there is noticeable torque steer under acceleration. Also at times mid corner bumps can unsettle the composure.
Driving the VXR in a combination of freeway and heavy peak hour traffic we achieved close to the ADR fuel economy of 8.5l/100k. This was outstanding as we often revelled in hearing the crisp exhaust note taking off from lights etc. The stop start technology worked seamlessly and better than experienced in some more highly rated more expensive European vehicles.
With a 5 star ANCAP safety rating the VXR offers The Astra offers a comprehensive safety package designed to help you avoid collisions, including Electronic Stability Control (ESC), Anti-lock braking System (ABS) and Traction Control System (TCS), 6 airbags, hill start assist, daytime running lights, rear parking assist and rain sensing wipers. Strangely and frustratingly the VXR doesn't have a rear view camera. I know everything is a dollar compromise but these should be mandatory for ANCAP 5 star ratings.
So here we have a stylish three door hatch that looks and sounds the goods, has a powerful engine that drives through a smooth six speed transmission with tractable driving style. It has a 5 star ANCAP safety rating and an abundance of internal space and a long list of standard features. It has a few minor issues but overwhelmingly is easy to live with on a daily basis while providing heaps of driving fun. At $44,526 RDAP it represents excellent value. There are better hot hatches out there. The Astra is better thought of as a hatch that is overly sporty however there is a new model coming soon.
What is good:
Fun to drive
Crisp throaty exhaust
Internal space and comfort
What is not so good:
No reverse camera
Refusing to hook up phone
Radio reception
Model: Holden Astra VXR Coupe
Model Price:   $44,526 RDAP
Engine:  2.0L 4Cyl T DOHC
Drivetrain: FWD 6 SP MT
Power:  200kW @ 5300rpm
Torque:  250Nm @ 2400 – 4800 rpm
Safety:  5 Star
CO2 Emissions:  193 g/km
Economy: (ADR comb) 8.0 L/100km
0 – 100Kmh: 7.0 seconds
Top Speed: 230kmh
Servicing:  Lifetime Capped Price
Warranty 3yr/100,000 km with 1 Yr. full roadside assist
Overall AnyAuto Rating      82/100
Behind the Wheel 8
Comfort 8
Equipment 9
Performance 8
Ride & Handling 8
Practicality 8
Fit for Purpose 9
Fun Factor   9
Street Cred 7
Value for Money 8