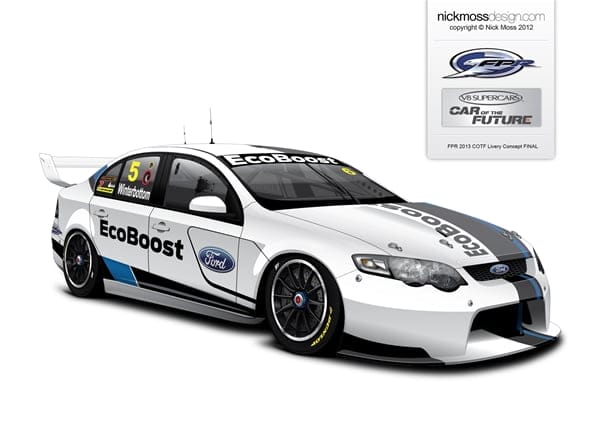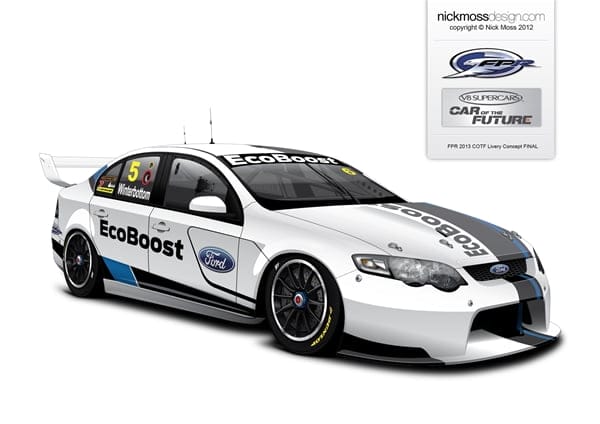 Ford Performance Racing's first Car of the Future (COTF) Falcon will run in Ford's EcoBoost motorsport livery when it takes to the track joining other Ford squads around the world currently running the colour scheme, including teams in NASCAR and the World Rally Championship.
EcoBoost is Ford's latest engine technology which is now available in Australia in the locally-built Falcon, Mondeo and the soon to be released Focus ST.
EcoBoost engines combine direct injection, turbocharging and variable valve timing to maximise performance and torque while improving fuel economy and reducing CO2 emissions.
Ford Australia motorsport boss Graham Barrie says having Ford's factory team running the global EcoBoost livery highlights the importance of the company's V8 Supercar program.
"EcoBoost is the future of Ford's engine technology globally so it makes sense that we use Car of the Future (COTF), the future of V8 Supercars, as our platform to promote it," Barrie said.
"Ford Performance Racing's first Falcon COTF will carry the same EcoBoost livery that all of Ford Racing's official teams around the globe have run throughout the month of August.
"This further aligns our V8 Supercar program with Ford's global motorsport plan and places it alongside the likes of NASCAR and the World Rally Championship."
The striking white, black and blue livery will adorn the factory team's COTF chassis during its test phase before FPR unveils its 2013 racing colours early next year.
FPR Team Principal Tim Edwards says the new look coincides with a new era for the team and V8 Supercars as a whole.
"The impending debut of our first COTF Falcon coincides with an important time for Ford globally as the company rolls out more and more models featuring EcoBoost technology," Edwards said.
"By running our test program in Ford's EcoBoost motorsport colours we are not only showcasing our team and category to the world, but also showing we are an important part of Ford's racing program.
"It is also appropriate that we are running it on our Falcon at the same time road-going Falcons with EcoBoost engines are being produced just across the road from our workshop."
FPR drivers Mark Winterbottom and Will Davison are second and third in the Driver points ahead of this weekend's Sydney Motorsport Park 300 at Eastern Creek.
For more information on EcoBoost visit www.ford.com.au and for more information on the Car of the Future program go to www.v8supercars.com.au/COTF