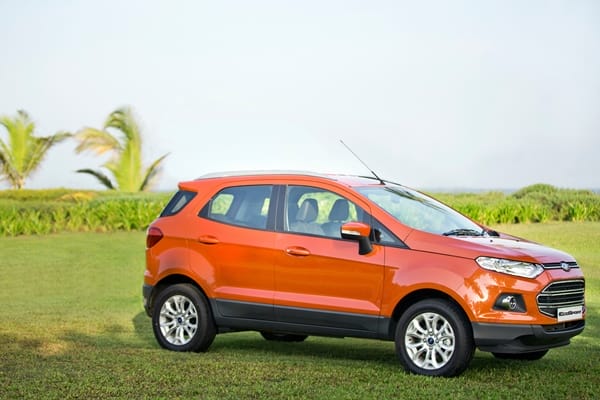 Ford today confirmed that the all-new to Australia Ford EcoSport, a compact, rugged and fuel efficient sports utility will go on sale in December.
The Ford EcoSport is based on Ford's global B-segment platform that underpins the Ford Fiesta hatch and combines small car practicality with the flexibility, spaciousness, agility and style of an SUV.
"Ford EcoSport will deliver smart technologies as well as great value, quality and fuel economy to our customers," Ford Australia President and CEO, Bob Graziano, said. "It will also present them with a fantastic choice that will be a perfect complement to our SUV portfolio."
The new Ford EcoSport will meet the increasing customer demand for small SUVs in Australia, which Ford expects to grow significantly over the next few years.
"We expect the rugged Ford EcoSport to appeal to a new generation of customers who are looking for an agile SUV with excellent dynamics, flexibility and multi-purpose practicality," Graziano said.
The vehicle has undergone millions of kilometres of testing, including here in Australia, over the most rigorous roads as well as being tested in the most demanding climates across the globe.
The distinctive and aerodynamic Ford EcoSport features a large front grille; slim, detailed headlights; and rugged cladding on the side sills and bumpers.
The SUV's high driving position, rugged capability, excellent fuel economy, easy manoeuvrability, and convenient features all make it just the right vehicle for urban as well as country customers. The well-rounded Ford EcoSport is just as comfortable wading through flooded areas as it is entertaining the driver through hands-free phone calls and music selection. The Ford EcoSport will enable Ford customers to experience a right-sized vehicle for customers that is equally at home in the city as it is in the country.
"We are confident the Ford EcoSport will do for the small SUV customer what the Ford Kuga and Ford Territory have done for family buyers," Graziano said.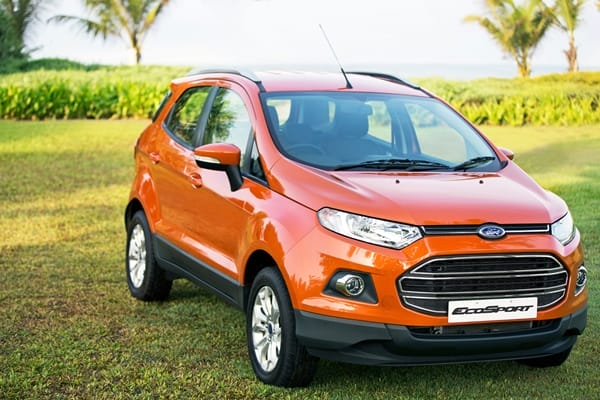 Clever capability
The new Ford EcoSport makes driving fun and intuitive with an array of smart features. The urban SUV is the first in its class to offer Ford's SYNC®, the voice-activated in-car connectivity system powered by Microsoft. The award-winning Ford SYNC system enables drivers to keep their eyes on the road and hands on the wheel while choosing their favourite music and making phone calls from devices connected via Bluetooth®1 or USB using voice commands. The Ford EcoSport's cabin also has 20 practical storage spaces, including a glove box that can keep up to six beverage cans cool. Its luggage area at the back is just as versatile with split fold and tumble rear seats that can easily fold down and tumble forward for additional luggage space.
Revolutionary EcoBoost technology
The multi-award winning 1.0-litre EcoBoost engine in the EcoSport delivers power and performance of a traditional 1.6-litre engine with an improvement in fuel economy by up to 20 per cent. The 2012 and 2013 International Engine of the Year is tiny enough to fit on a sheet of A4 paper yet produces 92kW and peak torque of 170 Nm from 1,400 rpm to 4,500 rpm.
The Ford EcoSport will also be available with the fuel-economical 1.5-litre petrol engine with twin independent variable camshaft timing.
Quality that speaks to all five senses
With a signature Ford face, dramatic rising beltline and a ready-to-pounce stance, the new Ford EcoSport conveys a dynamic spirit of energy in action. The full-size spare tyre, with an exclusively designed wheel, is mounted on the tailgate as a classic SUV cue.
Inside, soft-touch fabrics, tight gaps and the global Ice Blue dashboard illumination all reinforce superior quality and craftsmanship. Controls and knobs are ergonomically placed while the seats are designed to be soft enough for comfort and firm enough for longer journeys.
The cabin is also extremely quiet at high speeds, thanks to meticulous efforts to reduce noise, vibration and harshness. Add to this a very effective climate control system, and customers will be very comfortable in the Ford EcoSport.
The Ford EcoSport's compact dimensions and the electric power-assisted steering with Pull-Drift Compensation help drivers tackle the stress of city driving, be it parking in small spaces, manoeuvring in heavy traffic, or making tight U-turns. The Ford EcoSport's high ground clearance of 200 millimetres also means customers won't have to worry about driving over speed bumps and potholes or through flooded streams. The SUV has the exceptional ability to wade through 550 mm of water.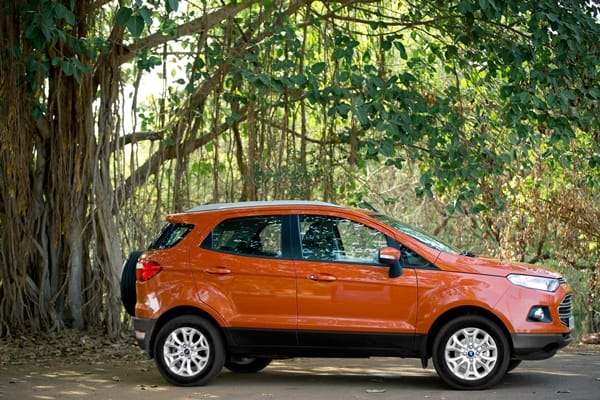 Safety and driver assistance
The Ford EcoSport has been designed to provide high levels of protection and driver support through a range of advanced features. About half of the urban SUV's body structure is made up of high-strength steel and ultra-high-strength steel, such as boron steel, making the Ford EcoSport's frame especially strong yet lightweight too.
The SUV's suite of airbags provides additional peace of mind. The Ford EcoSport offers driver, driver's knee and front passenger airbags, as well as side airbags and curtain airbags.
To take the stress out of driving, the Ford EcoSport comes with an array of driver-assist systems. Hill Launch Assist helps drivers make a perfect hill start whether it's uphill or downhill, by holding the SUV for up to three seconds. This prevents the vehicle from rolling backwards or forwards while moving off from the slope, increasing driver confidence.
Advanced safety technologies such as Dynamic Stability Control (DSC) also help customers remain in control at all times, especially on slippery roads. When it detects that the car is losing control, it automatically reduces engine power and selectively brakes individual wheels to stabilise the vehicle and keep it travelling on track.
More details of the Ford EcoSport will be revealed closer to its launch.
1Bluetooth® is a registered trademark of Bluetooth SIG., Inc. and is used under license.