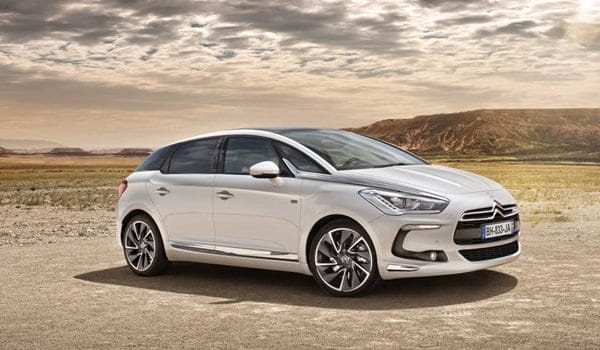 The Citroën DS5, is a new phase in the development of the DS line. The innovative model fits perfectly with the brand's "Créative Technologie" baseline and features even bolder choices in style, architecture, sensations and refinement. The Citroën DS5 experience is about fully embracing the pleasure of driving an outstanding vehicle.
Styling: boasting an audacious body and inspired style, the DS5 is an aerodynamic sculpture that expresses the finest in Citroën expertise. It features authentic materials including club leather and aluminium, together with unique upholstery such as the "watchstrap" seats that embody the finest in French-style luxury. Extraordinary, bewitching and attractive, the Citroën DS5 appeals, naturally.
Intelligence of its design: the Citroën DS5 is an extraordinary vehicle that proposes a new take on the premium segment while combining compact body dimensions with a spacious interior. It goes beyond traditional compromises between aesthetics and user features, marrying driving pleasure with shared well-being.
Technologies: it also features the finest Citroën technology, including intelligent traction control, a second-generation lane departure warning system, automatic activation of the high-beam function depending on surrounding traffic, head-up display in colour on a blade, and a reverse parking camera. The Citroën DS5 will also be the brand's first model available with Hybrid4 full-hybrid diesel technology, combining strong performance (200 bhp, four drive wheels) and all-new driving sensations (electric power in the city, acceleration boost in "Sport" mode) for CO2 emissions of just 99 g/km.
Road performance: like the Citroën DS3 and DS4, the DS5 offers a dynamic yet serene drive in all circumstances. The car's unique road feel gives drivers the feeling that the wheels are at their fingertips.
Spirit: with its strong emotional content, the Citroën DS5 invites passengers to take part in an amazing onboard experience, with a cockpit-inspired driver's station where dream and reality meet.
The DS line, comprising the DS3, DS4 and DS5, is produced in France and sold internationally. The Citroën DS5 will be launched in Russia, Latin America and China in 2012.
And the DS line is set to continue growing…