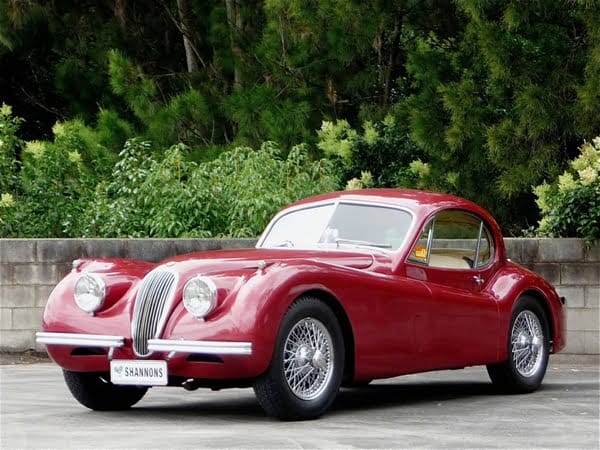 Have you always wanted to own a Jaguar but never got around to doing it. Maybe it's time to take an opportunity and check out Shannons on the 20th February. For all you car enthusiasts and specifically Jaguar enthusiasts, you might be interested to know that Shannons has a number of Jaguars available on that day. A chance to buy history.
The top cat in the pride of '53 is a fastidiously built and detailed re-creation of a Le Mans factory C-Type racing roadster that has covered just 500 shakedown miles since its completion in 2003 and would cost in excess of $250,000 to reproduce today.
Based on exact measurements taken from an original 1953 C-Type that was in New Zealand for restoration some years ago, the one-owner vehicle is the second of seven recreated C-Types built by a well-known New South Wales restoration specialist. It is expected to sell in the $150,000-$180,000 range.
The C-Type recreation is backed up in the auction by two stunning Australian-delivered XK120 sports models – a Roadster and a rare Fixed Head Coupe.
Dispatched from the factory in November 1953 to Dominion Motors of Adelaide, the black XK120 is believed to be the second last XK120 Roadster delivered to Australia. It was sold in January,1954 to Shoe Retailer Blacks Ltd – appropriately given its colour, for use by the firm's principal, Royston Black.
As a late XK120, it has a number of XK140 features such as the front parking lights being integral with the front mudguards.
The Factory original car with its red and cream leather interior was laid up for approximately 35 years before receiving a meticulous restoration to standard specifications over a 10 year period from 2000-2010. It is expected to attract bids in the $100,000-$120,000 range.
Similarly fitted with the desirable Factory wire wheel option, the Bordeaux Red Fixed Head XK120 Coupe is the actual car displayed at the 1954 Sydney Motor Show and was subsequently sold new by Bryson Industries Ltd to Reliance Trading in August 1954.
It is believed to be one of just 14 XK120 FHCs sold new in Australia and is number 177 of 194 built by the Factory in right hand drive.
When the car was restored in 1990, its original cream with red trim was replaced by the current Bordeaux red (a Jaguar colour) with cream leather interior. However the 3.4-litre DOHC engine is a later S-Type unit fitted with correct XK120 ancillaries including oil filter, sump starter and generator. The original unrestored XK120 cylinder head also comes with the vehicle.
It is expected to sell in the $66,00-$76,000 range at Shannons Sydney Summer Auction.
Enthusiasts of Jaguar's evergreen MkII Saloon models also have two interesting cars to choose from at the same auction – a modified British Racing Green with chrome wire wheels 1963 3.8 Manual Saloon and a White and very original 1969 2.4 Automatic.
The Factory 3.8 MkII Manual has been in the same owner's hands for the past 20 years and has been enhanced professionally to 'Coombs' specification by Sydney marque specialist Graeme Lord.
This has included a full engine rebuild with triple SU carburettors, an upgraded oil system, forged pistons, head work and stainless steel extractors and matching driveline enhancements including LSD, Koni shock absorbers, upgraded brakes and a lightened flywheel.
Shannons is quoting a conservative guiding range of $40,000-$48,000.
Alternatively, Shannons is offering a 1969 Jaguar MkII 240 Saloon that was delivered new through Bryson Industries in Sydney whose custodian of the past 20 years is believed to be the car's second owner.
The well maintained and cared for Jaguar comes with a complete service history dating back to 1991 and the car also comes with a Haynes workshop manual and the original service maintenance book. It is expected to sell in the $10,000-$15,000 range.