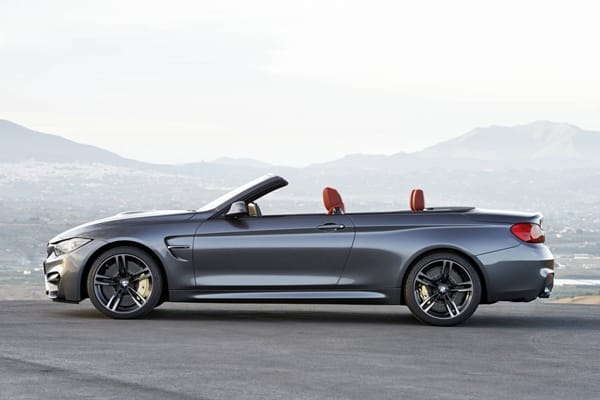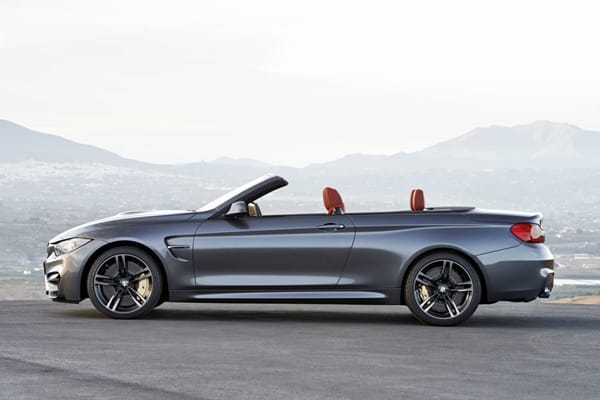 BMW Group Australia today announced the arrival of the new BMW M4 Convertible – an alluring addition to BMW M's legendary line-up of high performance sports cars, which include the highly acclaimed BMW M3 and M4 launched in Australia in July – and just in time for the Australian summer.
"The new M3 sedan and M4 coupe have received a hero's welcome in Australia," commented Tom Noble, BMW Group Australia's general manager of marketing and sales.
"And we expect a similar response for the BMW M4 convertible – the king of open-top performance motoring," Noble said.
Designed to provide best-in-class handling combined with comfortable cruising – as well as drop-dead gorgeous looks – the BMW M4 Convertible has a complex remit to achieve. Like almost no other vehicle, the BMW M4 Convertible excels thanks to numerous newly developed mechanical components and electronically controlled systems such as the Active M Differential, Adaptive M Suspension, DSC with M Dynamic Mode and M Servotronic.
The new BMW M4 Convertible emphasises its stylish and distinctive appearance through its individual character and places the fascination of sporty and dynamic open-top driving at centre stage. The new model finds BMW M GmbH drawing inspiration from a long tradition: BMW's high-performance sports car for track and road is entering its fifth generation in open-top form with this new chapter in its history headed "M4 Convertible".
The BMW M4 Convertible shares the elegant lines of its open-top 4 Series siblings. Its design language allows it to skilfully blend a distinctive and graceful silhouette boasting finely balanced proportions when the roof is open, and an exceptionally dynamic coupe line with shorn off B-pillars with the hardtop closed.
At the same time, the M4 Convertible's styling cues – including a signature power dome for the bonnet, eye-catching exterior mirrors in twin stalk style and flared front and rear wheel arches bulging over forged light alloy wheels with mixed tyres in 19-inch format – identify it clearly as a member of the BMW M3 and M4 model family.
The dynamic character expressed in the exterior design of the BMW M4 Convertible is seamlessly continued in the interior. The low seating position emphasises the driving experience and also provides additional headroom in both the front and rear.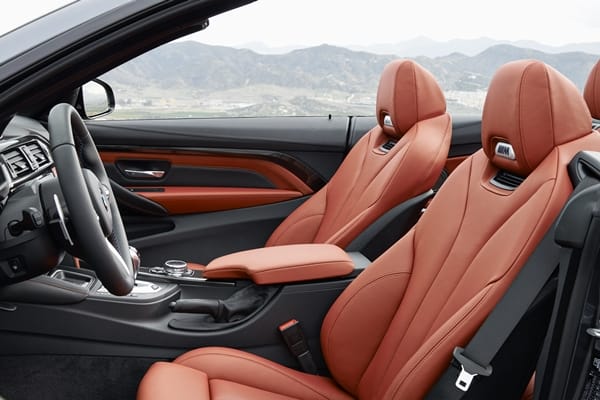 The interior is characterised by numerous hallmark M details, including M circular dials with white numerals, M leather steering wheel, M gearshift lever and M entry sills. A standout touch to the interior are the standard electrically adjustable M seats which feature integrated belt guide and headrests with illuminated BMW M emblems.
Powering the BMW M4 Convertible is the newly developed six-cylinder in-line engine with M TwinPower Turbo technology and high-revving character already familiar from the M3 Sedan and M4 Coupe. The power unit generates maximum output of 317 kW from its 3.0-litre displacement and serves up peak torque of 550 Newton metres across a wide rev band. The BMW M4 Convertible offers the driver not only exceptionally sporty performance attributes – the sprint from 0 to 100 km/h takes just 4.4 seconds (with the standard seven-speed M Double Clutch Transmission) – but also sufficient reserves of power to cruise along in relaxed but rapid style with the roof down. The increasingly unique six-speed manual transmission is also available at no cost on the BMW M4 Convertible and propels it from 0 to 100 km/h in 4.4 seconds.
Like the BMW M3 Sedan and BMW M4 Coupe, the BMW M4 Convertible also displays a strict adherence to the intelligent lightweight construction principle. The bonnet and front side panels are made from aluminium, as are many components of the high-performance chassis. In addition, ultra-lightweight and – thanks to its hugely impressive rigidity – also extremely durable carbon-fibre-reinforced plastic (CFRP) is employed in many areas of the new M4 Convertible.
For example, the M4 Convertible's drive shaft uses CFRP which allows it to be constructed as a single-piece unit. This makes a significant weight saving and a reduction in rotating masses. The CFRP precision strut in the engine compartment weighs only 1.5 kg, yet offers rigidity superior to that of a comparable aluminium component and plays a key part in the car's excellent steering response and precision.
The three-section folding metal roof of the BMW M4 Convertible has full interior lining and offers excellent soundproofing and winter-proof construction. The roof opens at the touch of a button in under 20 seconds – while travelling at up to 18 km/h if required.
Other new developments and modifications for the M4 Convertible include:
•A neck warmer integrated into the front seat backrests
•Easy-loading function (lifting of the entire roof package) included as standard for convenient access to the luggage compartment when the top is down
•Luggage compartment volume increased to 220-370 litres
•Wider through-loading hatch in the luggage compartment
Echoing the intent of its M3 and M4 siblings, the BMW M4 Convertible sports a wealth of standard equipment
The standard specifications of the all new BMW M4 Convertible has been significantly enhanced in comparison to the model it replaces (E93M). The additional equipment and the inclusion of some of the latest BMW innovations represent an increase in customer value of more than $10,800. Just some of these specifications include 19 inch M light alloy wheels, Active Protection, Air Collar, M DCT with Drivelogic, rear-view camera, surround view camera, wind deflector, iDrive Touch controller, DAB+ digital radio and speed limit device.
Complementing its already extensive standard specification, the new BMW M4 Convertible can also be ordered with a wealth of attractive options to further enhance its aesthetic appeal, dynamic prowess and comfort levels.
And for that distinctive personal touch, the exclusive BMW Individual range of equipment offers the prospect of a unique driving experience. Special colours and materials can be fine-tuned to the driver's wishes.
ConnectedDrive, the latest driver assistance systems and mobility services – including individual SIM card in each vehicle, emergency ECall assistance button, Concierge Services and internet connectivity are available on the BMW M4 Convertible.
The BMW Service Inclusive Package (BSI) – available on the full BMW range, Australia wide – combines all scheduled servicing costs for five years or 80,000km from just $990.
Warranty on the BMW range is extended for three years with unlimited kilometres.
BMW M4 Convertible Australian pricing:
BMW M4 Convertible $178,430*
*Manufacturer's Recommended List Price is shown and includes GST and Luxury Car Tax (LCT) – if applicable, but excludes dealer charges, stamp duty, statutory charges and on-road charges, which are additional and vary between dealers and States/Territories. Customers are advised to contact their nearest BMW dealer for all pricing inquiries.