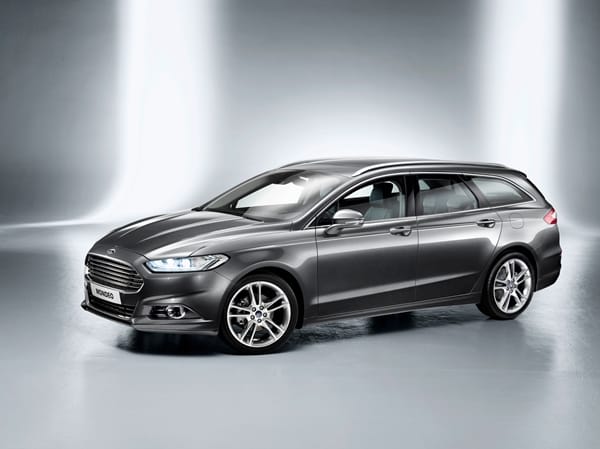 Ford has unveiled the stylish all-new Ford Mondeo hatch and wagon, revealing a sleek design and new levels of premium interior craftsmanship and safety.
The all-new Ford Mondeo will also deliver an Australian first for Ford customers with the arrival of rear inflatable seatbelts when the car arrives in the second half of 2014.
These are designed to reduce head, neck and chest injuries for rear-seat passengers. In the event of an accident the belt rapidly expands to disperse crash forces across a body area five times greater than that achieved by a conventional seatbelt.
"This is class-leading technology that will rival many premium competitors," Ford Executive Vice President of Global Marketing, Sales and Service and Lincoln, Jim Farley, said. "The new Mondeo will redefine the medium car and set new standards for others to beat.
"Ford Mondeo has an unbeatable blend of premium design, craftsmanship and smart technology. The hatch and wagon's exterior and interior DNA work together to enhance the car's great driving dynamics, very much a core value at Ford."
Displaying Ford's new global design language, Australian customers will also have the choice of the refined yet sporty wagon, which will complement the expressive Ford Mondeo hatch when it arrives in Australia in 2014.
Both Mondeo models deliver driver-focused interiors, superior craftsmanship, advanced ergonomics and quality materials that rival many premium competitors.
Visually the striking Ford Mondeo hatch and wagon showcase Ford's truly global design DNA while the hatch's low roofline enhances the sports coupe profile while retaining a spacious and practical interior.
The wagon's lean side-profile is sculpted to convey "visual lightness", while the sophisticated and technical front end design features Ford's new, more prominent trapezoidal grille with a power-dome bonnet.
Inside the all-new Ford Mondeo wagon delivers unprecedented levels of space and comfort with superior craftsmanship throughout the driver-focused cockpit.
The use of soft-touch materials, premium finishes and equipment contribute to the most premium Ford Mondeo experience ever while the spacious rear luggage area will accommodate even the most discerning family.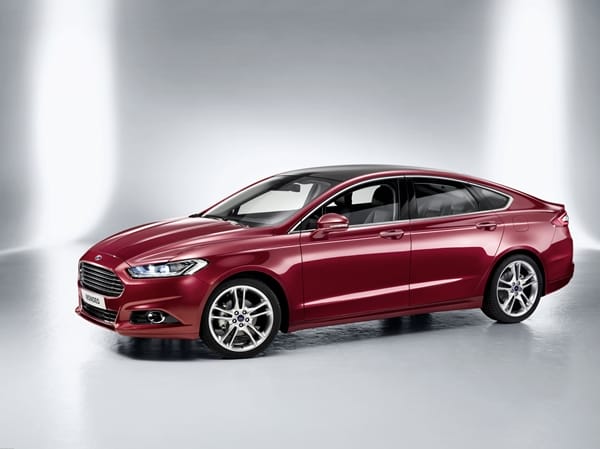 As expected of a Ford, the all-new Ford Mondeo has the distinctive Ford DNA for ride and handling.
It is the first Ford model to feature a new integral link rear suspension configuration that helps all-new Ford Mondeo, the first vehicle built on Ford's new global CD-segment platform, to deliver customers greater refinement and more dynamic performance.
The new Mondeo will be available with Ford's powerful, yet efficient EcoBoost petrol engines when the car arrives in 2014 and will showcase a new 1.5-litre EcoBoost engine. The 1.5-litre EcoBoost is projected to deliver around 133 kW of power at 6,000 rpm and peak torque of around 240 Nm from 1,700 to 4,500 rpm.
The engine includes an integrated intake manifold and watercooled charge air cooler, which allows for a more efficient feed of air into the engine, and a clutch-controlled water pump that delivers fuel efficiencies by reducing the warm-up time of the engine.
EcoBoost also features specific technologies to reduce noise, vibration and harshness, delivering an engine that is quiet and refined.
Along with the 1.5 EcoBoost a 2.0 EcoBoost will also be available, which will deliver improved efficiency and lower operating costs for Australian customers. Ford Mondeo will also be available with the proven Duratorq turbo-diesel 2.0-litre TDCi.
The all-new Ford Mondeo chassis will feature a fully advanced suspension arrangement alongside Electronic Power Assisted Steering for optimised handling and driving dynamics. The chassis incorporates a new integral link suspension configuration that will improve ride comfort and noise reduction, in particular for rear-seat passengers.
Like the Ford Fiesta, Ford Fiesta ST, Ford Focus, Ford Focus ST and Ford Kuga, the Ford Mondeo will also offer SYNC in-car connectivity system.
SYNC enables drivers to keep their hands on the wheel and eyes on the road while controlling phone and media player functions from connected devices, using voice commands.
More details and features of the all-new Ford Mondeo will be revealed closer to launch.