The All New 2021 Subaru Outback, imported by logistics giant,  Inchcape has a new platform, new look, new interior, and a mostly-new engine. Engine and transmissions choices are now limited to a single 2.5L option.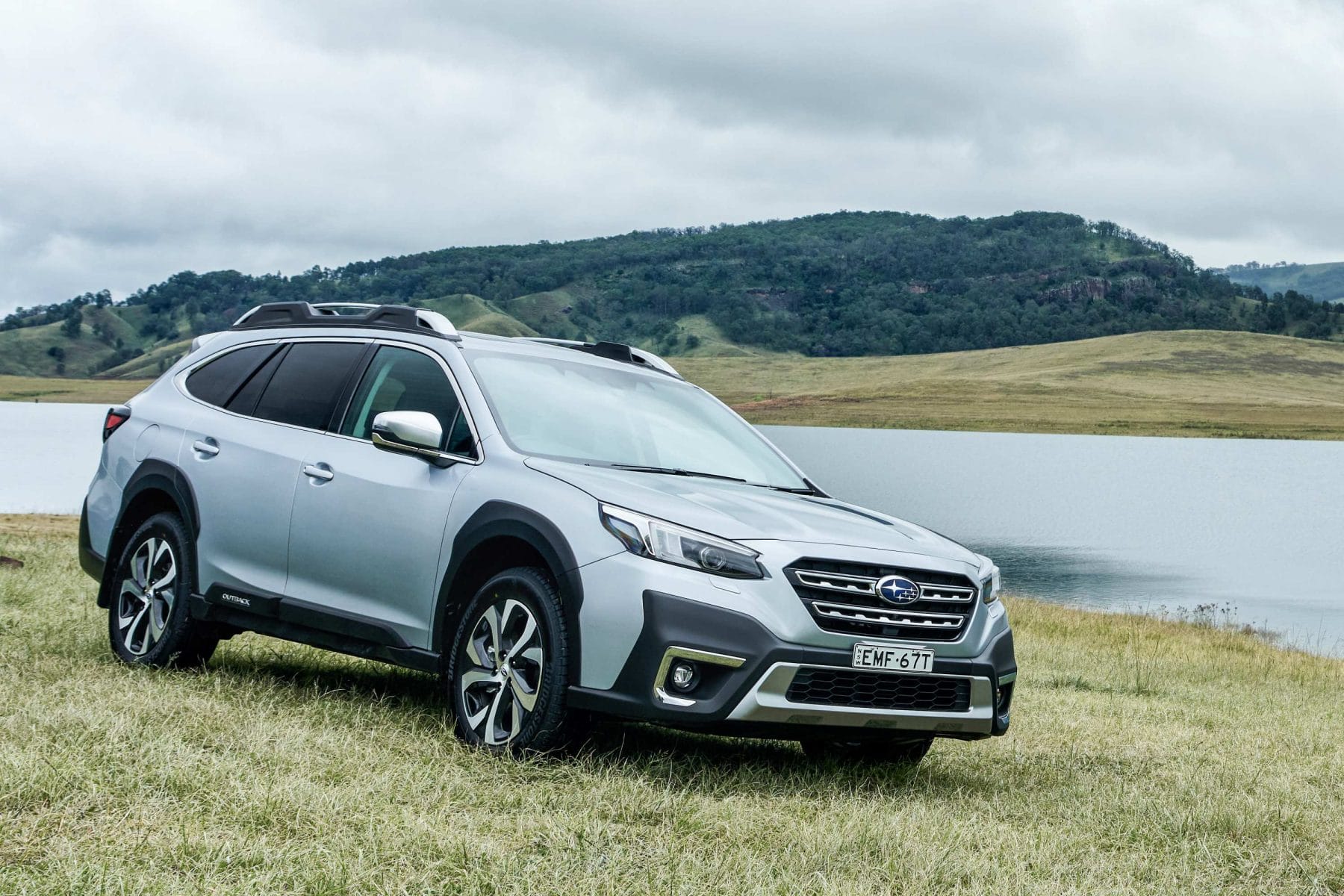 Subaru says the new model is step up in features and design. Sadly, the slow selling Liberty (AKA Legacy) was dumped recently, so Outback is now their only large car. At 1661kg), Outback is hefty, and has 213mm of ground clearance. It has symmetrical AWD, and tried and true 2.5 boxer. There is no longer a flat-six or diesel. Th 2.4L flat four definitely needs a turbo, no doubt about it.
It is paired to a CVT with no manual option.
Outback has 3 models, Outback, Sport, and Touring.
Outback Outside:
As good as it was, the old model had become a little jowly over the years.
The new car starts with a new platform that will feature in all upcoming Subarus. The flexible platform can take all manner of drivelines, so a hybrid or EV Outback is a definite maybe.
Up front, there are fancy bendy LED Headlights that change direction with the steering wheel. At night, those blind corners are no longer blind. Lights dip as traffic appears, to reignite once the way is clear again. As you go into a corner, they turn to light the way.
18" wheels are new, but wheel design has advanced little and we feel like we've seen these before.
A powered tailgate, and wide doors make Outback easy to access too. The side profile gets a chunky look with beefy roof racks, and deep plastic wheel arch mouldings echo the off-roading credentials.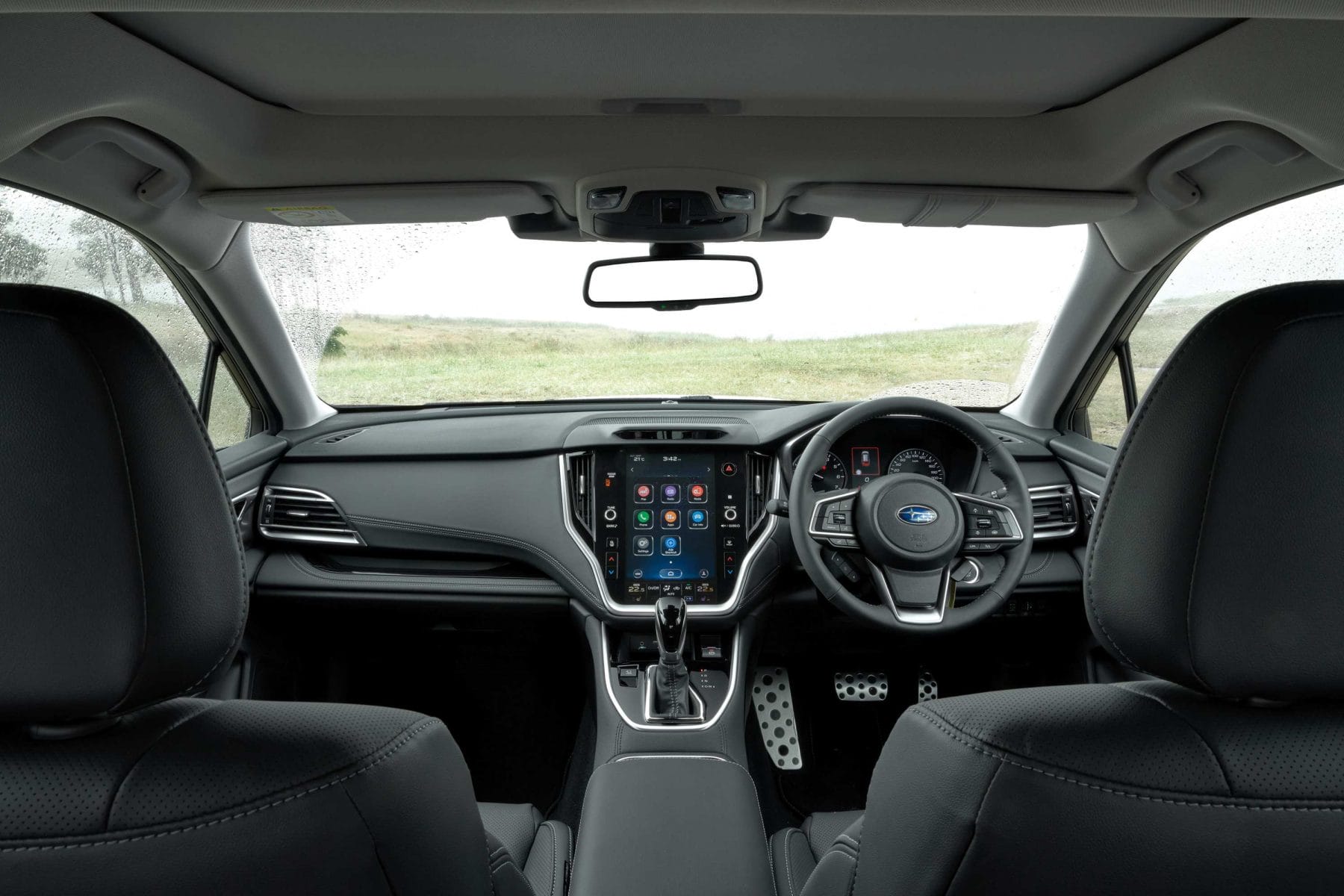 The Outback Cabin:
Outback is the master of understated elegance.
Abundant storage includes trinket trays above the glove box, and a phone holder on the passenger's side of the centre console. A tray in the centre console is a bit hard to use once a couple of devices are plugged into the twin USB ports.
There is heating for four outer seats, with the front having powered adjustment, and the driver adding a lumbar button.
Front and centre is the 11.2" tablet on the centre stack. It replaces the previous infotainment system, usurping the driver's display and 3rd , high-set, centre display functions in the process. No longer do you have to search across 3 screens for the setting you want to change.
The 4.2" LCD in the driver's instruments still has fuel usage and some safety displays, but little else.
The tablet has 2 separate "Car" menus, which really should be in just one large list.
Dual zone climate control has fixed buttons for oft-used functions, and a menu for the rest. Temperature retains physical buttons, but there are repeated in the climate menu. The centre console is also clear of most controls.
Forester's facial recognition system is now in new Outback, and will set your seats and mirrors in the preferred place. Although there are 2 "memory" buttons, they are over-ridden by the facial system.
A canny observer will spy slimmer Gen-4 "Eyesight" cameras. They are now mere shadows of their former selves. The stereo cameras scan ahead and provide Outback with all manner of useful data, some of which is then supplied to the driver.
AEB uses the cameras, and is assisted by radar for reverse protection. Outback will chuck out the anchors, no matter what direction your heading in.
The steering wheel has a plethora of backlit buttons.
Cruise control and audio feature highly, with further buttons for some of the driver-assist functions, and the heated steering wheel.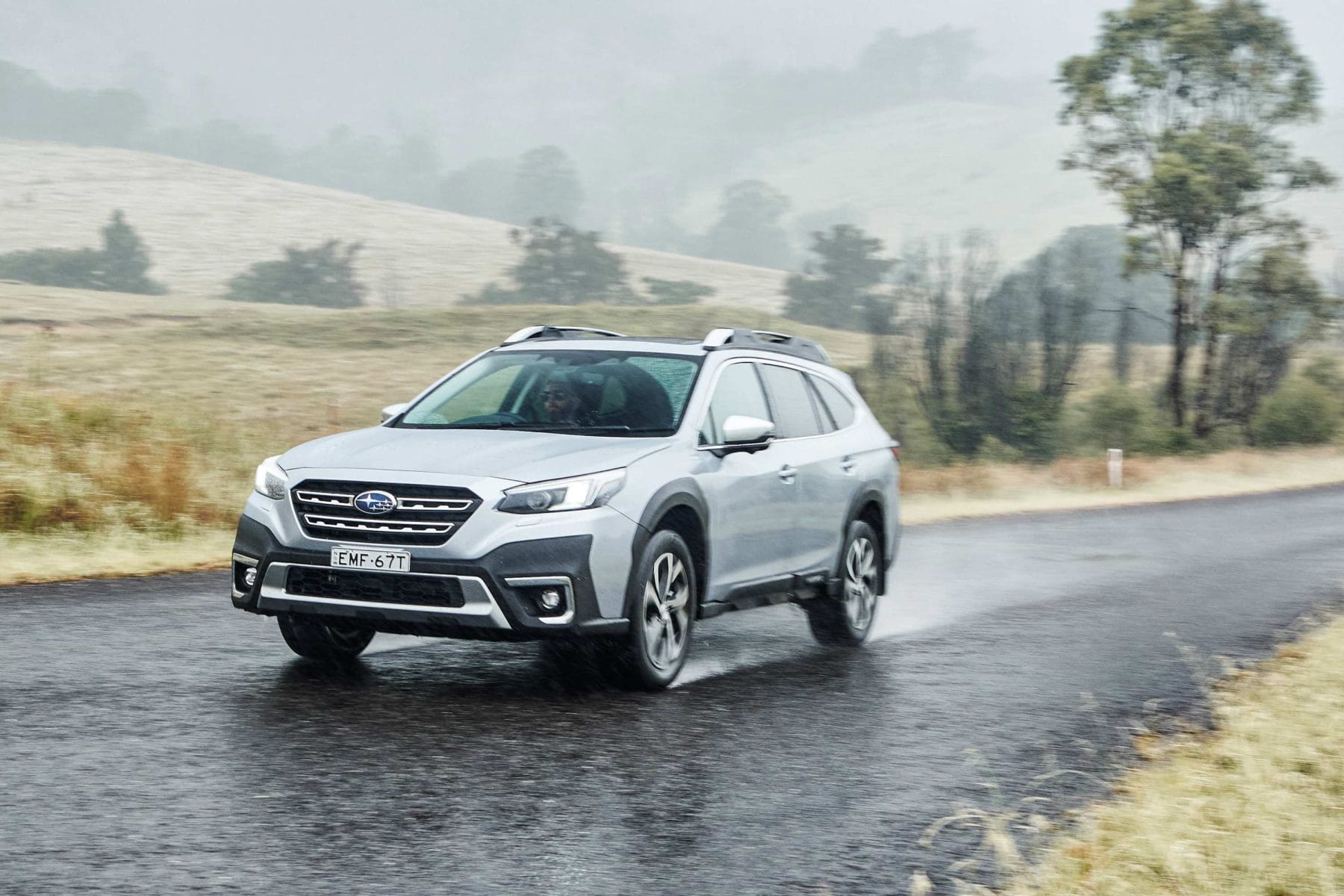 The Drive:
Outback sits solidly on the road, yet keeps a light, ethereal feeling to the handling.
Although this weekend was spent mainly in leafy southern beaches, that doesn't mean we didn't give her a decent seeing to. I popped in to see an old mate who has been driving Scoobs since he could walk. Country folk are like that.
It's a couple of hours of careful highway and B-road driving to get there, and this would have been lonely were it not for the CarPlay keeping me entertained. Outback felt light in corners, with the smart cruise control making light work of the highway stints. Lane centering can be intrusive, but is handy once you get used to it. You can turn it all off if you'd rather.
After flicking the system into S mode, I pulled out to overtake. There was a hullabaloo from under the bonnet because the CVT has no gears as such. The pistons sound like they were ready to blast through the wheel wells, only to fall dramatically as the speed was reached. 138kw is enough to get the job done, but there is little left in the pot for emergencies.
I'm not sure how it would cope when loaded with 5 peeps and their gear.
Once at the farm, we took Outback up some damp grass slopes, and the odd muddy track. It coped by engaging the fancy traction systems. We took Jimmie's ancient Brumby out for a bit of a lark, and it was an eye opener to compare an old Subaru with a spanking new one.
I like the safety gear too. There is a lot to talk about there, so see the specifications sheet for detail. Eyesight is a suite of features using radar, sonar, and stereo cameras working together to provide a cocoon around the occupants. Only the driver is really aware of the active blind spot monitor and lane centering. Subtle shifts of the steering wheel can be felt, that become more insistent as the system tries to compensate for what is sees as driver inconsistency. When things really things go tits-up, there are 8 airbags as a last resort.
It is no substitute for good driving and is an aid only, not something you should depend on.
The Harmon Kardon speakers have beautiful tones at all volumes. The cabin is bathed in gentle, soothing music, highlighted with a calming glow at night.
I thought the central menu system might be hard to use when on the move, but once you get used to it, it is easy peasy.
There is a full-size spare, as there is in all non-hybrid Scoobs.
Should you wish to, towing is a decent 2000kg  giving a fair bit of scope for weekend worrioring. A couple will find plenty of space even with their mates in the back.
Finally, the cabin is as quiet as a church. Suspension keeps the ride supple, and passengers feel well supported by comfortable seats, efficient climate control, and a top-notch entertainment system. The driver can focus on driving while Outback keeps its passengers cocooned. I've seen Subaru's after accidents where the driver was lucky to escape injury. It does what it says on the box.
Symmetrical AWD keeps tabs on tricky grip situations, and the engine and CVT keep fuel usage way down.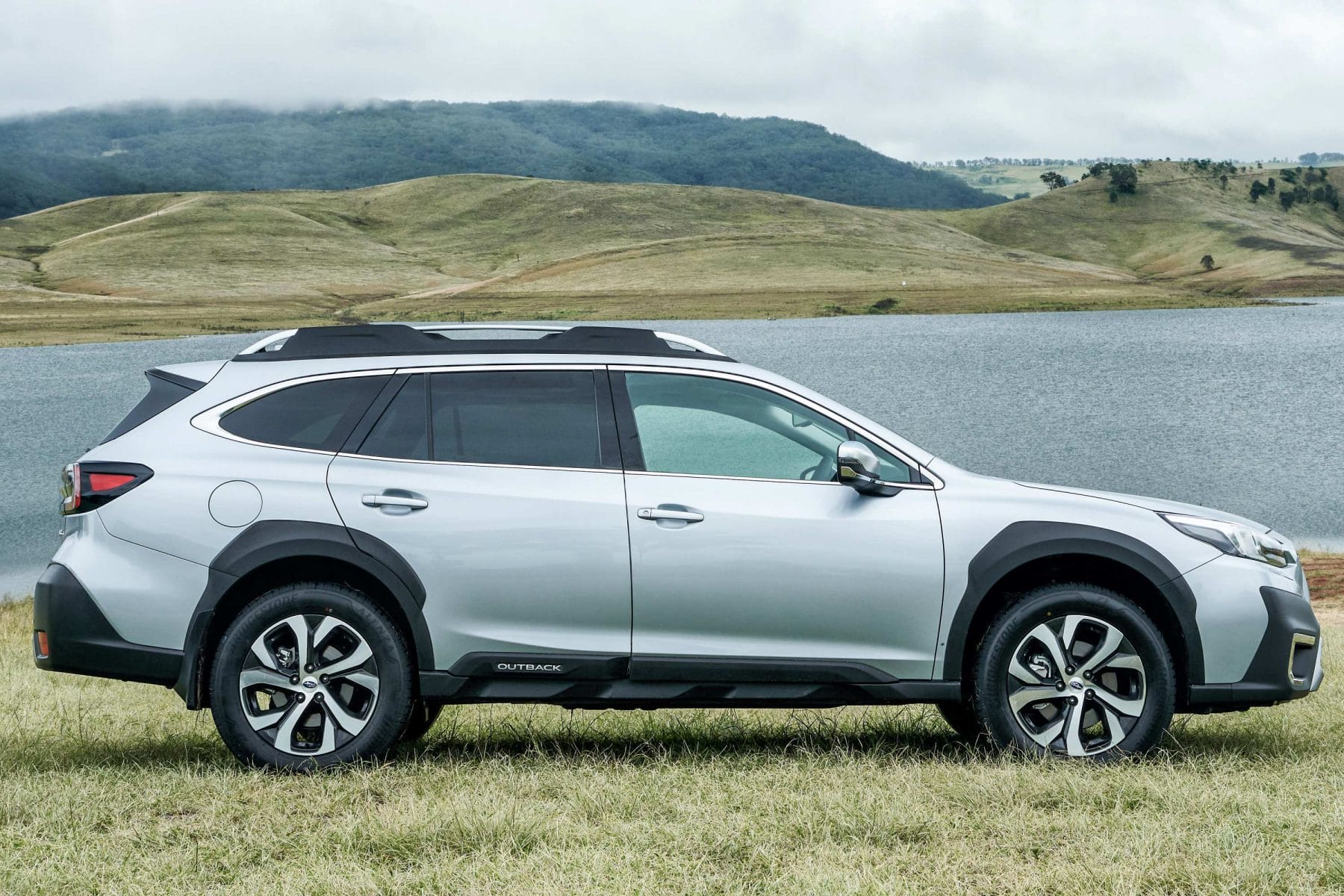 Conclusion:
Outback is an impressive family wagon that can go most places families will want to go. It will do the school run as happily as a holiday camp.
The cabin is spacious and well thought out, and even base models are fully loaded with gear. Pricing is good for a full-sized car, and includes a 5-year/unlimited km warranty for peace of mind.
What I like most of all is that Outback is an SUV that drives exactly like a normal passenger car, because it is a normal passenger car.
Price:
Outback $39,990
Sport $44,490
Touring $47,790
*MLP – Manufacturers List Price includes GST and LCT but excluding statutory charges, dealer costs and dealer delivery. See your dealer for RDAP. Does not include price of any options.
Engine: 4cylinder boxer, non-turbo
Drive Wheels: Symmetrical AWD, Active torque split
Trans: CVT Automatic
Power: 138kw/245Nm
Economy: 7.3L/100k, 91ron petrol
CO2: 168gm/k
Tank: 63L