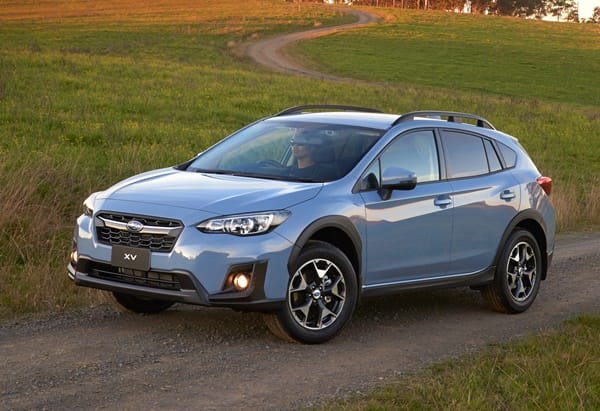 Subaru recently launched the all new Subaru XV range. The XV is based on the new Subaru Global Platform that was first seen earlier in the year in the Impreza. See what one of our reviewers Alan Zurvas said about the new XV range at GCB 
In this review we test the Subaru XV 2.0i-Premium AWD SUV to see what is so good about the new model. The Subaru XV 2.0i-Premium AWD SUV is the second top model in the range under the XV 2.0i-S model.
In reality it is significantly better on almost all areas to the model it replaces. The new Subaru Global Platform allows a slightly longer vehicle but with substantially more internal space. Revised suspension geometry also affords a smoother, more compliant ride while enhancing the handling. On the launch we punished the XV over dirt roads and it remained calm and composed mostly. It only lost composure slightly and in circumstances 99% of drivers wont experience.
Additionally Subaru has dramatically improved the internal ambience from the previous model. Fit and finish has always been first class but the little touches that improve the feeling as well as a more subtle style have lifted the new model.
The Subaru XV is powered by a 2.0L boxer engine that produces power of 115 kW @ 6,000 rpm and torque of 196 Nm @ 4,000 rpm and drives through the Symmetrical AWD system with a CVT.  In reality this power and torques is just adequate for normal driving but can feel wanting on sand or heavy dirt driving. The CVT is definitely improved from previous models and works well enough again in normal driving conditions. The matching between the CVT and engine could be improved for better performance and economy, which isn't as good as you might expect.

The Subaru Symmetrical AWD system has been developed over many years now and ensures the XV is more capable than most people realise. This combined with an impressive 220 mm of ground clearance allows an adventurous owner to really get out and be active without the need for a full 4WD or heavier vehicle.
We have tested the XV on forest trails, dirt roads, on the beach, on the farm and generally found it to be willing and competent. We are yet to drive in snow conditions, however to be realistic that isn't a common occurrence in Australia.
With a tow capacity of 1400 kg and tow ball rating of 140 kg the XV is also capable of taking your toys with you like the quad bike or seadoo etc.
Packed with features such as Eyesight Driver Assist, X-Mode, AWD, Android and Apple Car Play etc., Subaru has obviously designed the XV for the adventurous couple that wants more than a boring hatch or sedan. It allows freedom, or the promise of freedom from drudgery.