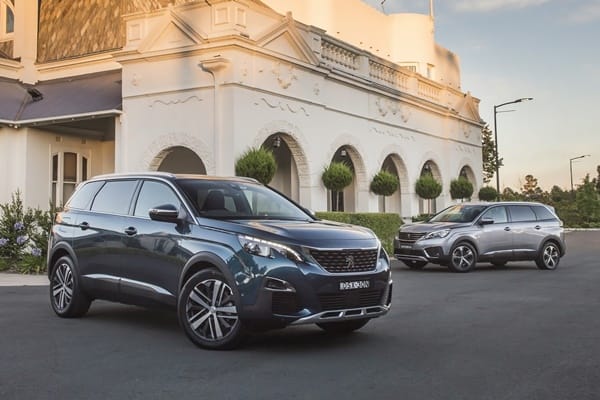 Peugeot 5008 continues the brand's long and for the most part, illustrious history in Australia. Peugeot's long travel and compliant suspension, is revered as being able to help tame the wilds of our outback roads.
Winning the first Redex Rally in the early 1950's (and a number of others that followed) Peugeot built a solid reputation. Then damaged it in recent years.
However with the 2008, 3008 and now 5008, Peugeot is well on the way to regaining its once sterling reputation. Recently released, the all-new 5008 is, thankfully, nothing like its namesake MPV predecessor.
In fact it is almost everything that model wasn't. In short it's actually really good.
My Peugeot 5008 Highlights
These are the top 8 things I liked about the all new Peugeot 5008
Practical design flair with functionality both inside and outside
Peugeot exemplary  ride and handling, especially on dirt roads
Overall visibility is excellent
Flexibility of the interior seat arrangements, it's awesome
Interior space and drivers position
Reasonably good value for money especially the GT Line and GT
Level of standard features that are included
Finally, the fact that it offers a character filled alternative to the main stream SUV.s in the segment.
Peugeot 5008 Range
The all-new Peugeot 5008 comes in a three car line-up with a choice of two engines and one transmission. They are priced from a RRP of Allure – $42,990, GT Line – $46,990 and GT – $52,990. Buyers can choose from two drivetrains with Allure and GT Line models powered by a 121kW, 240Nm, 1.6L turbo-petrol and top-of-the-line GT variants powered by a 133kW, 400Nm turbo-diesel. Both engines meet Euro-6 emissions regulations. Both engines are mated to Peugeot's smooth EAT6 six-speed automatic transmission, which drives the front wheels
Peugeot Australia's Managing Director, Anouk Poelmann, said that pricing for the all-new 5008 is highly competitive and delivers Australian customers a feature-rich, high quality French SUV.
Built on the new impressive Efficient Modular Platform 2 (EMP2), the 5008 showcases the future and flexibility for the platform. The new Peugeot 5008 SUV is manufactured in Rennes, while the Trémery and Douvrin sites produce the powertrains for every 5008. The new Peugeot 5008 SUV sports the 'Origine France Garantie' (Made in France) label.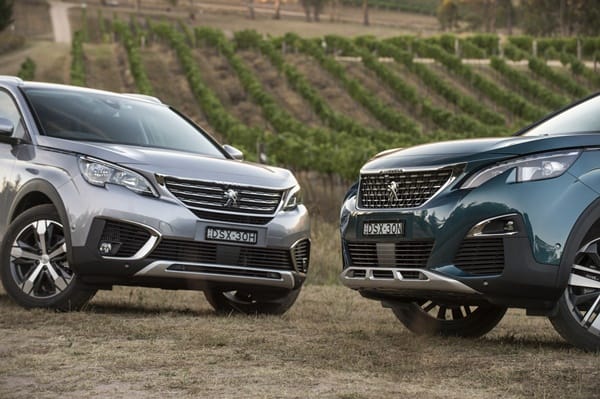 Peugeot 5008 Exterior
Externally the 5008 is a combination of style and boxy elements. From the front it is unmistakably a Peugeot. The bold grill has the Peugeot Lion front and centre.
There are chrome and black headlamps incorporating LED Daytime Running Lights, longitudinal, profiled aluminium roof bars, chrome highlights for the glass house and black lower wheel guards which both add to the vehicles' SUV stance and protect the bodywork from any damage from light off-road work. The GT models add some detail features.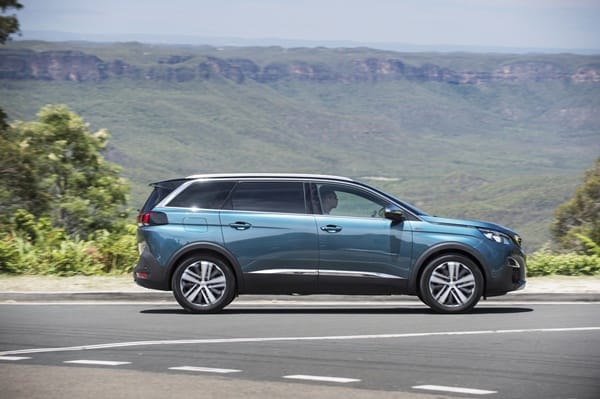 The interesting thing about the design is that although it is quite boxy at the rear, aiding in the cavernous and flexible boot and third row seat area, it still manages to maintain a sleek profile.
Sleek boxy is a new design phrase I just made up!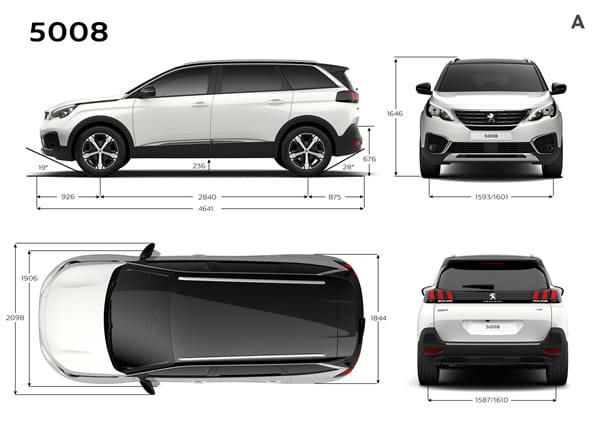 Peugeot 5008 Interior
Stay with me here as there is quite a lot to talk about and I am probably only going to give an outline.
The three models obviously have different interior features, but the things that carry across the range are:
open and spacious ambience,
great visibility,
upright seating with deep footwell,
unusual relationship to the steering wheel,
Peugeot I cockpit design and
incredibly flexible seating.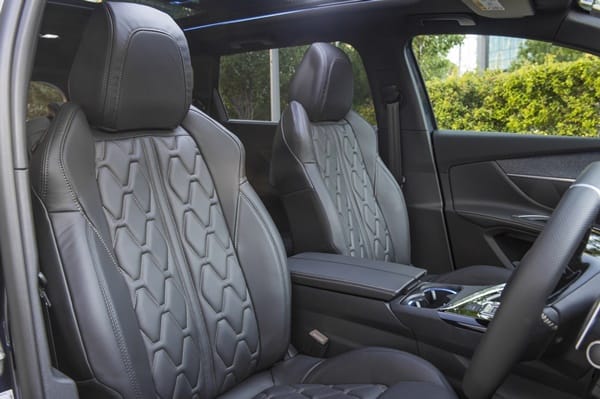 It's worth pointing out that the GT, even has massage seating for the driver.
One good things is that the 5008 seems better equipped to handle the harsh Australian summers with A/C that actually works, rather than struggles like some models in the past.
For a full list of the interior features across the range click here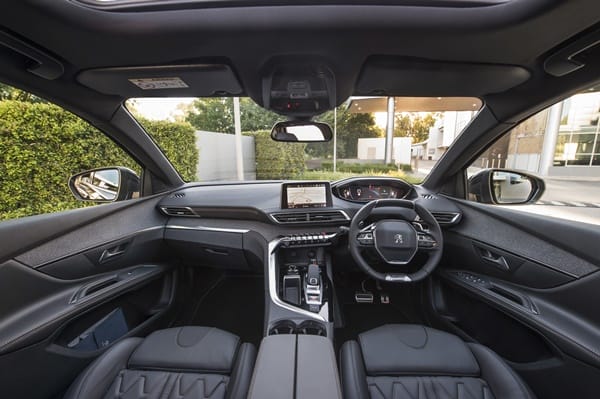 The driver feels cocooned with all instruments oriented towards that position. The entire front design is a fluid enveloping of front passengers to provide an individualised seating area.
For the first time drivers the compact steering wheel will be slightly disorienting as it sits below the dash. However once you drive for a while, you start questioning why more manufacturers don't follow what is such a simple yet functional design philosophy.
The wheel itself is small, comfortable and enhances the sporty feel with direct feedback from the front wheels.
Peugeot has a 12.3" high resolution dash that has awesome clarity and is customisable to an extent. It is yet another instance of design flair that has functionality at its core.
Opposing this is the thick cruise control that is totally hidden behind the steering wheel spoke.
While it has some clever features, such as matching the cruise control to the signposted speed if you desire, it is awkward to use for the uninitiated and takes your eyes off the road to see what you are doing.
If it was your own car, you would get used to it after a while, but it is unnecessarily complicated and hidden.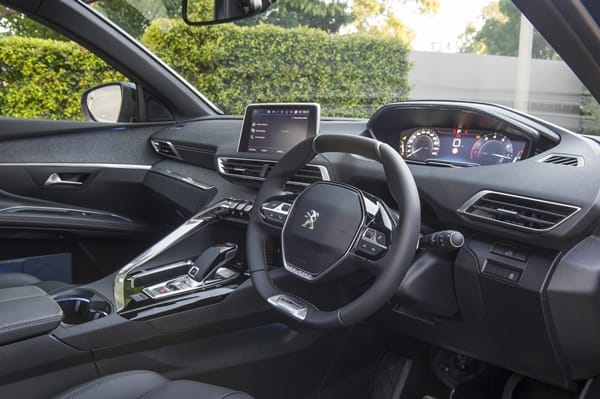 Sitting on top of the centre stack is the 8" capacitive touchscreen display. While many cars this looks like a tablet stuck on as an afterthought, the 5008 seems integrated. Again the design flair with functionality appears in both the layout and useability.
The responsive, user-friendly touchscreen puts all necessary information at the driver's fingertips and seven centrally-located, satin-chrome dashboard switches give quick access to the main passenger comfort and safety functions including radio, air-conditioning, satellite navigation, vehicle settings, telephone, apps and hazard warning lights.
Other clever functions including Mirror Screen, CarPlay and standard 3D navigation ensure drivers stay connected without stress.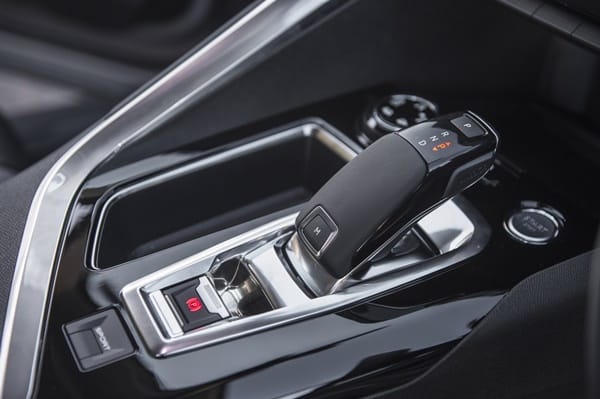 I have to admit I am not a fan of the transmission lever. This is probably because I am a clumsy old fart, but at times I found it missing getting into gear, usually at awkward times.
It looks awesome though. Like the cruise control stalk, if this was your own car you would quickly get used to it I guess.
One design feature that many will love, others will go WHY? The GT and GT Line i-Cockpit® Amplify system, at the push of a button, will infuse the cockpit with various scents designed to match the driving style, along with other sensory adjustments to sound, touch, sight etc. Say no more!
Other comfort features of the front seat area are: large centre console that provides excellent arm rest, cup holders, large glove box, large door pockets, electrochromatic rear view mirrors and illuminated vanity mirrors for both occupants.
The middle row seats are very comfortable and individualised for three people. There is plenty of head, shoulder, and knee and leg room. For convenience there are aircraft-style trays on the backs of the front seats, hooks and cupholders.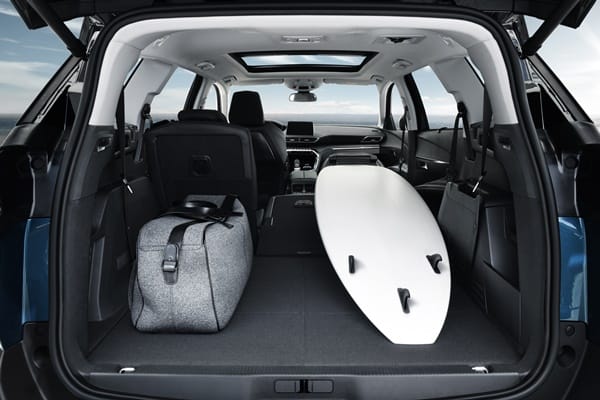 Flexibility was central to the 5008's design ethos with a configurable seating package allowing for each one of the three second-row seating positions to be folded, tilted or moved individually – the only vehicle in the class to offer this feature.
Combine this with the fold flat front passenger seat and you get an extraordinary 3.2m length available for paddle boards etc.
Uniquely, the 5008 is the only SUV on the Australian market to offer Isofix and top tether child seat fixing points to all second-row occupants – allowing fitment of three child seats benefitting from the latest restraint technology.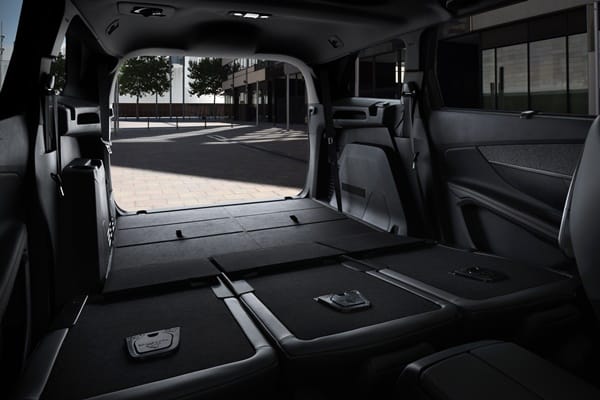 Third-row seats can be individually set in place or removed to give as much or as little boot space as desired. They are, like most in this segment, suitable for smaller individuals only.
Boot space is up to 780 litres. Its appeal is increased by a host of accessories that includes 12-volt sockets and a boot cover.
A smart electric tailgate, standard on GT-Line and GT, gives hands-free activation and opens and closes quickly and effortlessly, simply by placing a foot under the rear bumper.
There is even an electric scooter option for those that have to have the latest trend.
Other features designed and fitted for the comfort of all passengers include:
body-hugging front seats featuring an optional multi-point massage system for the driver's seat (Standard on GT, optional on GT-Line)
an optional large panoramic opening glass roof featuring tilt / slide and mood lighting
a smartphone induction charging plate on the centre console to automatically recharge devices compliant with the Qi 1.1 standard
excellent sound insulation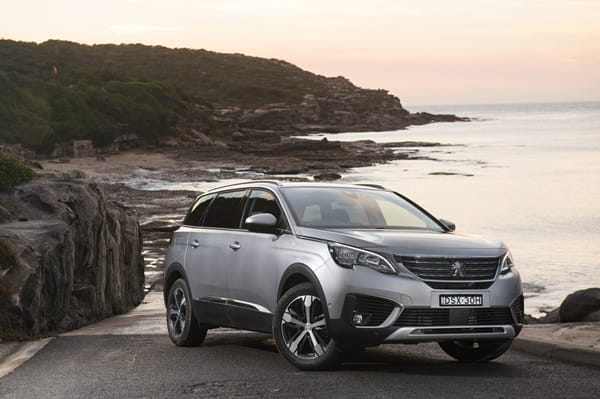 Peugeot 5008 Engine and Drivetrain
As mentioned there are two engine options, the 1.6L THP turbocharged petrol and the 2.0L BlueHDi turbo-diesel, both with EAT6 six-speed automatic transmission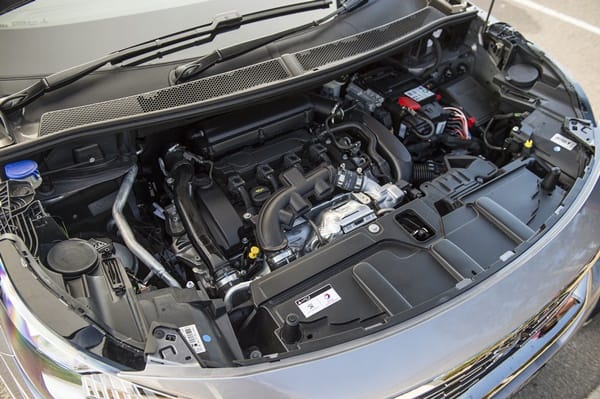 The 1.6T produces power of 121kW @ 6000rpm and torque of 240Nm @ 1400rpm. This combined with the 6 speed AT enables spirited and economical driving. It is reasonably economical at around 7.0L/100L/100k ADR combined.
The turbocharged, 2.0-litre, four-cylinder diesel engine for GT has high-pressure, common rail direct-injection and develops 133kW kilowatts @ 3750rpm and 400Nm @ 2000rpm.
It also features Stop & Start technology which automatically stops the engine when the car comes to a complete stop and restarts it when the brake pedal is released. Fuel economy is a stirring 4.8L /100k ADR Combined.
Of the two I would choose the 1.6T Petrol engine. I know that is different to what I always say, but, like a few of these smaller capacity turbo petrol engines, they drive like a diesel with more spirited response. The Diesel displayed a little slower response.
The steering is finely tuned and the GT models even more so, with response to driver input that has been sharpened with firmer steering, altered throttle mapping, sharper gear changes for the automatic transmission and greater dynamic abilities thanks to firmer suspension and a larger wheel and tyre combination.
The ride, for and SUV, is exemplary. Peugeot have been justifiably revered for their long travel, loping ride that tames the worst of our back roads, in the past, and the 5008 continues this tradition.
It has achieved a good balance between firmness, compliance and feedback.
A Driver Sport Pack also boosts dynamic sensations with a sportier engine sound, giving a more responsive accelerator pedal and sportier power steering. It also adds sports-style gear changes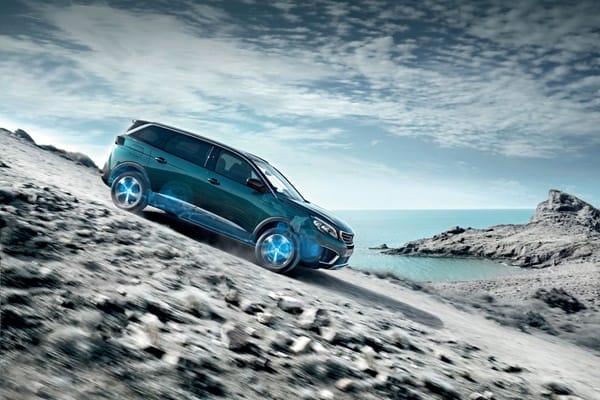 Peugeot 5008 AWD aspirations
The Peugeot is a misnomer SUV. For the most part it lives as a 2WD SUV but buyers can opt for the Advanced Grip Control.
While a clever system, it still operates only on the front wheels, and as such cannot be classified as an AWD SUV. However the system does provide a modicum of advanced grip technologies.
This optional system bolsters traction through the following features:
optimised slip resistance with five grip modes (normal, snow, mud, sand, ESP OFF) selected using a central console dial
18″ mud and snow (all-season) tyres.
Hill Assist Descent Control (HADC), activated by a button on the central console. This is a new function which helps drivers safely navigate steep gradients. It innovates by maintaining a very low – 3km/h – descent speed, maintaining safety and control in difficult situations.
Peugeot 5008 Safety
Peugeot has been awarded a 5 Star ANCAP Safety rating for the 5008.
This is based on core structure designed to protect occupants, which is overlaid with a range of technologies and advanced safety features to ensure all occupants feel safe and secure.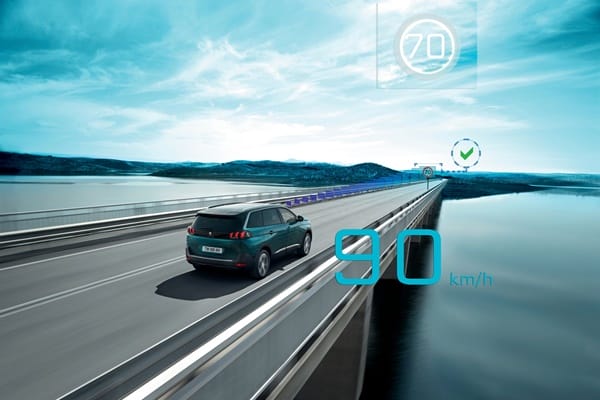 This starts with the standard fitment of leading edge Autonomous Emergency Brake Technology and a vast array of active and passive safety systems, including: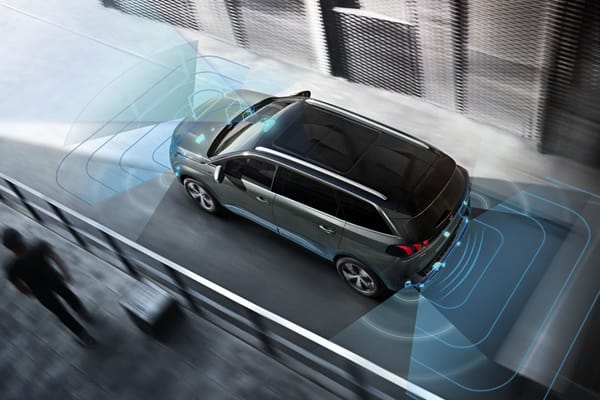 A full suite of airbags, including curtain airbags that extend to third row passengers
Lane Departure Warning
Active Lane Keeping Assistance (Standard on GT-Line and GT, optional on Allure)
Driver Attention Warning
High Beam Assistance
Speed Sign Recognition and Speed Suggestion
Adaptive Cruise Control with stop feature
Park Assist
Visio Park (360° vision)
Automatic Emergency Braking System (AEBS) and Distance Alert
Active Blind Spot Monitoring system (Standard GT-Line and GT, optional on Allure)
Pedestrian Distance Alert System
Exclusive optional Advanced Grip Control, including new Hill Assist Descent Control (HADC)
Drivers can also rely on a wide selection of driving assistance systems to fully appreciate the agility of the new PEUGEOT 5008 SUV.  These functions can be activated or deactivated using the 'Vehicle Settings' menu.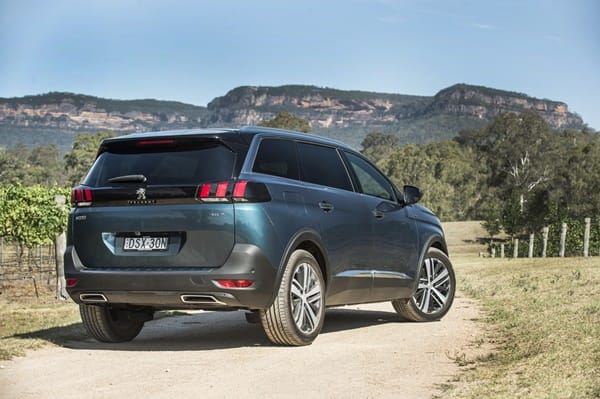 Peugeot 5008 Summary
In a segment that offers competent and quality, yet somewhat similar competition, the Peugeot 5008 brings a different quality. The French design flair that finally has functionality at its core, offers a stylish alternative.
Peugeot 5008 has an awkward appealing style, has plenty of room inside, is packed with innovative design and features, reintroduces the famed Peugeot ride and handling on our harsh outback roads and is backed with a 5 year unlimited kilometre warranty.
Definitely worth a look!
Peugeot 5008 SUV
Summary
Peugeot 5008 has an awkward appealing style, has plenty of room inside, is packed with innovative design and features, reintroduces the famed Peugeot ride and handling on our harsh outback roads and is backed with a 5 year unlimited kilometre warranty.
Definitely worth a look!