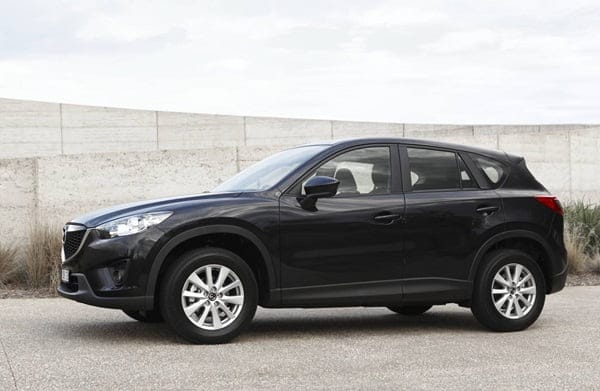 The Mazda CX5 is the new kid on the block in the highly competitive SUV market. The Mazda CX5 is taking the fight to the Koreans who have been kicking the Japanese in the bollocks for a while now with the Sportage and the ix35.
The market leaders Subaru (Forester), Toyota (RAV4) and Nissan (X-Trail) have been taking a hiding from the Koreans and are walking with a wide gate. Enter Toyo Kogyo Co, ready to take up the fight.
The CX-5 is a five-seat crossover that's aimed squarely at an extremely competitive market. That's not the whole story, however. This is an important car for Mazda and represents a number of firsts for the Japanese firm. It's the first vehicle built entirely without the support of ex-partners Ford, and it's the first to use the company's new 'SKYACTIV' platform.
So what is SKYACTIV? If you listen to the blurb from Mazda, it's a way of building more efficient cars. Lighter weight, lower CO2 emissions and better fuel economy are the aim of the game, without losing any of the driving enjoyment that Mazda is so proud of. The CX-5 is a car to take note of. It's the first car on this platform, but from now on every new Mazda we see will use the same SKYACTIV technology and design ideas. So is it any good? Should the Koreans be worried? Read on, let's find out.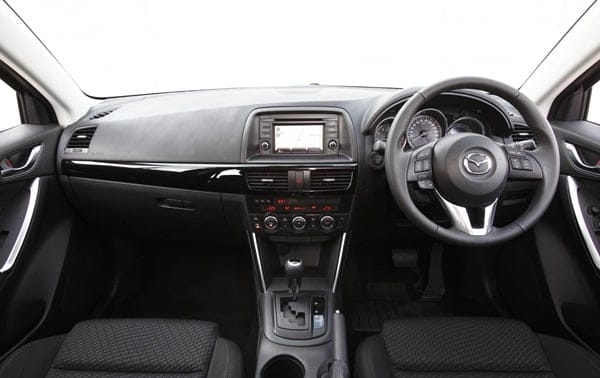 Behind the wheel
Even though the Mazda CX-5 Maxx Sport is down the range gauge, Mazda has put a lot of effort into providing the driver with an excellent and comfortable driving position. The location of the gear lever, the pedals and the seat combined mean you really feel in control. Visibility is also good and helped by the raised seating position.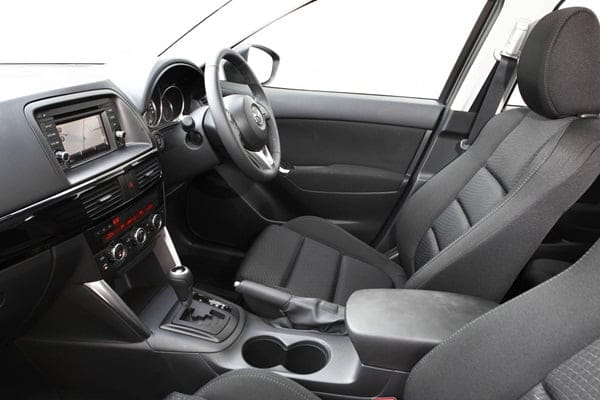 Although not as luxurious as the higher range offerings from Mazda, behind the wheel of a CX-5 Maxx Sport isn't a bad place to be. The dash is a simple mixture of analogue dials and an LCD trip computer screen telling you everything you need to know. There's a sat nav fitted to the dash with a 5.8-inch touchscreen which works brilliantly.
Performance
There are two new engine options available, petrol and a diesel, that both feature SKYACTIV technology and design. This means better performance and fuel economy compared to previous engines. Each has a stop/start system (i-stop), and there are two gearboxes available. You can have either a six-speed manual, or a six-speed automatic. You can also specify front- or all-wheel-drive. The 2.0-litre petrol unit gets 114kW when ordered with a two-wheel drive, or 113kW in four-wheel drive versions. Pulling power is rated at 200Nm and 198Nm respectively.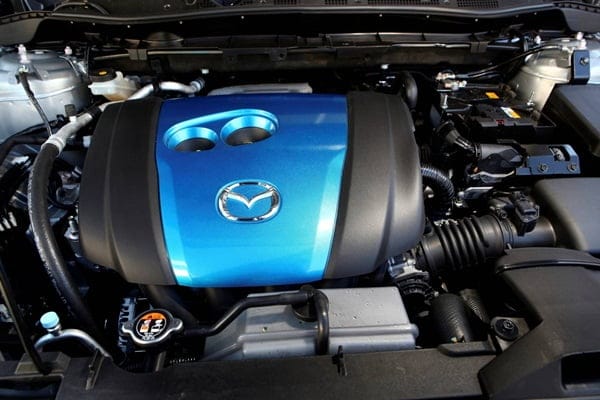 The petrol engine feels a bit breathless at times and needs more torque and becomes somewhat vocal when worked hard. However it does the job very nicely. It boasts CO2 emissions of just 148 g/km in two-wheel-drive configuration. The petrol-engine car will get to 100 kph in around 9.2 seconds, if you need a bit more go, go for the diesel.
Handling
It is obvious that Mazda has gone to great lengths to ensure the CX-5 handles well. The first thing worth mentioning is that this is a light car compared to the competition. The Japanese firm has used some extremely lightweight steel to build the body shell, resulting in the car tipping the scales at just 1,425kg when fitted with the petrol engine.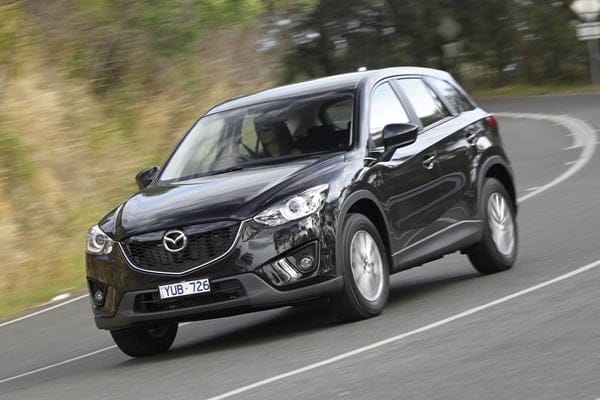 This really shows in the agility the car demonstrates. If you ignore the higher-than-normal driving position it doesn't even feel much like an off-roader. Turn-in is sharp, with the electronic steering assisting in a progressive fashion that may not provide the ultimate in driver feedback but certainly inspires confidence through corners. There's an element of body-roll, but nothing too over-the-top. Being a family-orientated car, with softer suspension, that's pretty much on par for the course.
Comfort
To say the ride is very good is probably an understatement. It feels extremely measured on less-than-ideal road surfaces and will negotiate bumps and potholes in a style usually reserved for more expensive cars. There's a lot of room available too; with two fully-grown adults in the front there's loads of headroom and still enough space for adults to sit in comfort in the back.
You'll notice a bit of noise travelling in the CX-5, but in a characteristic break from what is the norm for Mazda, they have decided not to make the car the last word in silent motoring. The firm believes you should hear the engine, so it has engineered the sound-deadening in a way that allows those frequencies into the cabin while dampening others such as road and tyre noise.
Practicality
Boot space in the CX-5 is quoted at 403 litres to the tonneau cover, which shelters rear passengers from the cold when loading the boot. It comes up automatically when the boot lid is raised, and is also easily removed and stows away neatly in the boot when not required. The maximum possible load space in the CX-5 is 1,560 litres and that's achieved with all three back seats folded down. This also provides a flat floor.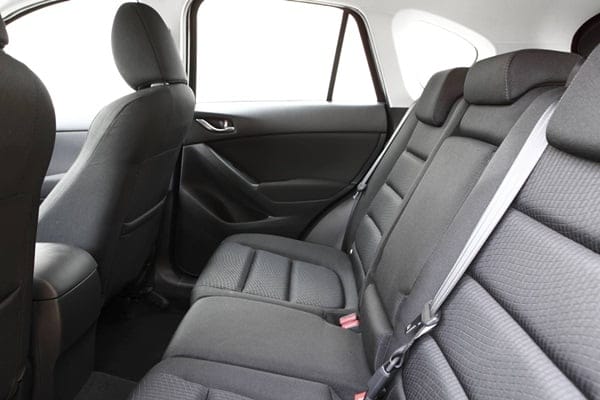 The seats can be folded independently which means you have the option of simply folding down the middle one or either side for the classic 60:40 configuration. Compared to other cars in the same class the CX-5 also has a fairly low load height, which further adds to the practicality. There are spaces to hold litre bottles of drink in both front and back, along with an eight litre glove box and a console between the two front seats.
Equipment
All models get Tom Tom sat nav with traffic information, dual-zone climate air con, a choice of exterior colours and two upholstery colours. You'll also have several optional extras such as a nine-speaker Bose stereo system. As standard kit you receive a Bluetooth hands free and audio streaming, cruise control, MP3/WMA compatible CD-player with four speakers and steering wheel mounted audio controls, USB input, power windows and mirrors, remote central locking. Plus, smart keyless push-button start, tilt and telescopic adjustable steering wheel, trip computer. tyre pressure monitoring system and variable intermittent wipers, auto headlamps on/off, audio system with six speakers, leather wrapped gear shift knob, handbrake and steering wheel, wipers with rain sensing function, front fog lamps, rear seats with 40/20/40 split-fold backrest (flat fold) and centre fold-down armrest.
Safety
Although there's no official rating from AnCap, all of the indications are that it should score 5 Stars. There are a whole host of active and passive safety features on the car, primary of which is the aforementioned super-strong steel body shell. Other passive systems include standard front, side and passenger airbags, whiplash-reducing seats and bodywork optimised to prevent injury to pedestrians in the event of a collision.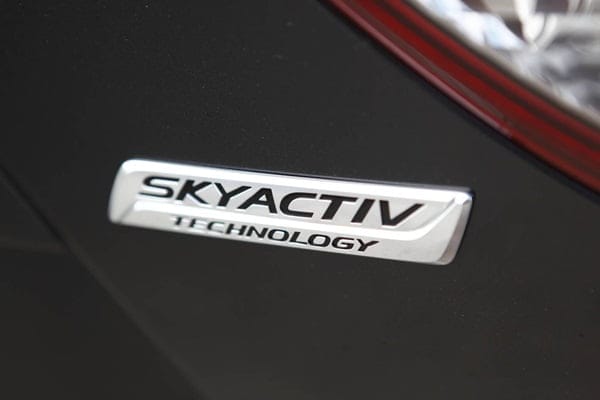 Summary
In Mazda speak "The CX-5 audience is fairly broad (young singles/couples, young families and empty nesters). All of these groups are active and image conscious. These could be young singles or young couples wanting a more 'sensible' vehicle. Families with young kids, or older couples whose kids have finally left home. They are all unified by a similar mindset: life is for living.
They need a vehicle that can keep up with their lifestyle. It's not about wanting an off-roader; but about seeking the perfect balance between functionality (but not too big), dynamic style and fun to drive characteristics. The CX-5 provides an appealing proposition without any compromise.
In Steve speak "Regardless of what buyer category the Mazda CX-5 sits in, this vehicle shines through, and must be at the top of the small/medium buyer list.
Well done Mazda
What is good and not so good?
What is good?
Looks
Low emission engines,
Large boot,
Lots of room in the cabin.
What's not so good?
No rear seat air-conditioning vents
Petrol engine needs more torque
Auto gearbox could be a bit more intelligent at times.
Vehicle: Mazda CX-5 Maxx Sport FWD
Drive train: Petrol motor
Power and Torque: 114 kW @ 6,000 rpm – 200 Nm @ 4,000 rpm
Safety: N/A
CO2 Emissions 148g/km: nil
Green Vehicle Guide rating: 4 star
Fuel Economy L/100km (ADR comb): 6.4 L/100km
Tow Capacity: 1800Kg
Tow Ball Rating: NA
Warranty: 3yr/ unlimited km with full roadside assist
Alternative: Subaru (Forester), Toyota (RAV4) and Nissan (X-Trail)
Kia (Sportage), Hyundai iX35.
AnyAuto Ratings 82/100
Behind the Wheel 9
Practicality 9
Comfort 7
Fit for Purpose 9
Equipment 9
Value for Money 8
Performance 7
Build Quality 8
Ride & Handling 8
Environment 8