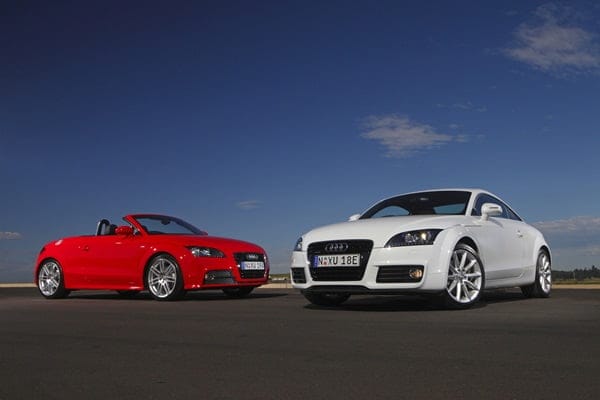 Audi has updated its popular Audi TT for 2012 with the addition of new variants featuring the company's sporty S tronic transmission.
Previously manual-only, both the potent 1.8 TFSI and 2.0 TDI engines now feature the brand's sporty S tronic transmission for lightning-fast gearshifts. Typically for Audi, fuel efficiency is excellent with consumption figures from just 5.5 litres per 100km (2.0 TDI).
Available in both Coupe and Roadster form, the new S tronic transmission makes efficient use of the 1.8 TFSI engine to deliver sporty performance, yet frugal fuel economy. The 1.8 TFSI produces 118kW from 4500-6200rpm and musters maximum torque of 250Nm within a wide range of 1500-4500rpm. Combined now with the lightning-fast shifts of the 7-speed S tronic transmission, the TT Coupe 1.8 TFSI reaches 100km/h in just 7.2 seconds, yet delivers responsible fuel consumption figures of 6.4 litres per 100km. It is the sports car of choice for discerning driving enthusiasts.
The 2.0 TDI diesel engine is available in Coupe body style only, and delivers 125kW at 4200rpm, however the real beauty of this engine is the generous wave of torque it provides: 350Nm from 1750-2500rpm. The newly-available 6-speed S tronic transmission makes best use of this torque, reaching 100km/h in 7.5 seconds. With Audi's TDI direct-injection diesel technology, fuel economy is assured at an incredible 5.5 litres per 100km. This is a truly impressive figure for any kind of sports car.
Both the 1.8 TFSI and 2.0 TDI enjoy a generous level of standard specification, including 17-inch alloy wheels, Bluetooth interface, cruise control, front sports seats upholstered in Valetta leather and multifunction sports steering wheel with gearshift paddles, so that enthusiasts can change gears manually during spirited driving. It's the best of both worlds.
Audi ultra – lightweight aluminium technology
The body of the TT Coupé is based on hybrid Audi Aluminum Space Frame (ASF) technology. Lightweight aluminium is used from the front of the car back to the B-pillar, with steel panels used at the rear. The mix makes it possible to finely balance the axle loads and keep the overall weight low. The highly rigid and safe bodyshell weighs just 206 kilograms. The TT 1.8 Coupé TFSI S tronic weighs a mere 1,280 kg, which is significantly less than its competitors.
The lightweight principles inherent in the TT Coupe are also integral to the sporty performance of the TT Roadster. The cloth roof contributes to a low centre of gravity, fits harmoniously into the design line and takes up little space when open. A manual top is standard. The automatic top includes an additional acoustic mat and an electrohydraulic drive. It opens in 12 seconds, even while driving at a speed of up to 50 km/h.
Range Pricing
Manufacturer's List Price – MLP (excludes dealer delivery and government statutory charges)
TT Coupe 1.8 TFSI 6 speed manual $65,450 (special order only)
TT Coupe 1.8 TFSI S tronic $68,950 (new)
TT Coupe 2.0 TDI quattro 6 speed manual $70,300 (special order only)
TT Coupe 2.0 TDI quattro S tronic $73,800 (new)
TT Coupe 2.0 TFSI S tronic $75,550
TT Coupe 2.0 TFSI quattro S tronic $78,150
TT Roadster 1.8 TFSI S tronic $72,400 (new)
TT Roadster 2.0 TFSI quattro S tronic $81,600