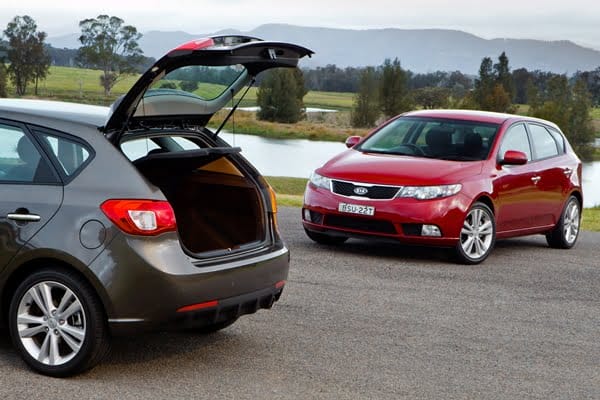 Chloe Fraser drives the 2011 Kia Cerato Hatch SLi. The Kia Cerato Hatch proved an ideal choice for Gen 'Y' with its style and practicality.
Over the Christmas break I was lucky enough to have the Kia Cerato Hatch. Along with doing all my day to day activities, the Cerato helped me move houses and also went on a trip to Surfers Paradise with my best friend, Hope Lawson, and her boyfriend. Our expectations of this car were greatly exceeded and it pleasantly surprised us with its capabilities. Not only is this car fantastic, but it convinced me to reconsider my dislike for hatchbacks and I can honestly say, this is a car I would love to own one day.
Kia has embodied some of today's best design's to create a sleek and chic looking Cerato that comes in 8 different colours. It boasts 17 inch alloy wheels with a chrome radiator grille and body coloured bumpers. Adding to its stylish exterior is the rear spoiler, chrome tip rear muffler and tinted glass. Whilst driving the car, the cruise control, paddle shifters and leather wrapped steering wheel and shift knob, ensure comfort and ease for the driver. The six function trip computer allows you to check how many km's you have left on the tank, the fuel consumption, digital speed and many more. Alloy foot pedals add an extra snazzy touch to the interior and the drivers foot rest is another added comfort.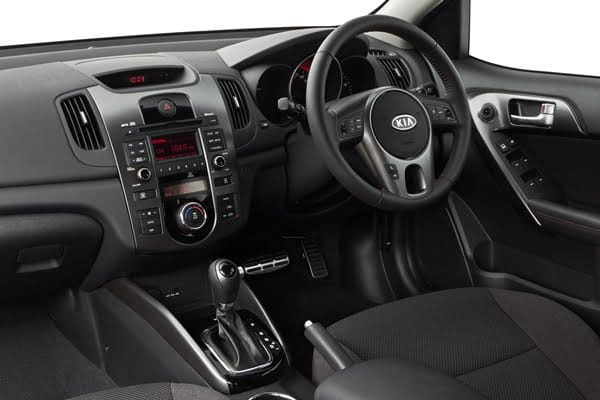 Premium cloth trim on all 5 seats, metal look interior trim and a 6-way drivers seat are included features of the Cerato which has an amazing amount of space, especially when the rear seats are folded down. When I was moving houses, I was beyond surprised at the amount of boxes, ironing boards, lamps etc that I was able to stuff into this compact car that is deceptively spacious. The boot space of this little car is a whopping 550L which is extended greatly when the rear seats are folded. There is a large amount of storage for all your bits and pieces including 6 cup holders and generous glovebox and center console. The Cerato has a fantastic audio system including bluetooth connectivity, MP3 capatability, steering wheel controls, 6 speaker system with a power bass.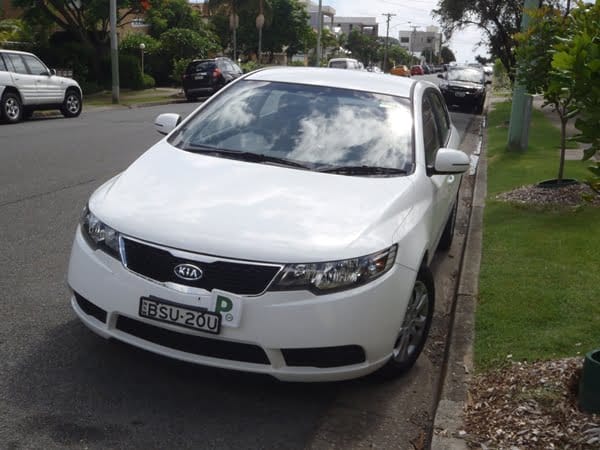 The 2.0L engine uses around 7.7L/100km in a 6 speed automatic transmission and has a 10.8m turning circle which seems even tighter when in the car itself. Kia has ensured its latest Cerato Hatch is fitted with the best safety features including ABS, Electronic Stability Control, seat belt warnings, rear parking sensors, dimming rear-view mirror, door open warning light, speed sensing automatic door locking and automatic headlamps. It also has 6 airbags, side door impact beams and impact sensing auto door unlocking.
Here is what Hope Lawson had to say about the Kia Cerato when she took it Surfers Paradise.
"The Kia Cerato is a great car all round. It has amazing control, stability and an excellent turning circle which was very handy for U-turns on the tight streets of the Gold Coast. We experienced some rain but the Cerato encountered no issues, handling perfectly. The ride was firm, comfortable and quiet. Kia has improved on the models NVH (Noise, Vibration, Harshness) levels by adding more foam pad insulation to numerous area's of the car and this improvement is noticeable. It is incredibly economical. We never got an empty tank and only topped up four times. The Cerato looked fantastic driving down the streets near the beach and the entire trip can be summed up as very comfortable. Even with all my luggage, the boot still had plenty of space left. The audio system provided entertainment the entire time. The Kia Cerato Hatch is an excellent car for a holiday away."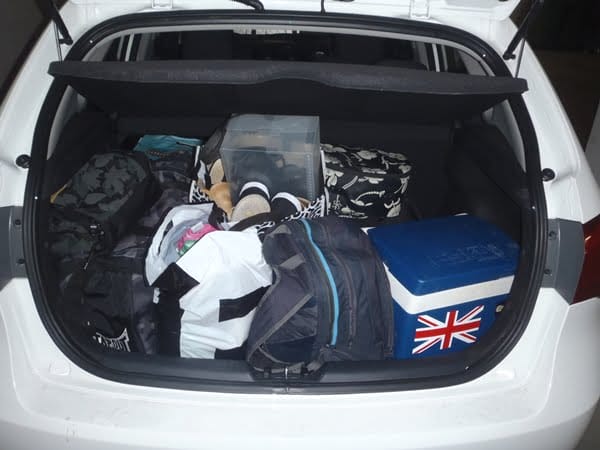 Starting from $20,490 drive away, the Kia Cerato isn't exactly on the pricy side of the market and you certainly get very good value for money when it comes to this fantastic little package. This car is perfect for a first car as it sports all the essentials for teenagers, MP3 compatibility, sleek looks and fantastic performance. However, this car is even better because it suits you as you grow older, adapting to more holidays away and doesn't outgrow your age quickly. It may not be the top of the range but it has everything you need with a little extra and is an affordable, pratical and realistic first car. Great job Kia. The new Cerato Hatch is an absolute beauty.
Rating: 5 out of 5