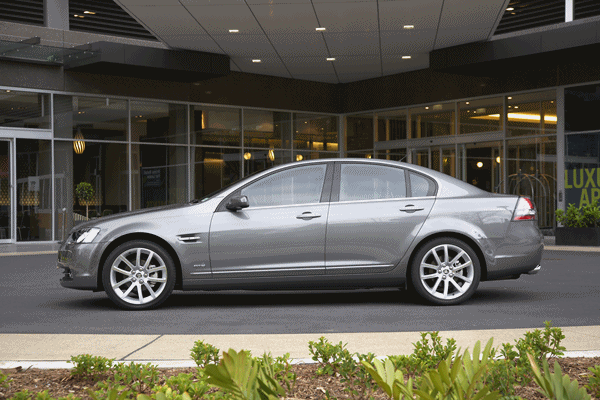 Holden's V-series Calais offers buyers just a little more luxury boasting plenty of fruit like a rear seat overhead DVD player, front and rear park assist, leather appointed seating and beautiful 18-inch alloy wheels. And why not it's the top-shelf model in the Commodore range. The VE Series II Calais V, updated with the release of the Series II range last year, gains a number of styling and comfort changes, inside and out. The 6.0 litre AFM V8 engines is flex-fuel capable, allowing for the use of bio-ethanol (E85), E10, unleaded and premium unleaded petrol fuels.
Let's check out one of Australia's better options: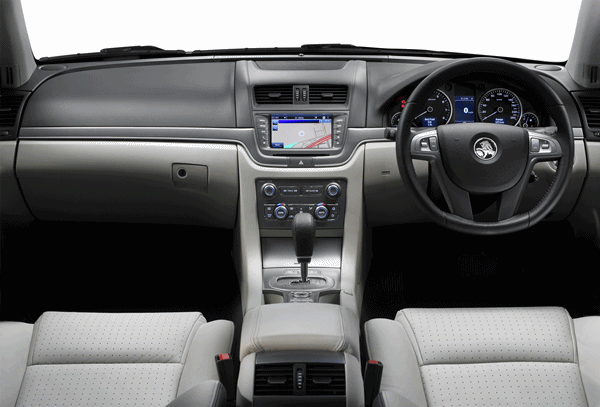 Behind the wheel
Sitting inside the palatial interior of the Holden Calais makes you feel good, and your lumbar-support seats in full leather gives you a comfortable ride. Although the plastics are starting to feel hard and old compared to some of the opposition and you have to live with the driver's seat being the only pew that is fully electric. The power under the bonnet (270 kW) can easily make the Holden Calais a great long distance tourer with the 6.0 litre Generation 4 Alloy V8. Steering that power around is courtesy of the leather wrapped multifunction steering wheel controlling the very accurate steering, and the matching gearstick to control the six-speed automatic with Active Select manual. What you do notice, sitting behind the wheel is the width of the A-pillar which at times hides vital driver information – such as cars and traffic islands. It is simply too wide.
Performance
Our test car was the Calais V complete with 6.0 litre AFM V8. AFM stands for Active Fuel Management which means the engine has the ability when not under load to shut down four cylinders. This happens when the inlet and outlet valves are shut down leaving the car the run as a 3.0 litre V4. As a driver you really don't notice any switch from one to the other as it happens automatically and instantaneously. What is does for the driver is focus attention on fuel economy. Which is rather strange thing to do when there's a 6.0 litre V8 thundering under the bonnet. The engine is flex-fuel capable, allowing for the use of bio-ethanol (E85), E10, unleaded and premium unleaded petrol fuels.
It's one hell of an engine in terms of both size and performance. It is never found wanting. V8 lovers will feel right at home with this baby, give your right foot a good shove and a genuine V8 roar exudes from the dual tailpipes. Drive it softly and you barely notice the engine at all. Our main issue with the engine is the settings that control when it shifts into V4 mode. Just cruising down the F3 freeway in cruise control the Calais was drifting in and out of V4/V8 mode at the slightest increase in grade. As the F3 isn't flat, so the car was constantly trying to make its mind up as to what mode it should be in and the driver has no control over this. There is no switch to lock there engine in V4 mode. It's the same at idle where the engine turns over in V8 mode.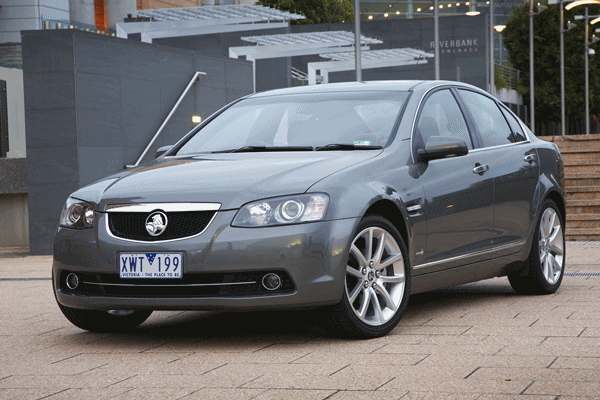 Handling
The Calais has superb on-road manners and there's nothing to complain about in this area. Our tester was fitted with $2500 option called the Redline Edition, which gives better suspension and big 4 piston Brembo brakes and 355mm disc rotors plus lightweight multi-spoke 19-inch GXP wheels. This package is good value and gave our tester a sportier feel, the option is Holden's answer to the Ford G6E Turbo handling package. If you opt for the standard Calais suspension, you won't be disappointed with your ride as it has the ability to iron out corrugations and broken tarmac on secondary roads, which is one reason for its reputation for durability among country drivers.
The Calais V is quiet and composed on all but the worst surfaces, offering a more comfortable ride than the more firmly-sprung competition. With MacPherson struts up front and a multi-link arrangement at the rear the setup is tuned for luxurious cruising with softer suspension settings, the Calais is nevertheless quite capable through corners. While it is a quick and powerful car, it also has a tight turning circle, so it makes a comfortable commuter.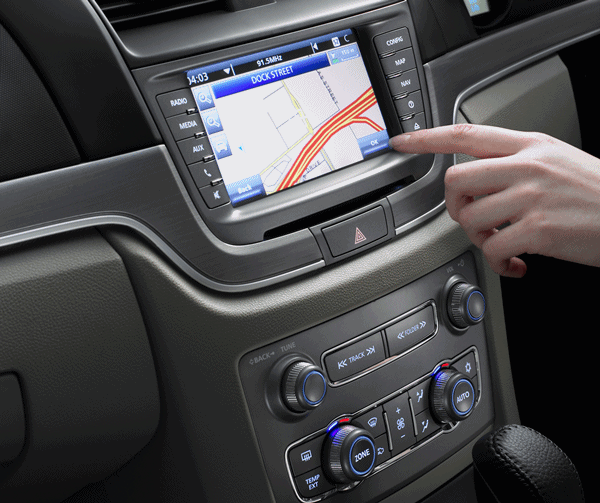 Comfort
The strength of the Commodore family is the interior comfort, and the Calais V is no exception. It offers ample leg, shoulder and headroom, while all seats are wide and offer excellent support. However the current Calais uses a body that we are all familiar with mainly because it's still based on the VE shape that's been around for years and I still love the look and there's no doubt it's an enduring design and it will take some time yet to date. The interior is however in need of an update and some design flare and practical upgrades, like losing the hard plastics and moving the power window switches to the door handles.
The Calais V gets Holden's brilliant new IQ system, featuring a 6.5-inch touchscreen with GPS, iPod connectivity and CD player with internal music storage. Being a Calais it has comfort to burn and you immediately feel right at home with the lighter coloured dash trim, perforated leather seats. There are splashes of leather on the steering wheel – which has rake and reach adjustment – and on the gear selector.
Practicality
The rear seat caters for three adults making this a true long distance touring car in the best of Aussie traditions although the centre pew can be a little hard on the butt thanks to the drive-line tunnel. In overall terms the Calais is put together quiet well with no fit or quality issues. There are plenty of storage places for maps, gadgets and a decent size glove box. Once again for touring there's a good size boot with a hefty 496 litres of space with the back seats in place and a ski port for long objects.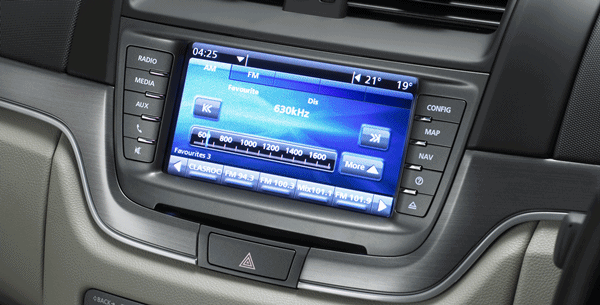 Equipment
As you would expect the Calais is loaded with fruit like Auto-on headlamps, rain sensing wipers, trip computer, dual-zone climate, cruise control, Bluetooth, audio streaming, and power windows/mirrors are standard. A reversing camera is also standard, along with front/rear sensors and on-screen guidance. For rear seat passengers there's a standard roof-mounted DVD player – just the ticket for long trips with the family. I found the headsets for the DVD wrapped up in the cargo net in the boot there's doesn't seem to be a suitable place for them inside the cabin.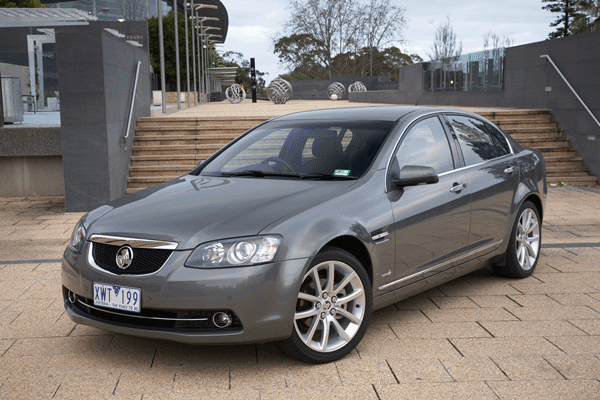 Safety
Calais is all about the driver and safety and as such gets rain sensing wipers and auto-on head lights front and rear parking sensors are standard. 5 Star ANCAP, six airbags (front, front side and full-length curtain), three-point seatbelts, ABS, EBD, stability control and traction control are all standard as is electronic brake force distribution ensure the safety net is up to the grunt of the big V8.
Summary
The standard Calais V is very quick, very spacious, very comfortable and, for a big sedan not tuned specifically as a sports model, a very good handler. However Calais V-Series won't be to every prestige buyer's taste. At $61,990 plus on-road costs it sacrifices refinement for roadholding ability and the interior is no match for a similarly priced Audi or BMW. It's also a bit thirsty. But what it loses in ambience, snob value and green cred, it more than makes up for in driving enjoyment, equipment and sheer bang for your buck. Do yourself a favour and opt for the Redline Edition option at $2500 it is a bargain.
What is good and not so good?
What is good?
Big and comfortable
Smooth, powerful V8
Value for money
Strong safety package
Excellent road-holding for a car its size
What's not so good?
Poor vision at front
No split-fold access
Thirsty
Some Fittings look a bit cheap
Vehicle The Calais V 6.0 litre AFM $64,490MLP *
Drivetrain 6.0 litre Gen4 Alloy V8Six-speed automatic
Power and Torque 260kW @ 5700rpm517Nm @ 4400rpm
Safety Not rated
CO2 Emissions g/km 292 g/km
Green Vehicle Guide Rating 3 Star
Fuel Economy L/100km (ADR comb) 12.3 L/100km
Tow Capacity 2100Kg Tow Ball Rating N/A
Warranty 3 year/100,000km,
Alternative Ford G6E Turbo
Alternative Chrysler 300C 5.7L Hemi
Alternative Subaru Liberty GT
* Manufacturers List Price does not include government or other statutory charges, insurance or dealer-delivery fee.
AnyAuto Ratings 73/100
Behind the Wheel 7
Practicality 8
Comfort 7
Fit for Purpose 8
Equipment 7
Value for Money 7
Performance 8
Build Quality 7
Ride & Handling 8
Environment 6