We review the Ford Mondeo Zetec TDCi wagon with 2.0-litre turbo diesel engine and 6-speed Powershift auto transmission. It is the mid-spec diesel variant in Ford's MC Mondeo range, sitting above the base model LX and below the range-topping Titanium model. As a stylish and efficient load-lugger, it makes a very compelling proposition for most families.
When people think 'diesel car' the thing that most often springs to mind is economy. But these days economy is just part of the equation. Performance, refinement, driveability and reliability are all equally valid claims for modern diesels. The 2.0-litre Duratorq turbo diesel that is one of the engine choices in the updated Ford MC Mondeo model range released late last year fits this mould exactly. This makes the Mondeo Zetec TDCi wagon a worthy competitor for the other mid-sized diesel/auto wagons on the market such as the Volkswagen Passat 125TDI Highline or Skoda Octavia RS 125TDI, and in most respects rivals the petrol-engined local hero Holden Commodore Berlina Sportwagon.
The upgraded 2.0-litre Duratorq turbo diesel powering the MC Mondeo proves itself to be a really good modern diesel in just about every situation. With 120kW of power @ 4000rpm and340Nm of torque @ 1750-2250rpm, it's powerful, responsive, has tremendous flexibility and overtaking capacity with a mountain of torque, yet it's also very economical for a load-lugging wagon under most conditions.
The Mondeo's 6-speed dual-clutch Powershift auto transmission is very effective, delivering smooth changes when left to its own devices except when easing to a stop when it can sometimes pick up lower gears with a jerk. There are times too when you wish it would pick up a higher, more economical gear on a trailing throttle in city and suburban traffic but that's a minor niggle. In manual shift mode the changes between the well-chosen ratios are swift and decisive. The diesel/auto combination is well-matched and turbo lag rarely raises its head to any degree.
Diesel economy is generally taken for granted but with 600kms showing on the odometer, after a combination of running around Sydney for a week plus a day-trip to the lower Hunter Valley, the trip computer said we still had 416kms fuel range left in the 70-litre tank. Not bad for a family wagon that weighs over 1600kgs! Running around town, the display said we were initially using around 9.8 litres/100kms but the trip to the Hunter saw this drop to 7.6 litres/100kms at one stage. Given our test car had less than 4,000kms on the odometer, that doesn't compare too badly with Ford's official ADR81/02 combined consumption figure of 6.2 litres/100kms, but we would expect a better daily average once the car had a few more kilometres under its tyres.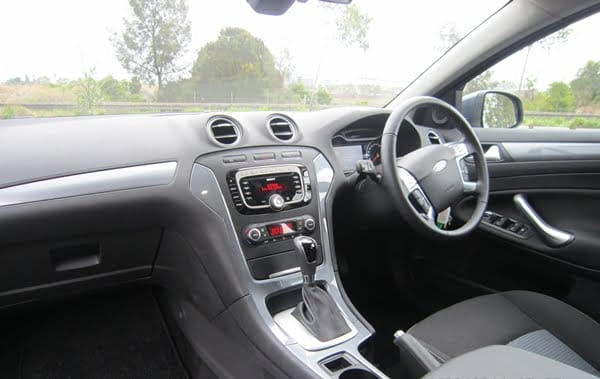 Jump behind the wheel and the Mondeo immediately feels comfortable with generally good fit and finish throughout, including soft-feel plastics on doors and the dashboard top. Some drivers will spend a little while finding the right driving position but there's plenty of adjustment in both the driver's seat and the tilt and telescope wheel.
Once settled, everything falls very easily to hand with a well laid-out dashboard with clear instruments and good sized buttons and other controls that work as you would expect. The HMI display is housed between the speedo and rev counter and provides lots of information. It's easy to navigate using the steering wheel buttons but the screen can sometimes be a bit distracting at night.
The front seats are comfortable for both long and short journeys with lumbar support and powered seat height adjustment for both driver and passenger. A couple of adult passengers commented that the rear seat seemed to slope back too far and had some firmer padding that pressed against their lower backs.
The cabin is a light and airy place with great rear vision and three-quarter vision. The C and D-pillars are not too thick and the rear seat headrests don't intrude on your rearward view so you can get a good view of traffic and surrounding objects, especially when parking. Front and rear parking sensors, standard on the Mondeo Zetec, are still useful especially in close parking manoeuvres.
It's generally quiet in the cabin with relatively little wind noise, except from the A-pillars and the top of the front window frames at freeway speeds. That makes it easy to enjoy the Sony 6-stack CD and MP3 compatible sound system delivers an excellent audio experience through a beautifully integrated head unit and the eight speakers spread throughout the cabin. The system's Bluetooth facility makes pairing mobile phones very easy and automatically mutes the audio when a call comes through.
The dual-zone climate control system is well laid out and easy to use and the vents delivered lots of icy cold air during the heat of late summer.
From the driver's seat, the leather-bound steering wheel is a nice size and comes with spoke-mounted controls for the HMI and audio systems. It feels well-weighted once you are on the move and insulation from most bumps is pretty good. The front end turns in well and the car tracks well on freeways although longitudinal corrugations can induce a slight sense of 'squirming'. However, the steering can lack feedback about what the front wheels are doing in a corner.
There is some tyre roar from the 235/45 R17 Goodyear tyres, especially on rough and medium coarse chip, but the Mondeo wagon is far from being alone in that category. The upside is the tyres' strong cornering and braking grip.
The chassis sometimes feels a bit remote and can leave you feeling uninvolved. Independent McPherson struts at the front and an independent Control Blade system at the rear provide a comfortably sporting suspension that's firm but controlled in both city and country conditions. The suspension's ability to deliver strong grip and soak up the bumps so well, even mid-corner, sometimes leaves you wishing for a more involving experience to take full advantage of this wagon's willing drivetrain.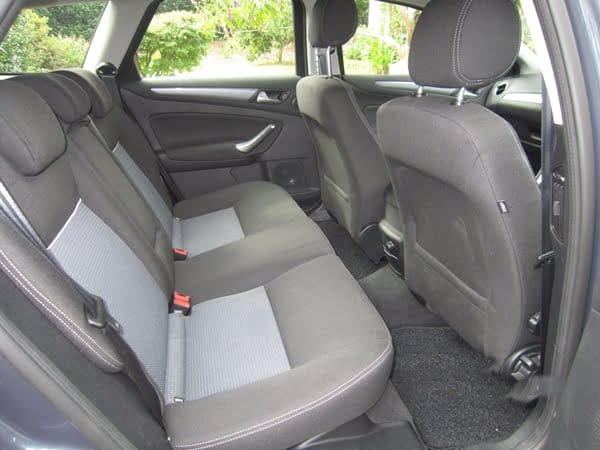 Wagon buyers put load-lugging capability and practicality at the top of their shopping lists. Although the Mondeo Zetec TDCi wagon sits in the medium category, it seems much larger when you're on the inside. There's loads of interior room for five people, although the rear seat is a bit tight for five adults.
The luggage area is huge, flat, intrusion-free and comes with a one-touch retractable cargo cover, underfloor oddments storage and solid, chromed tie-downs. Its ISO capacity with the rear seat up is 542 litres (1005 litres SAE), so big that my 7-year old son though he could move his playroom in there! With both sides of the 60/40 split rear seat down, capacity rises to a cavernous 2163 litres ISO (1733 litres SAE).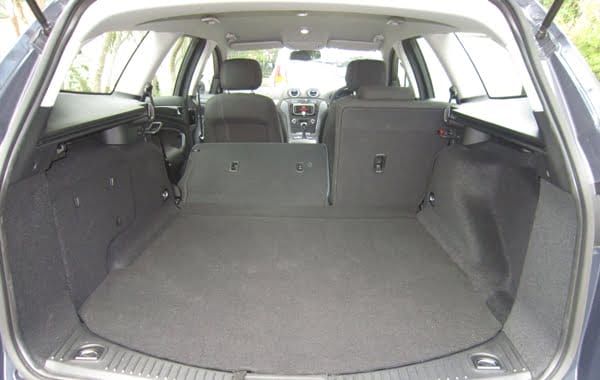 There's heaps of room for the whole gamut of family activities – school run, shopping, after-school and weekend taxi, visits to the furniture or hardware store, trips to the beach or country, family holidays, you name it. As a load-carrying wagon, it has all bases covered and offers more room with the seats down than the more powerful but less economical Holden Commodore Sportwagon.
At a manufacturer's list price of $41,240 the Mondeo Zetec TDCi wagon should be well-equipped for what is after all a mid-sized family wagon.
This wagon wants for nothing inside in terms of general equipment. Beyond the normal features common to its already well-equipped base model Mondeo LX stable mate, the Zetec wagon has important inclusions such as dual-zone climate control air-con, Sony premium sound system with 6-disc CD and MP3 capability to power its eight speakers, and Ford's high series Human Machine Interface (HMI) that manages not only trip computer functions but also offers control of the Sony audio system using steering wheel buttons.
Outside, the list of additional features over the LX wagon includes 17-inch spoked alloys with 235/45 R17 tyres, rain-sensing wipers, automatic headlamps, front fog lamps, Park Assist front and rear parking sensors, perimeter alarm and 'follow-me-home' lighting.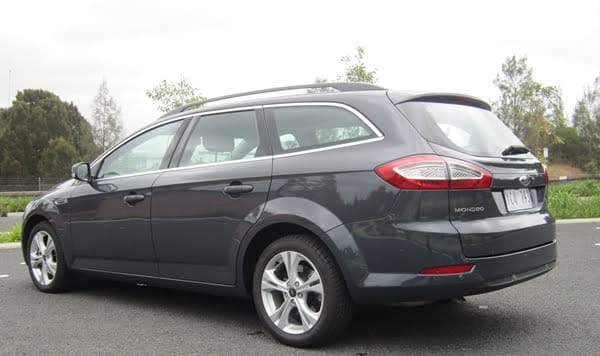 On the safety front, the Mondeo Zetec wagon scores a 5-star ANCAP safety rating and has a comprehensive array of safety equipment including the usual ABS and Emergency Brake Assist, plus Dynamic Stability Control, Traction Control, seven airbags and the previously mentioned front and rear parking sensors.
Four-wheel discs, vented at the front, provide decisive stopping power with good feel through the brake pedal. We put the brake package to the test when a Hunter Valley farmer lost a couple of hay bales in front of us at about 100km/h, leaving us no option but to bury the middle pedal and hope that ABS, EBA and DSC would keep us out of trouble. They did – we stopped safely, with no drama and no damage to the Mondeo or hay bales.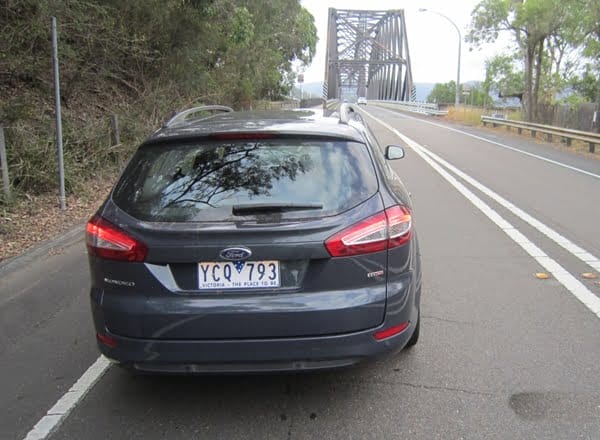 Summary
There's plenty to like about Ford's Mondeo Zetec TDCi wagon and not much to turn you away.
Its elegant yet understated look is very European and the Mondeo Zetec wagon is a handsome car whether sitting in your driveway or out on the road. It provides comfortable and well-equipped accommodation for five people in a light and roomy cabin. Fulfilling its role as a wagon, the Mondeo also delivers cavernous luggage space with the rear seat either up or down.
Its turbo diesel engine and 6-speed Powershift auto gearbox deliver willing and flexible performance with good all-round economy. With a sportily tuned suspension and low profile tyres, the Mondeo wagon delivers a comfortable and controlled ride under most conditions and it steers pretty well for a load-lugging wagon.
During our week with the Mondeo Zetec TDCi wagon, we got a few admiring glances and comments from Mazda 6 diesel owners who envied the diesel/auto combination and wished that Mazda would offer that combo. For the moment, Ford has the edge in this market.
The Ford Mondeo Zetec TDCi wagon's package of performance, economy, driveability, standard equipment and widespread dealer network, all at a reasonable price, makes it a very compelling proposition. At a manufacturer's list price of $41,240 excluding dealer delivery and any on-road costs or accessories it undercuts the Euro direct competitors from Volkswagen and Skoda.
If you are in the market for a stylish mid-sized 5-seat wagon with a diesel engine and auto transmission then the Mondeo Zetec TDCi wagon should be on your shopping list. We liked it!
What is Good
Willing and flexible diesel drivetrain
Willing and flexible diesel drivetrain
Powershift dual-clutch gearbox is smooth and effective
Cavernous boot
Light, airy and comfortable cabin
Well-equipped
What is Not so Good 
 Economy could better
 Tyre noise, especially on coarse chip surfaces
Chassis can feel a bit remote at times