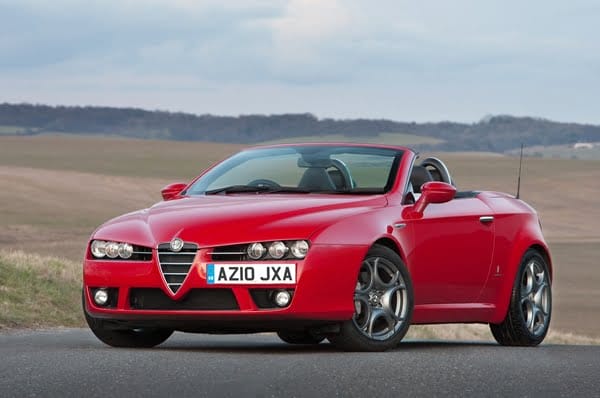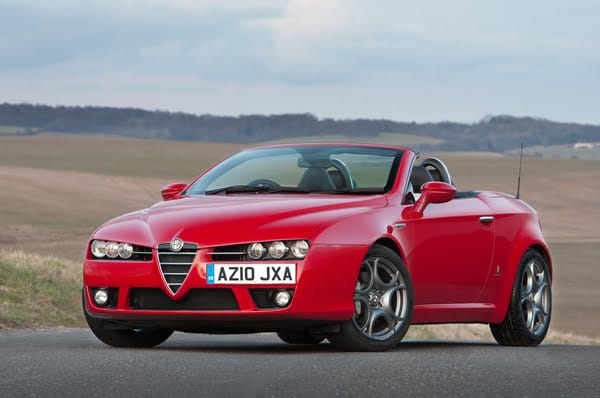 Alfa Romeo is about to close the latest chapter in the history of one of the most iconic names in the car industry, with the latest Alfa Romeo Spider coming to the end of its production life, but this Spider has one final sting in its tail – a limited production run with the all-new 1750 TBi engine that produces the best ever combination of performance, emissions and economy ever offered in an Alfa Spider during its legendary history.
But while the new Alfa Romeo Spider 1750 TBi is offering a new drivetrain with plenty of sting, the Alfa Romeo is ensuring that the final Spider in this incarnation does not deliver a sting in the wallet. At a recommended retail price, not including statutory charges and dealer costs, of $69,990 the new Spider 1750 TBi, despite its performance, fuel economy and emissions benefits, costs the same as the car it replaces. Additionally, the new 1750 TBi has Frau Pieno Fiore leather upholstered electric seats as standard, along with new 19 inch alloy wheels. The savings also extend to the range-topping Spider 3.2 JTS Q4 which, with a new price of $84,990 not including statutory charges and dealer costs, represents an $11,000 saving for the 2011 model cars.
The 1750 TBi turbo petrol engine is a light and compact engine with a power and torque output that belies its size. Maximum power is 147 kW while not only does the torque peak at an impressive 320 Nm, it occurs at an amazingly low engine speed of just 1400 rpm. This combination not only enables the Spider to deliver a 0-100 kmh time of just 7.2 seconds, it also provides in-gear acceleration times on a par with a 3.0 litre V6 engine. At the same time the new engine is impressively economical – on the combined cycle it offers 8.2 litres per 100 km, or to put it another way, it saves more than a litre of fuel every 100 kms compared to the 2.2 litre engine it replaces. Finally, with full EuroV compliance it meets the toughest emission standards in the world, making the Spider 1750 TBi fast, clean and economical.
This substantial gain in engine efficiency has been achieved with an advanced ignition control solutions including direct fuel injection, two continuously variable valve timing units, a turbocharger and a revolutionary scavenging control system.
Although the archetypal Alfa Romeo Spider is the 1960's Duetto that entered the public consciousness when a Dustin Hoffman piloted a red – of course – Duetto Spider on his way to his fateful meeting with Mrs Robinson in the film 'The Graduate', the Spider has been has been at the heart of the company right back to its foundation. Although early models such as the 40-60hp and the RL were known generically as spiders, the first model to carry Spider as part of its name was the 8C 2300 Spider. The Spider relaunched Alfa Romeo in Australia in 1998 and the current incarnation arrived at the 2006 Australian International Motor Show in Sydney.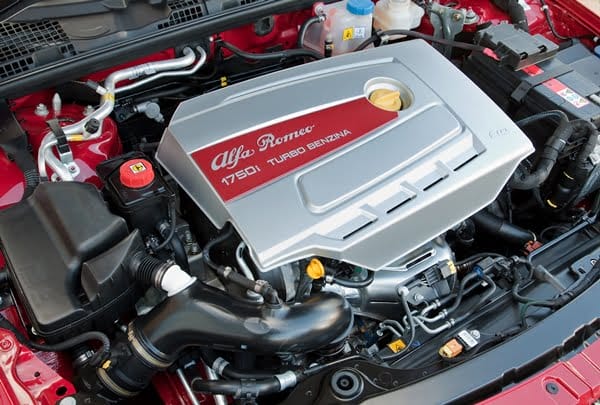 The Alfa Romeo Spider 1750 TBi is fitted with 6-speed manual gearbox, whilst the range topping Spider 3.2 V6 JTS is equipped with, as standard, Alfa Romeo's Q-Tronic Automatic gearbox and the Q4 permanent four-wheel drive system. Q4 employs three differentials, with a self-locking Torsen C unit at the centre of the system which in normal conditions divides drive torque by a ratio of 57 per cent to the rear wheels and 43 per cent to the front.
Torque split between front and rear axles is constantly modulated by the central Torsen differential on the basis of available grip, with a bias towards the rear axle promoting handling characteristics appropriate to an Alfa Romeo sports car.
The 1750 TBi Alfa Spider's braking system comprises powerful, 330 mm ventilated front discs and 292 mm solid discs at the rear. When powered by the 3.2 JTS V6, the Spider features 330 mm ventilated discs with Brembo four piston monobloc aluminium callipers at the front, and 292 mm ventilated discs at the rear for even greater, fade-free stopping power.
The Alfa Spider offers direct, lively and responsive speed-sensitive power assisted steering, with a rack requiring only 2.33 turns lock-to-lock; the most direct steering in its class. The turning circle is just 10.7 m between kerbs.
Both passive and active safety features are comprehensively represented in the Spider. In addition to seven standard equipment airbags, seatbelt pre-tensioners and a fully integrated Fire Prevention System, the new car comes with a comprehensive range of state-of-the-art electronic braking, traction control and stability systems fitted as standard.
ABS anti-lock braking is combined with Electronic Brakeforce Distribution over all four wheels, and a sophisticated switchable Vehicle Dynamic Control unit enhances cornering stability. VDC is further augmented by ASR to limit wheelspin during acceleration, MSR to modulate braking torque when changing down through the gears, and a unique Hill Holder function to facilitate smooth hill starts.
As with all Alfa Romeo models, driver orientated ergonomics, superior passenger comfort and lavish standard equipment levels are fundamental to the interior design of the Spider.
The Spider boasts a notably generous standard equipment specification, offering, even at entry level, many features only available as expensive options on rival models, including Pieno Fiore Sports Leather, Bluetooth telephone connection system, electrically adjustable and heated front seats, chrome roll bars, wind break, rear storage compartments, automatic Dual Zone climate control, electric folding roof, cruise control, a multi-function display and trip computer, fog lights, 19 inch spoked alloy wheels and an RDS 6-speaker stereo radio with CD player.
In addition, the Spider 3.2 JTS V6 is equipped with Xenon headlights with headlight washers and Bose audio system.
The 2011 Alfa Romeo Spider is on sale now, with a recommended retail price for the Spider 1750 TBi of $69,990 and the Spider 3.2 JTS Q4 is priced at $84,990, not including statutory charges and dealer costs.