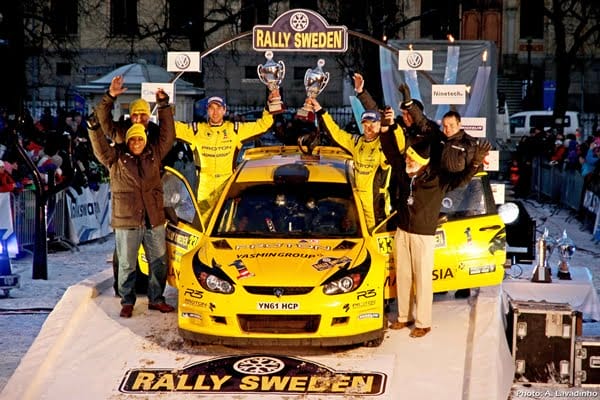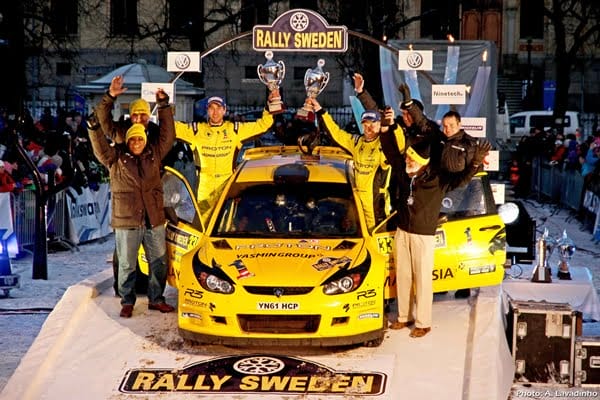 PROTON Motorsports dominated the second round of the FIA Super 2000 World Rally Championship, with P-G Andersson taking a three-minute SWRC victory on Rally Sweden, which ended in Karlstad this afternoon.
The victory was a first for PROTON Motorsports, the Malaysian manufacturer which dominated the FIA Asia-Pacific Rally Championship last season and stepped up to the world series for Super 2000 cars in 2012. Despite the Satria-Neo S2000 never having competed in the Arctic conditions, the two cars ran without any problems.
Andersson and co-driver Emil Axelsson were the class of the field throughout the three-day event, which was run in typically wintry conditions with temperatures closing on minus 20 in central Sweden and across the border in neighbouring Norway. The Satria-Neo S2000 was cheered all the way to victory by hardy Swedish fans who delighted in their hero's maiden PROTON success at the highest level of Super 2000 rallying.
This was the second round of the Super 2000 World Rally Championship which Andersson has dominated in three weeks, having built a seven-minute lead on Rallye Monte-Carlo, only to lose out when he was halted late in the day by an under-bonnet fire. This time, however, there was no stopping Andersson. Both his car and the sister Satria-Neo S2000 of reigning FIA Asia-Pacific Rally Champion Alister McRae ran without fault throughout the event.
Scotsman McRae was returning to the World Rally Championship for the first time in five years and to this event for the first time in eight years. Unfortunately for McRae and co-driver Bill Hayes the exploration of two of Scandinavia's deepest snow banks cost them time and positions on the leaderboard. They ended the event seventh in SWRC.
The PROTON Motorsports team arrived in Sweden on a high, having beaten reigning Intercontinental Rally Challenge champion and Skoda factory driver Andreas Mikkelsen to Super 2000 victory on Rally Finnskog the week before the second SWRC round of the season. Andersson did the double over his Norwegian rival on Rally Sweden, beating Mikkelsen in the overall standings again on the second round of the FIA World Rally Championship.
PROTON Motorsports will now switch its focus to the FIA Asia-Pacific Rally Championship and towards Rallyes de Nouvelle Caledonie (April 2-29), the opening round of this year's series. The Pacific island event will mark the start of the defence of PROTON and McRae's 2011 FIA Asia-Pacific Rally Championship titles. Rally Sweden SWRC winner Andersson will join the Scot on the gravel down under.
Quotes:
P-G Andersson said:
"I was quite happy with the car after we'd had our test, but the testing is still not the same as coming to the SWRC for the competition. Early on, we were having a good battle with Pontus [Tidemand, Skoda driver], but then he had a problem and suddenly we had a good lead of something like two minutes. Then you really have to concentrate with your driving. If you are not attacking every corner, it's possible the car is not working in the most effective way or you might have a brief lapse in concentration. Fortunately, I really love this rally, so I was able to keep the concentration and the enjoyment of the stages. I have done this event many times now and it's incredible to have some success on my home round of the world championship. I am very, very happy with the result and for the team. PROTON came out fighting on round one in Monte Carlo and we have seen what the team is capable of this year!"
Alister McRae said:
"I think it's fair to say that this wasn't my rally! The back of the car touched a bank on the third stage and this just pulled the car into the snow. There was nothing we could do, it was well in there. The annoying thing is that, as soon as some spectators arrived, we had the car out in 30 seconds and it was completely undamaged. We had a similar problem on the second day, but this time we got the car out sooner and carried on in the stage. It was frustrating, but it was also great to be back and driving in the world championship again. There's no doubting this is one of the best rallies around and to drive the PROTON down the snow and ice roads like that was fantastic. Fortunately for us, we were able to make it through to the finish to make some points, but obviously P-G's win is great news for the team."
Chris Mellors (team principal) said:
"This is a historic event for PROTON Motorsports. This is only our second event at the pinnacle of the sport and we've won, having pretty much dominated the first two rallies. We are very, very happy with the way things have worked out. P-G drove a great rally, didn't put a foot wrong and showed why it's a good idea to have a Swede in Sweden. Unfortunately for Alister, he was caught out by a couple of tricky places and the snow bank just pulled him in. Neither incident damaged the car, but they cost him some time and places on the leaderboard. Alister hasn't competed here for quite a few years and coming into a competitive series like this on what is a pretty technical event isn't easy. Obviously, as a team we're delighted with this result. The car is halfway through its development programme so far and we're winning rallies at the highest level; that's fantastic news!"
Datuk Razak Dawood (head of Proton Motorsports) said:
"We are very pleased with this fantastic result. We were close to achieving our maiden victory in Monte Carlo, if not for the small fire in the finishing stages which robbed us of the victory. Our victory in Sweden is very sweet and testimony to the effort and hard work, especially on engine development and testing during winter done by MEM. In line with our philosophy of, 'Committed to be Better,' we have proven that we now have a better car and team capable of giving the big boys a good fight. We are very happy to see many fans who came to cheer PG and Proton. Our next event will be Rally Whangarei, the first round of the APRC. We are determined to defend our title and Rally Sweden was the perfect warm-up and shakedown for P-G and Alister."
Event data
Round: 2/8, FIA Super 2000 World Rally Championship
Based: Karlstad, Sweden
Stages: 24
Surface: snow
Liaison distance: 1,493.44km
Competitive distance: 349.16km
Total distance: 1,842.60km
Conditions: -17 – 1 overcast
Day one leader: P-G Andersson (S)
Day two leader: P-G Andersson (S)
Day three leader: P-G Andersson (S)
Winner: P-G Andersson (S)