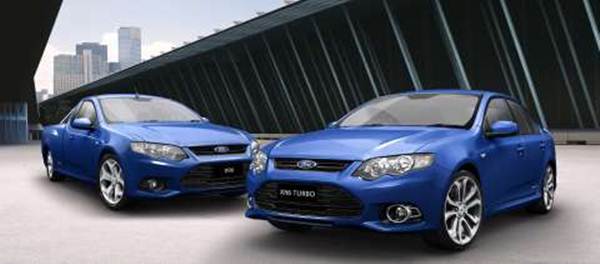 Ford Delivers Outstanding Value with FG Falcon MkII with more equipment and sharper list pricing delivering up to $8,255 of added value.
FG Falcon MkII range is packed with more technologies and features than ever previously offered by Ford in this market sector.
Recommended Manufacturer's List Price for the new FG Falcon MkII sedan range starts from just $37,235 for the entry Falcon XT
Melbourne, Australia, 07 November, 2011
Ford Australia today announced Manufacturer's List Pricing for the new FG Falcon MkII range, highlighting the most comprehensive package of standard equipment and features ever offered on Falcon, in conjunction with a revised pricing strategy that delivers even greater value for customers.
FG Falcon MkII will showcase the best of Ford Australia's design, engineering and technological expertise, from the new 8.0-inch colour touch screen with integrated audio, phone and navigation functions to the comprehensive occupant protection package and, early in 2012, EcoBoost engine technology.
"At Ford, we recognise that Australians work hard for their money and want vehicles that deliver outstanding value," Ford Australia President & CEO Bob Graziano said.
"Ford is committed to providing Australian consumers with outstanding vehicles in all segments that offer stylish design, quality, safety, performance, fuel efficiency, smart technology and great value.
"The improvements we're making to the award-winning Falcon range with the introduction of FG Falcon MkII, combined with the strong value proposition presented by the revised list pricing, highlight the attractiveness of our large car package – a car designed, engineered and built in Australia to meet the needs of Australian customers."
The most popular model in the Falcon range, the legendary sports XR6, will feature an extensive list of additional standard equipment when FG Falcon MkII launches in late 2011, including an 8.0-inch colour touch screen multimedia centre, USB integration, 18-inch alloy wheels, side curtain airbags, reverse sensing system and projector headlamps.
Coupled with a new, sub-$40,000 list price, the FG Falcon MkII XR6 will offer customers over $5,500 of extra value compared with the outgoing model.
The value propositions on the luxury G6E and sports luxury G6E Turbo models are even more compelling, with the addition of the 8.0-inch colour touch screen multimedia centre incorporating a satellite navigation system, plus LED position lamps, an alarm and new, larger diameter alloy wheels on both models delivering more than $8,000 of added value to customers.
Falcon Ute models have also benefitted from a significant increase in equipment levels, in conjunction with the revised pricing strategy. On entry-level Falcon Ute workhorse models that combination will provide around $4,500 worth of extra value, while sports XR6 Styleside Box variants will offer customers over $6,000 of extra value.
"FG Falcon MkII represents the most advanced, most comprehensively equipped and best value large car Ford Australia has ever produced," Graziano said
"With fresh exterior styling, a host of new features and the latest smart technologies boosting Falcon's already extensive equipment levels, together with a customer-focused new pricing strategy, it delivers outstanding value for large car buyers and builds on the rich heritage of the Falcon brand."