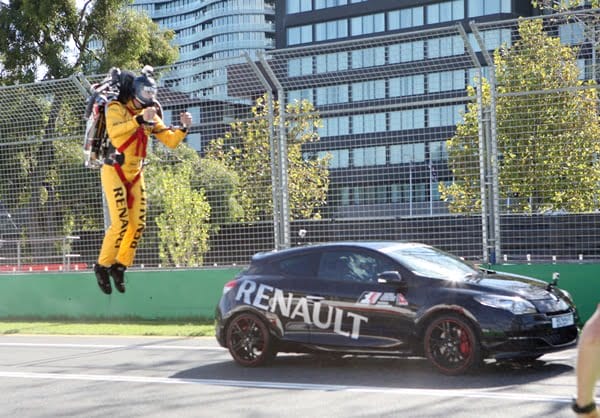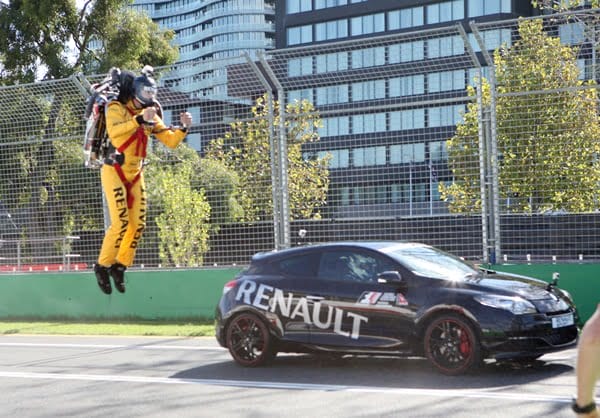 A turbocharged Mégane Renault Sport 250 took on a jet-powered rival and won at the Albert Park Grand prix Circuit.
Renault Jet pack Man is set to be one of the star attractions of the 2012 Formula 1TM Qantas Australian Grand Prix. Renault Jet Pack Man will feature on all 4 days of the event with daily flights in the Action Zone at Albert Park Lake. In addition, he will officially lead the 6 Renault Mégane R.S. 250s into formation to start the Red Bull Race Off on Saturday 17th and Sunday 18th March.
To celebrate Renault Jet Pack Man's arrival in Melbourne, he took on the feisty Mégane R.S. 250 Australian Grand Prix limited edition on the Albert Park circuit on Monday 12th March in his first Australian flight. The award-winning Mégane R.S. 250 was too good in the 400 metre race and took line honours.
Fuelled by a combination of hydrogen peroxide and water, Renault Jet Pack Man has a maximum speed of 100 km/h and can cover 400 meters in just 23 seconds.
According to Renault Jet Pack Man, Nick Macomber: "It was a privilege to race neck-and-neck with the new Renault Mégane R.S. 250 today. If Renault can beat my jetpack they will go fast and beat everybody at the Australian Grand Prix this weekend!"
Justin Hocevar, Managing Director of Renault Australia, said: "We are so excited to bring Renault Jet Pack Man to Melbourne as part of the Australian Grand Prix celebrations. He is a wonderful spectacle and I have no doubt will be a very popular attraction over the weekend.
"Despite a close race, it was great to see the Mégane R.S. 250 come out on top."