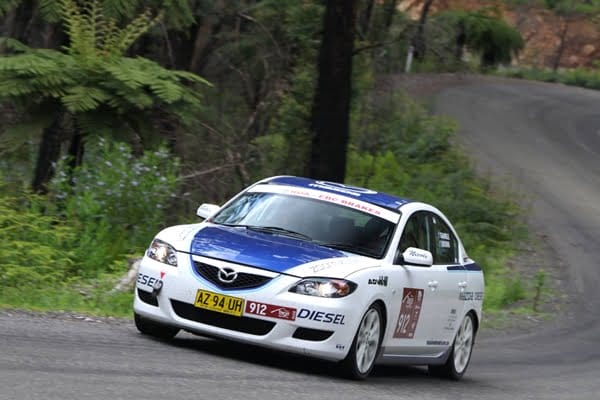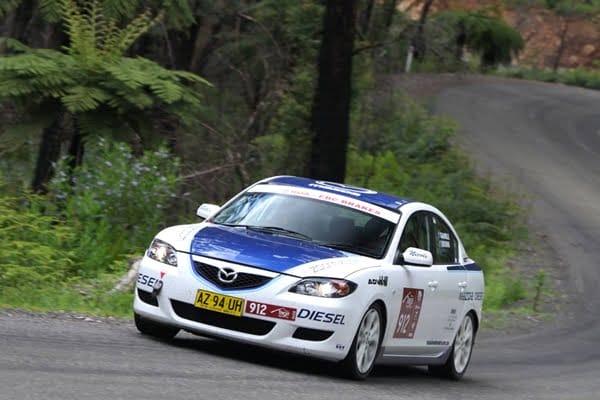 Mazda3 Diesel and drivers Peter Brown and co-driver Stewart Gamble surprises all by winning their class in the Targa High Country rally.
Peter Brown and co-driver Stewart Gamble have today re-written the record books by piloting their Mazda supported Mazda3 Diesel to overall victory in the Showroom class at the Targa High Country rally. This is the first time ever a diesel entrant has sat atop the podium at a Targa rally event.
The Mazda3 Diesel has put in some previous strong performances including a seventh place in the Showroom category at this years Targa Tasmania. However its performance at this weekends event has elevated the Mazda3 Diesel to another level and really highlights its impressive performance capabilities. The Showroom category is often the domain of more traditional sports cars, but this result really shows that the Mazda3 Diesel can mix it with the best.
Going into today's stages a Mazda one, two, three in the Showroom category was looking a possibility. The Mazda3 MPS of Reeves and Smyth led the Mazda3 Diesel of Brown and Gamble while the MX-5 of Mackay and Hailstone sat in third. The situation changed however on stage eleven, Big River, when the Mazda3 MPS of Reeves and Smyth crashed out. Upon entering a sharp corner and attempting to avoid a crashed competitor, they ran out of road and were forced into an embankment, rolling the MPS and ending their Targa campaign. Both Reeves and Smyth walked away from the incident unharmed and remain optimistic looking forward to the next event.
This left a two way battle for the Showroom prize between Brown and Gamble's Mazda3 Diesel and Mackay and Hailstone's MX-5. In the end, the additional torque of the Mazda3 Diesel made the difference with Brown and Gamble running out as eventual victors snaring the Showroom prize.
"Its been another tough day at the office with the MPS crashing out after such an impressive performance up to that point. But we know now that we have got two cars capable of running at the head of their respective categories. And what a great performance by Peter Brown in the Mazda3 Diesel. We've worked with Peter in the preparation of the Mazda3 Diesel and we are thrilled to see them rewarded with a maiden diesel victory in a Targa event." said Mazda Motorsport's Allan Horsley.