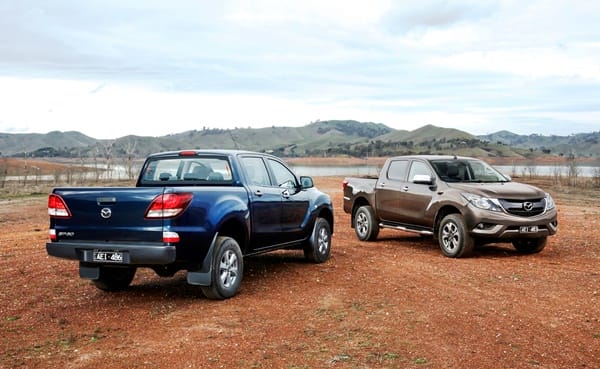 Later this month the New Mazda BT-50 arrives with refreshed exterior styling and new features, but with only a minor price adjustment. Launched in October 2011, the current BT-50 has gone through its first design revision with changes to the front and rear of the vehicle and a range of new interior upgrades included.
While the cost for the entry-level BT-50 Single Cab Chassis 4×2 with 2.2L diesel engine and 6-speed manual transmission remains steady, pricing has changed by as little as $75 for some Single and Dual Cab Chassis and Freestyle Cab models. The Dual Cab Utility – which now comes with considerably more equipment – increases from as little as $375.
There are 23 New BT-50 variants available, including 10 with 4×2 and 13 with 4×4 capabilities; there are two diesel engine types, the MZ-CD 2.2 litre 4-cylinder and a MZ-CD 3.2 litre 5-cylinder, and a choice of either a 6-speed manual or a 6-speed automatic transmission.
Available in three different body styles, buyers have a choice of Single Cab, Freestyle Cab and Dual Cab and with three model grades, the XT, XTR and range-topping GT.
Since its arrival in 2006, the BT-50 nameplate has been a strong performer for Mazda Australia with the tough utility reaching 100,000 sales by the end of this month, while the existing generation is set to pass 50,000 retails at the same time.
"The Mazda BT-50 has been embraced by customers that are looking for a utility with passenger-type comforts," said Mazda Australia managing director Martin Benders.
"The change in exterior styling makes the BT-50 look tougher, more masculine, so we expect renewed interest by trade professionals, an important buying group.
"With a range of great driving, safety and off-road features, the pricing has not moved significantly so the BT-50 continues to be a very competitive value proposition."
New BT-50 goes on sale nationally in September.
Pricing – Manufacturer's List Price
4×2
Model                                                                                  MLP (Old)                           MLP (New)
6M 2.2L SINGLE C/CH XT 4X2                                       $25,570                                 $25,570
6A 2.2L SINGLE C/CH XT 4X2                                        $28,740                                 $28,815
6M 3.2L SINGLE C/CH XT 4X2                                       $28,740                                 $28,815
6M 3.2L FREESTYLE C/CH XT 4X2                   $32,670                                 $32,745
6A 3.2L FREESTYLE C/CH XT 4X2                                  $34,670                                 $34,745
6M 3.2L DUAL C/CH XT 4X2                                          $34,670                                 $34,745
6M 3.2L DUAL CAB UTILITY XT 4X2                            $36,170                                 $36,545
6A 3.2L DUAL CAB UTILITY XT 4X2                              $38,170                                 $38,545
6M 3.2L DUAL CAB UTILITY XTR 4X2                          $40,820                                 $41,630
6A 3.2L DUAL CAB UTILITY XTR 4X2                           $42,820                                 $43,630
4×4
Model                                                                               MLP (Old)                            MLP (New)
6M 3.2L SINGLE C/CH XT 4X4                                       $36,810                                 $36,850
6A 3.2L SINGLE C/CH XT 4X4                                        $38,810                                 $38,910
6M 3.2L FREESTYLE C/CH XT 4X4                                $40,740                                 $40,815
6A 3.2L FREESTYLE C/CH XT 4X4                                  $42,740                                 $42,815
6M 3.2L FREESTYLE CAB UTILITY XTR 4X4                $46,890                                 $47,675
6A 3.2L FREESTYLE CAB UTILITY XTR 4X4                 $48,890                                 $49,675
6M 3.2L DUAL C/CH XT 4X4                                          $42,740                                 $42,815
6M 3.2L DUAL CAB UTILITY XT 4X4                            $44,240                                 $44,615
6A 3.2L DUAL CAB UTILITY XT 4X4                              $46,240                                 $46,615
6M 3.2L DUAL CAB UTILITY XTR 4X4                          $48,890                                 $49,700
6A 3.2L DUAL CAB UTILITY XTR 4X4                           $50,890                                 $51,700
6M 3.2L DUAL CAB UTILITY GT 4X4                            $51,140                                 $51,790
6A 3.2L DUAL CAB UTILITY GT 4X4                             $53,140                                 $53,790