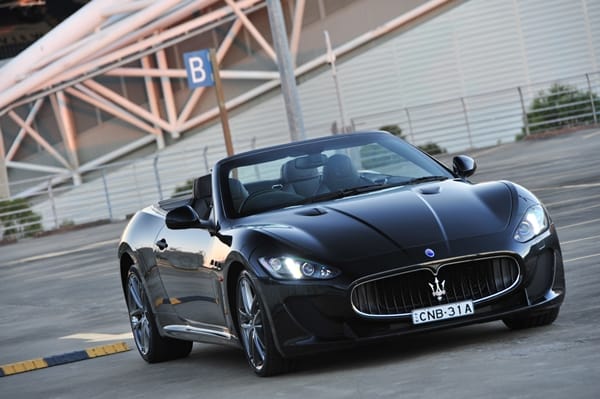 Legendary Italian super car maker, Maserati, is organizing a special event in Adelaide this week to reveal for the first time its four newest models, but you'll need an invitation to attend this exclusive event that's being held in the National Wine Centre on Thursday and Friday to see the new Maserati Quattroporte, Ghibli, GranTurismo MC Stradale and GranCabrio MC.
"For nearly 100 years Maserati has been the byword for performance, luxury and style against which all others have been compared," says Glen Sealey, General Manager of Maserati Australia and host of the exclusive event. "But, as our event will reveal on Thursday, even by Maserati's unique standards, the coming months will see the launch of an unparalleled range of new Maseratis and this event will introduce these cars to Adelaide for the first time."
Maserati, long known for the rarity and exclusivity of the its cars as much as for their performance and style, has set itself the target of lifting its sales by more than five-fold worldwide over just a three year period. To achieve this the Italian car maker is not just expanding its range of existing models, but also moving into market sectors in which it has previously never competed.
Firstly Maserati will reveal the GranTurismo MC Stradale which is the closest the car maker has ever brought one of its racing cars, the GranTurismo Trofeo, to being available as a road car, but now, further extending its appeal, available as a full four-seater for the first time. Alongside the GranTurismo MC Stradale, which will arrive in October, will be the Maserati GranCabrio MC, which offers Maserati performance combined with open air motoring and four spacious and luxurious seats. On sale now, the open top Maserati is here just in time for Spring.
Secondly, the all-new Maserati Quattroporte will make its Adelaide debut.
The Quattroporte has, quite simply, set the benchmark for high performance luxury sedans and such has been its success, other car makers have tried to emulate its unique combination of style, luxury and performance. It is, quite simply, a combination that could only come out of Italy.
With the all-new Quattroporte, the first deliveries of which will arrive in October, Maserati has taken all elements that have made the Quattroporte a worldwide success and enhanced them to produce a broader, even more attractive range. A new twin turbo V8 engine with 530 bhp delivers sportscar performance, blasting to 100 kmh in just 4.7 seconds and on, where the law permits, to a top speed of 307 kmh. Yet, at the same time, an all-new body offers a more spacious and luxurious interior and all of this is wrapped in an unmistakably stylish body.
Completing the exhibition is the Maserati Ghibli, one of the most hotly anticipated cars of the year, a car that makes the dream of Maserati ownership available to a wider market and which brings the cachet of Maserati to areas of the car market where it has been previously unobtainable. Derived from the all-new Quattroporte, with its powerful new engines, its unique exterior style and luxurious interior, the Ghibli could only come from Maserati and set to make is South Australian arrival in early 2014.
The Maserati event is by invitation only, but further information may be requested by contacting Maserati by e-mail on mhargreaves@ateco.com.au