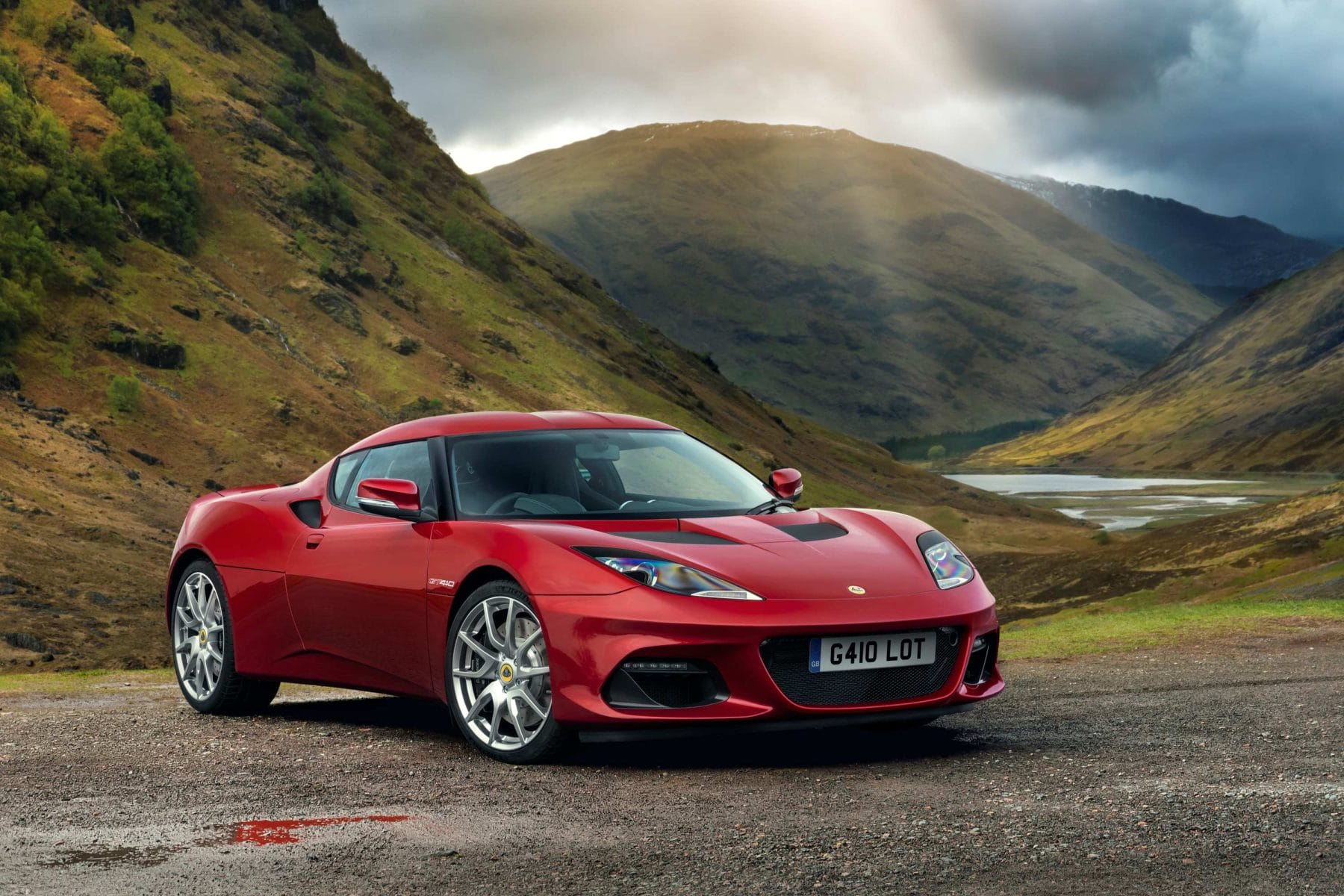 Lotus Cars Australia confirms a brand-new addition to the local Evora range: The Lotus Evora GT 410. The new Evora GT 410 is now available to order via the Lotus Cars Australia dealer network.
Evora GT 410 focused on daily driving comfort and GT cruising
Evora GT 410 Sport focused on performance without sacrificing on-road capability
Specification updates to MY20.5 bring higher standard equipment levels and bundled option packages to enhance customer value
Updated interior trims and exterior paint options
5 Evora GT 410 and GT 410 Sport now available to order
"The new Evora GT 410 brings a two-tiered Evora lineup to the Australian market, giving customers more options to design an Evora to suit their needs," said Lotus Cars Australia CEO, Lee Knappett.
"While it retains the exciting dynamic qualities of the GT 410 Sport, the GT 410's strength is in its enhanced Grand Touring and daily drive capability.
"With the Touring suspension package, more road-oriented tyres and a focus on interior comfort, the Evora GT 410 is a car you can enjoy as much on the work commute as the race track," he said.
MY20.5 Lotus Evora range
MY20.5 Lotus Evora range
Evora GT 410 (man) $189,990 306kW / 410Nm 10.6L / 100km
Evora GT 410 IPS (auto) $193,990 306kW / 410Nm 11.0L / 100km
Evora GT 410 Sport (man) $194,990 306kW / 410Nm 10.6L / 100km
Evora GT 410 Sport IPS (auto) $198,990 306kW / 410Nm 11.0L / 100km
*All prices are calculated as the Manufacturer's Retail List Price, including LCT and GST.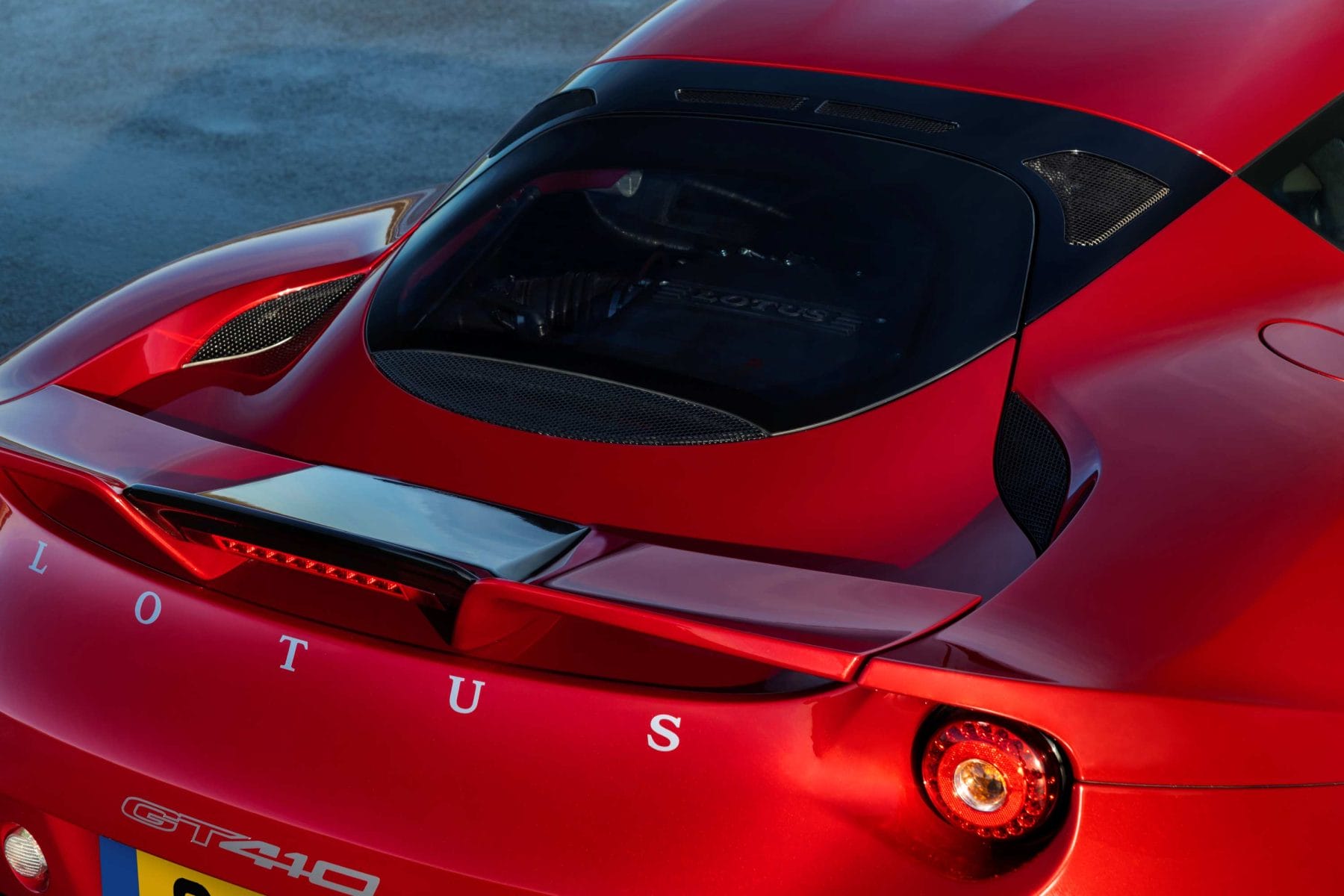 Lotus Evora GT 410
The new Lotus Evora GT 410 has been introduced to demonstrate the true Grand Touring capability of this award-winning vehicle platform.
Starting inside, the Evora GT 410 features heated Sparco front seats trimmed in combination Charcoal Cloth and Ebony Black leather trim with Black stitching and the incomparable Lotus roundel integrated into the headrests.
Plush Charcoal Cloth and Ebony Black trims extend throughout, including the door cards with their integrated armrests and door bins adding convenience. Soft grey cloth is applied to the roof lining and sun visors, with black carpeting.
Further tactile delights include full black leather trim for the steering wheel and a polished aluminium gear shift knob, contrasting with the black leather gear shift gaiter.
The Lotus Evora GT 410's standard equipment list majors on technology, with the Premium infotainment system. This 7.0-inch touchscreen system features four speakers, integrated satellite navigation, Bluetooth audio and phone capability, digital radio, reversing camera, Android Auto connectivity and Apple Car Play. The vehicle is fitted as standard with a conventional 12v 'wet' battery, while the lightweight lithium-ion battery previously available remains on the options list, with battery conditioner.
Rear parking sensors aid slow-speed manoeuvres while air-conditioning, central locking, powered and heated door mirrors, sound insulation pack and cruise control add further comfort and convenience.
A standard immobiliser and remote activated alarm system protects the owner's investment.
Moving to the exterior, the Lotus Evora GT 410 comes standard with body-coloured roof, side sills, tailgate, front access panel and mirror caps, with a black spoiler centre adding contrast. Standard paints are Solid Yellow or Solid Red, with a wide range of metallic, pearl, premium and bespoke options available through the Lotus Exclusive program.
Lightweight GFRP is used for the roof, front access panel and rear tailgate section, and red paint highlights the AP Racing brake calipers that sit behind mixed V-spoke alloy wheels. These measure 19 inches diameter on the front axle and 20 inches on the rear, finished in a choice of silver or gloss black finish.
These stunning wheels are shod in performance road-biased – yet still highly responsive – Michelin Pilot Sport 4S tyres, sized at 235/35/19 up-front and 285/35/20 on the rear.
Underneath the Evora GT 410's composite body is a specific iteration of Lotus's famed aluminium extruded and bonded chassis, allowing 2+0 or 2+2 seating configurations, the latter available as a nocost option and fitted with ISOFIX points.
A Touring suspension setup has been honed with the Evora GT 410's on-road ability in mind; this system deploys specifically-valved Bilstein dampers to ensure compliance without sacrificing handling. A powered hydraulic steering rack with a precise 2.86 turns lock-to-lock gives the driver premium feedback. The Lotus Evora GT 410 also features a Torsen limited-slip differential on manual variants.
Two-piece cross-drilled and ventilated brake rotors measure 370mm at the front and 350mm at the rear, clamped by four-piston AP Racing calipers that are painted red with black AP Racing logos.
The 1,395kg Lotus Evora GT 410 is powered by a supercharged, charge-cooled 3.5-litre V6 engine that generates 306kW at 7000rpm and 410Nm at a low 3500rpm. The engine is mid-mounted and drives the rear wheels via a choice of six-speed manual or optional Intelligent Precision Shift (IPS) six-speed paddle shift automatic gearboxes. Zero to 100km/h is accomplished in 4.2sec for either transmission, while top speeds are pegged at an even 300km/h for the manual and 280km/h in automatic guise.
Combined fuel economy sits at 10.6L/100km for the manual and 11.0L/100km for the automatic. CO2 is rated at 239g/km and 248g/km respectively.
Updated options for 2020: Added value option packs and exciting paint palette for further customisation
The new Lotus Evora GT 410 can be optioned with a Sport Pack. This bundles key sports-focused options to provide increased customer value.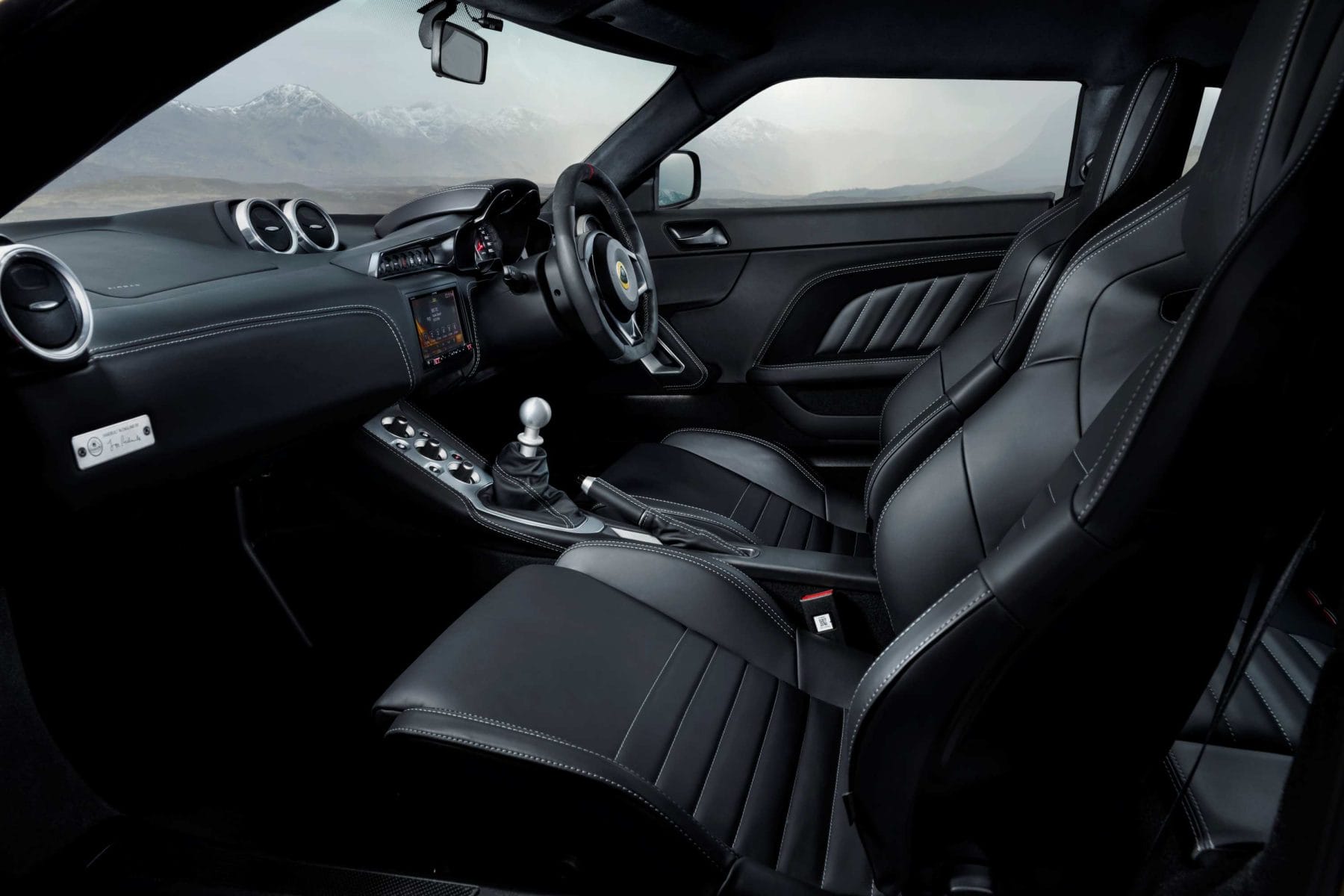 The Sport Pack includes:
Black steering wheel in full Alcantara trim
Sports suspension settings
Michelin Pilot Sport Cup 2 tyres
Choice of silver or black forged alloy wheels in 'GT 430' style, or Black 'GT 430' forged alloy wheels with machined outer edge finish
An impressive range of single options are also available, including:
Gloss Black exterior colour pack
Alcantara trim pack
Leather trim pack (red or black with silver stitching or tan with tan stitching)
Interior colour packs, including the option to match exterior and interior
Contrast stitching in red/white or yellow/white
Carbon fibre roof
Carbon fibre front access panel
Carbon fibre louvered tailgate
Carbon fibre rear diffuser finisher
Black full Alcantara steering wheel
Brake calipers in black or yellow (NCO)
Subwoofer and amplifier
Lithium ion battery with battery conditioner kit
Titanium exhaust system

Lotus Evora GT 410 Sport
Sitting at the top of the Lotus model range is the incredible Evora GT 410 Sport.
Befitting the illustrious GT badge in its name, the Evora GT 410 Sport remains entirely capable of taking on the daily grind, but the additional 'Sport' nomenclature hints at its focused race track performance.
With built-in aerodynamic functions such as the rear spoiler integrated into the carbon fibre tailgate, 96kg of downforce is produced at top speed – three times greater than the original Evora 400.
The Lotus Evora GT 410 Sport weighs only 1,361kg (auto: 1,368kg), thanks to expansive use of carbon fibre (rear tailgate, front access panel). It shares the supercharged 3.5-litre V6 drivetrain and outputs with its new sibling.
The Lotus-tuned steering system, with its hydraulic power assistance and 2.86 turns lock-to-lock, works with 19-inch front and 20-inch rear forged alloy wheels, featuring Michelin Pilot Sport Cup 2 tyres of 235/35/R19 size at the front and 285/30/R20 at the rear. On manual models, those impressive rear Michelins benefit from a Torsen limited-slip differential.
The sports suspension tune features Bilstein dampers and Eibach springs specific to this model, with Eibach tubular anti-roll bars fitted at the front and rear. Braking is taken care of by the same AP Racing system outlined for the Evora GT 410, with black AP Racing logos on the red painted calipers.
While more highly focused than the new GT 410, the Lotus Evora GT 410 Sport also performs admirably as a Grand Tourer, featuring the same integrated 7.0-inch touchscreen infotainment system that is enabled for Apple CarPlay and Android Auto. Bluetooth connectivity, satellite navigation and reversing camera with parking sensors are standard, as are air-conditioning, powered and heated door mirrors and DAB digital radio.
Black Alcantara sport seats feature silver stitching and Lotus roundels incorporated into the headrests, as well as seat heating. These match with the Black full Alcantara steering wheel, lightweight Alcantara door cards and centre console.
Grey cloth is applied to roof lining and sun visors, with black carpets and the new Gloss black interior colour pack as standard.
2+0 seating is standard with 2+2 seating offered at no charge, the latter employing rear ISOFIX points.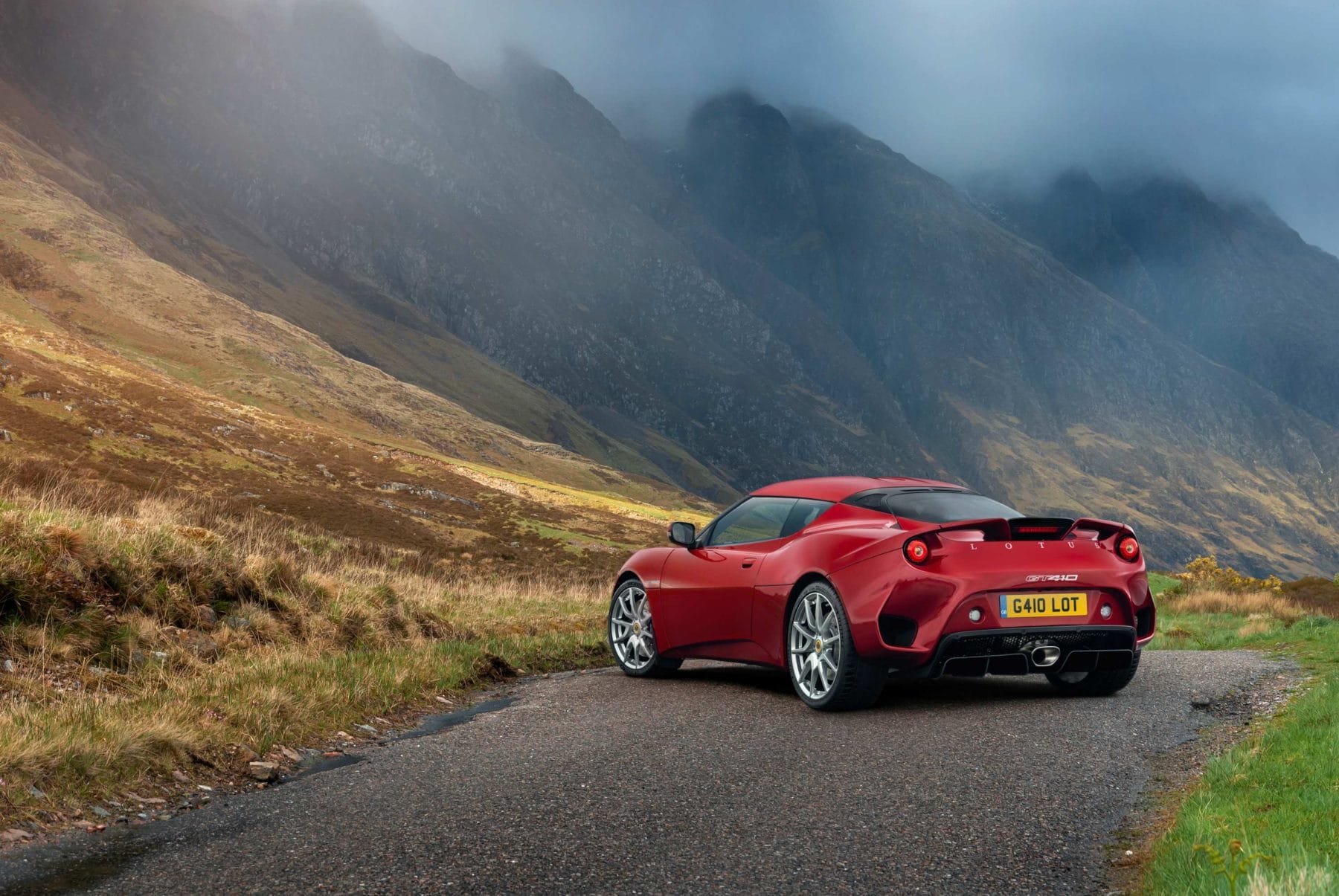 The same wide range of standard, metallic, premium, pearl and bespoke paints are offered as in the Evora GT 410, while the Touring pack bundles a group of GT-oriented options to create additional customer value. This pack includes:
Choice of leather trim pack (red or black with silver stitching or tan with tan stitching) or Black Alcantara pack with silver stitching
Centre console cup holder
Cruise control
Front mud flaps
Subwoofer and amplifier
Gloss Black exterior colour pack
Single options can also be ordered, including:
Red Alcantara trim pack
Leather trim pack • Contrast stitching in red/white or yellow/white
Interior colour packs, including the option to match exterior and interior
Black full leather steering wheel
Carbon fibre roof
Carbon fibre rear diffuser finisher
Black full Alcantara steering wheel
Brake calipers in black or yellow (NCO)
Subwoofer and amplifier
Six-speed automatic gearbox with paddle shift
Cruise control
Lithium ion battery with battery conditioner kit
Titanium exhaust system
Choice of 'GT 430' forged alloy wheels in black, silver or black with machined outer edge finish