LEXUS started life in Australia 30 years ago as the LS400, with a V8, so now there is the LS500.
Now, for the first time, the Japanese limo is offered with a twin turbo V6 instead. We'll be reviewing the tasty V6 hybrid soon.
LS500 comes from the same studios which have input into Toyota stablemates, so there are styling cues common to the humble 2019 Camry. That's not a bad thing. Both cars look handsome, and that's something I can't believe I'm saying.
We drove the LC500 and LC500h here
 Exterior
New styling gives LS500 a stunning modern look.
A large "spindle" grille has a complex, hand hewn, cross-hatch effect. LED matrix lights are fully automatic with (progressive) LED indicators which sweep across the lighting array in the direction the car is turning. Distinctive DTRLs (daytime running lights) highlight the fluidic sculpting at the front end.
Despite being a very large car, the side profile manages a svelte, coupe-like silhouette with the waistline sweeping up as it crosses the rear doors. The rear window slopes majestically to a raised lip on the boot lid. This means headroom in the rear seats have plenty of room for the rear seats to gracefully recline.
LED tail lights are enormous. Deep surfacing along the doors is highlighted by chrome trim around the windows and on the lower body panels.
20" wheels in the F-sport Luxury have noise reducing channels within them to keep the even cabin quieter.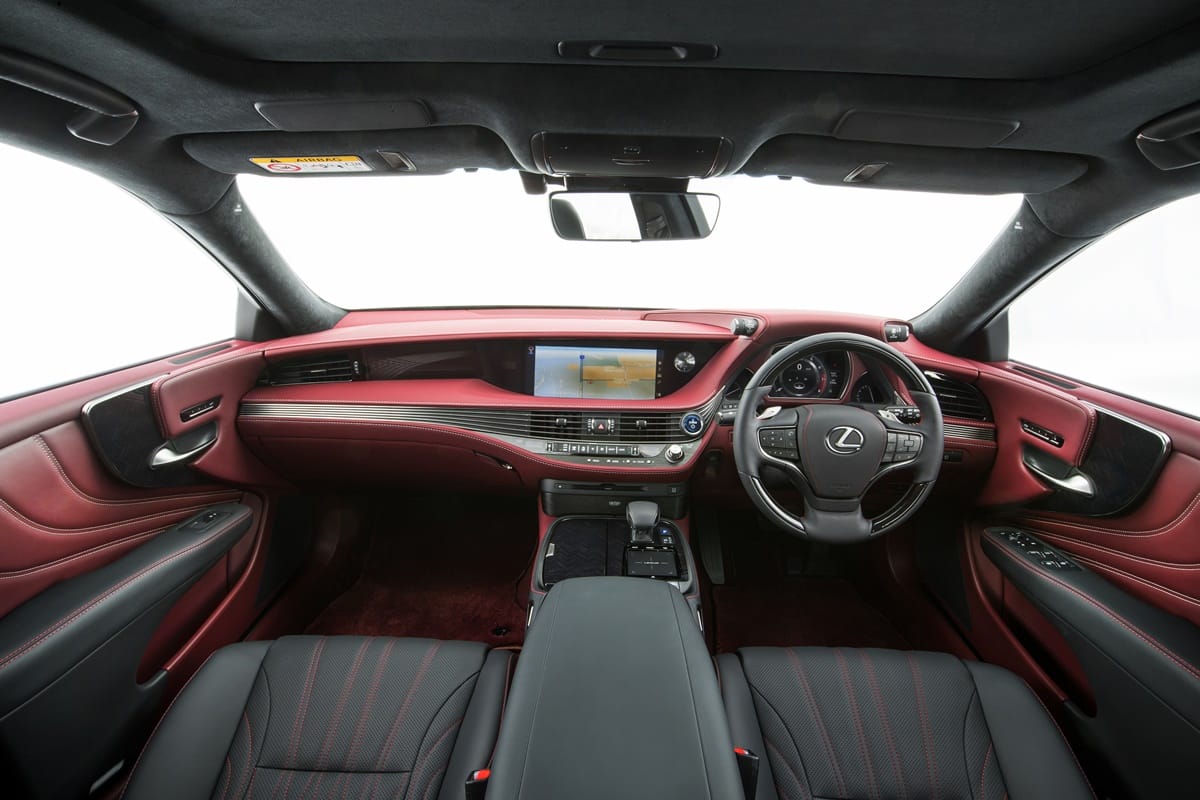 Interior
No expense has been spared in the opulent cabin.
Starting at the front, the dashboard is asymmetrically carved.
Air vents blend into the lines that sweep across the cabin. The centre stack looks  short because the centre console is so high. Buttons laid out under the vents control the climate system and include a scroll wheel for temperature.
There are 4 very small direct-select buttons under the climate controls. They look out of place, but give quick access to audio functions but look out of place.
Below these buttons is an optical drive which will see little use.
There is a track pad on the console for infotainment input It is used like that of a laptop. That's fine on a PC but not so good on a car at 110KPH. It is far too touchy to be useful.
Driver instruments are inspired by the LFA super car, and closely resemble the luscious LC500 Coupe.
An 8")TFT screen contains travel and driver information and replaces conventional dials. It can look cluttered but you quickly get used to it. You find yourself using the 600mm HUD (heads up display) instead. It projects speed and all other driving data directly onto the windscreen and is the widest HUD in class. It is easily the best I've used. In fact, it makes the usual driver display completely redundant.
Drive Mode controls sit either side of the binnacle and look like Ewok ears.
A 12.3" screen in the centre stack displays the usual infotainment data. Directions, audio information can also be shown in the HUD. The driver can change what is seen in the HUD which appears to float at the end of the bonnet.
All seats are heated and cooled and include a massage function. 28-way power seat controls can be found on the side of the seat in the usual spot, but more controls are contained deep in the infotainment menu.
The climate system includes "climate concierge". This brilliant system uses infrared beams to sense spots in the cabin where the temperature is not as selected. It then adjusts the system to change air flow, or will heat or cool seats as needed. It will even heat the steering wheel for a short while if it thinks your pinky is getting frosty.
The massage functions can be found in the stupidly complex menu, and is called "refresh". What a ridiculous name. Why not just call it "Massage"?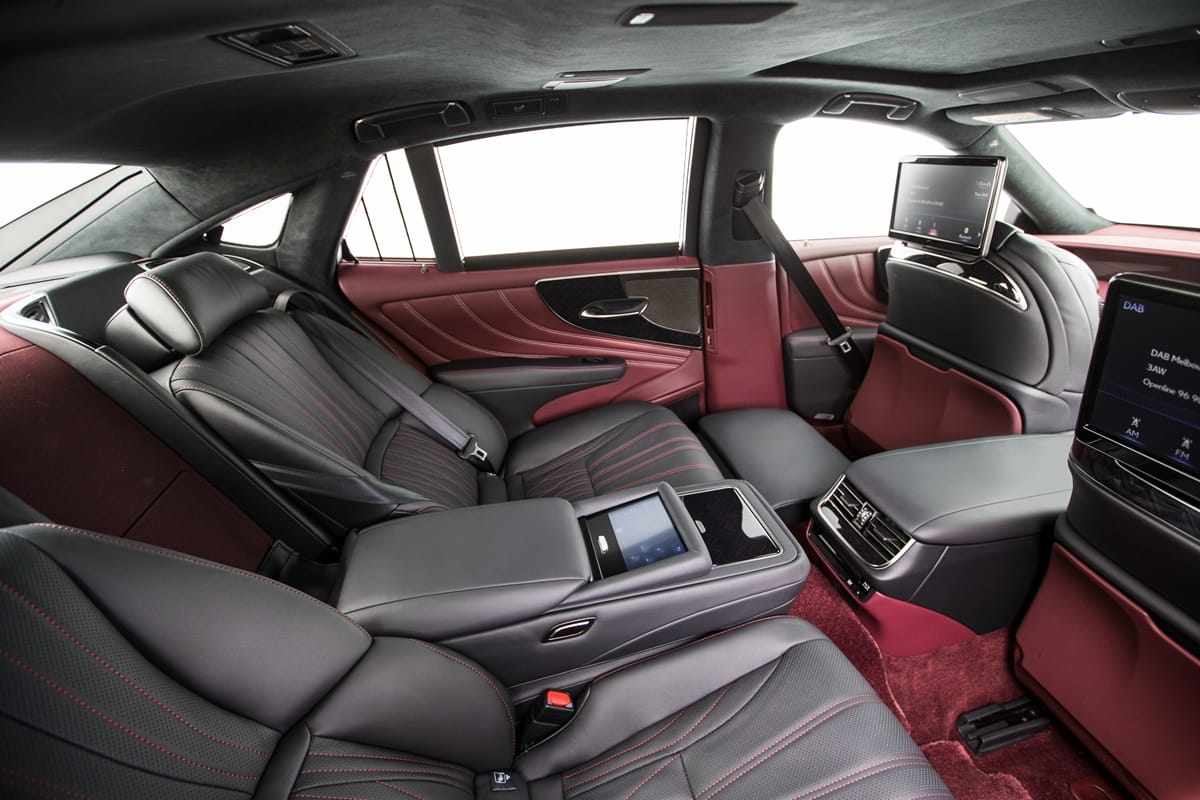 Rear occupants are not left out either.
They have another control system in the form of a touch tablet. Unlike BMW's 7 series, this tablet is fixed firmly to the armrest. They can recline their seats individually, and heat or cool them. They can also refresh themselves if they feel the urge.
The passenger side rear seat can move the front seat forward, then deploy a footrest which LEXUS calls an "ottoman" footrest.
Interior options include Kiriko glass panels and hand pleated satin door trims for $9,880.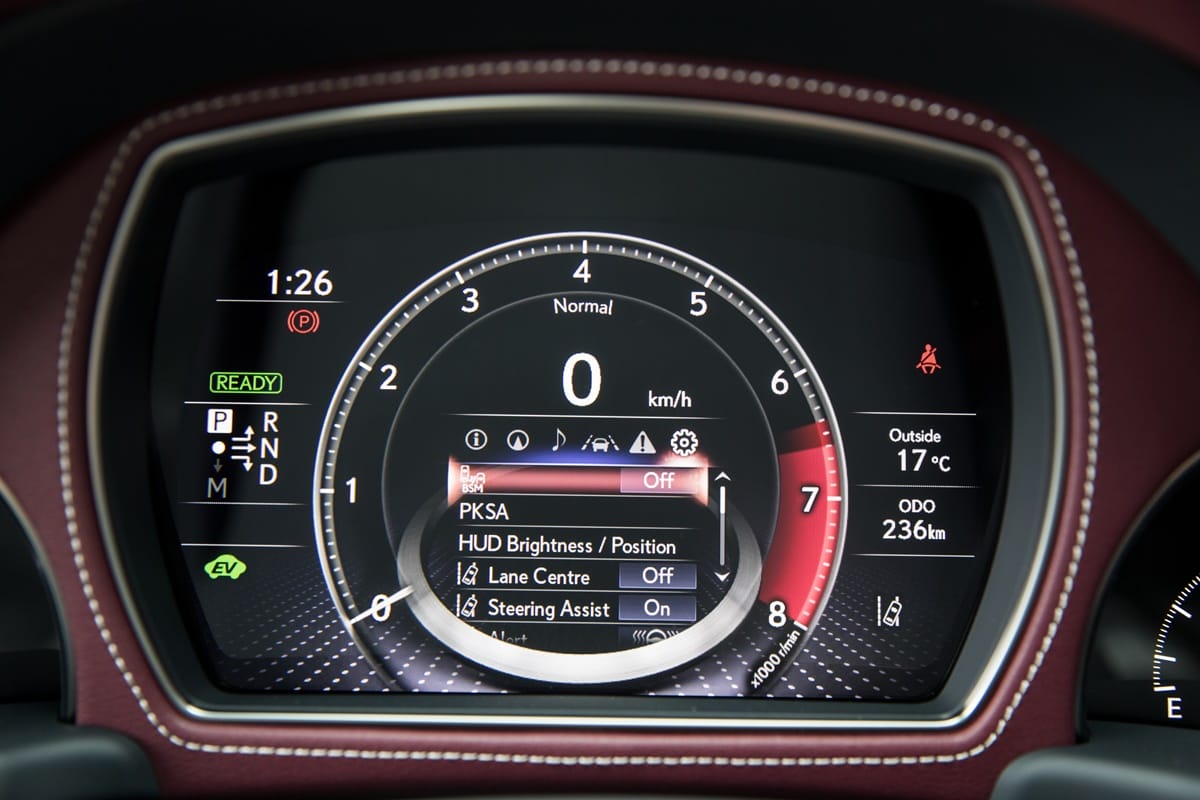 Features
Variable Drive mode controls
Functions controlled by centre rear tablet and front centre stack
Smart cruise control with queue function
Voice control.
Reclining heated/cooled seats with massage (4 seats)
Power boot lid
600mm HUD
4-wheel steering
Powered steering wheel adjustment
Analogue clock
360 view cameras with multi-mode selection
Rear seat ottoperson (AKA footrest)
Active noise cancelling in cabin
23 speaker mark Levinson audio system
Rain sensing wipers
Auto LED headlights with auto high beam control
Real wood trim
Water repellent front window coating
Dab radio (no CarPlay/Android Auto)
Suede headlining
Rear cooler box
Moonroof
4 zone climate control with nanoe (sic) technology
Powered easy-shut doors
Motor driven seatbelt retraction
Run Flat tyres (no spare wheel)
Pop-up bonnet (pedestrian protection)
Adaptive suspension

Drivetrain
Power from the all-new V6 is up significantly from the old 285kw/493Nm V8 model. It is 11% more fuel efficient too.
We covered 2,200km on our Sydney-Melbourne road trip. Our fuel consumption got down to around 8.1L/100k. We didn't so much drive, as waft.
LEXUS says the engine has Laser Cladding, so it must be good.
It is complemented by the delightfully smooth 10 speed automatic we first saw in the LC500. Steering is a complex rack-mounted electric setup, and steers all 4 wheels to get the 5235mm saloon around corners like a cat on carpet.
4-wheel-steering also makes parking incredibly easy. A quick flick, and you're in that tight spot at Coles.
LEXUS spokesman, Nick Raman, says "customers weren't using, and didn't want automatic parking, so it was removed in the new car." For 200 grand, I'd want it anyway, even if just to show the kids how smart the daddy is.
Smart cruise control and active lane control relieve the driver of much of the burden of long distance travel. You can't let go of the wheel as yet, but it is remarkably good at consistently aiming for the middle of the lane.
It watches out for others trying to ruin your day too. It is clever enough to warn you if you try to change lanes into a carelessly meandering Mondeo. Should you fail to notice, LEXUS will steer you back into the lane whilst giving you a jolly good chastising. It's like being spanked by your naughty nanny.
It is advisable to stop for frequent breaks, and the car makes sure you do. She can be quite the nag.
Auto high beam is smart, but other drivers continually flashed me, and not in a good way. Even though they weren't being dazzled, they saw bright lights and panicked. Adaptive High beams light the road ahead but dim only the section where oncoming cars are detected. It really is very clever.
Driving an LS500 is like being in an exclusive high-speed gent's club.
5L V6, turbo
Power/Torque – 310kw @ 6,000rom, 600Nm @ 1,600rpm
10 Speed auto
Electric gear selector
Variable height Air suspension
0-100 – 5 seconds
Safety
Airbags
ABS
Auto Pilot and smart cruise control
Lane Warning and active guidance
360° Reversing camera
Cross traffic warning
Blind spot monitoring
Vehicle safety monitoring.
Traffic notifications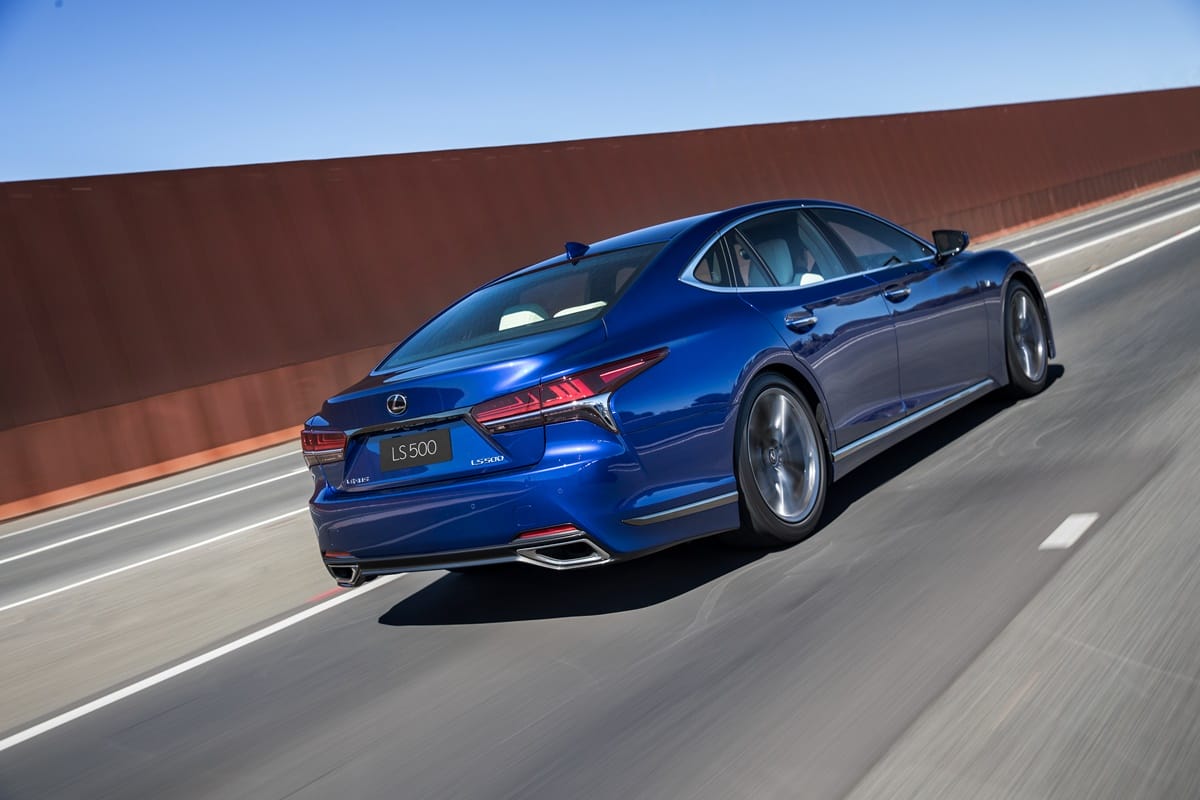 Good Bits
Handsome coupe-style looks
Classy cabin design
All-wheel-steering
Not So Good Bits
No CarPlay/Android Auto
Moody infotainment interface
Run flat tyres
Summary
For years LEXUS has been "not quite there yet" in public opinion, as least in Australia. In recent years however, that has changed. Perhaps it is because the design direction feels a little less grand ma, and a little more gran prix.
You have the rock-solid Japanese reliability, with a soupçon of CALTY design which is Toyota's hip, hop, and happening design team in California. There is definitely more than a little Americana about new LEXUS with their heavy emphasis on lines, crevices, creases, and folds, both inside and out.
Tech, while not cutting edge, is keeping up with the Joneses in every way except for infotainment.
The Levinson sound system is superb.
Facts and Figures
Price: from $203,236 (drive away NSW)
Engine: twin turbo 3.5L V6, 310kw/600Nm
Transmission: 10 speed Auto
Safety: N/A
Origin: Japan
Warranty: 4 yrs/100,000km (LS comes also has 10-year unconditional roadside assistance)
Alan Rating: 9/10
Lexus LS500 Review
Summary
For years LEXUS has been "not quite there yet" in public opinion, as least in Australia. In recent years however, that has changed. Perhaps it is because the design direction feels a little less grand ma, and a little more gran prix.