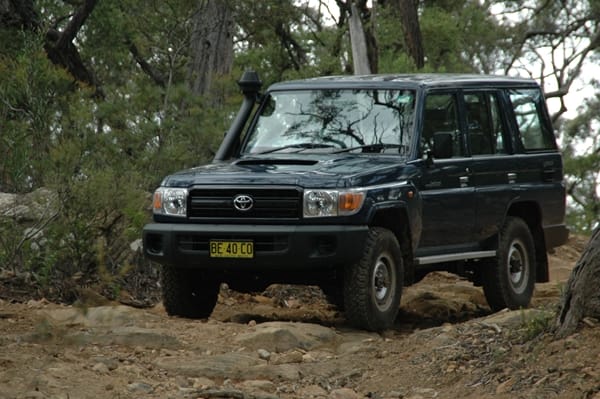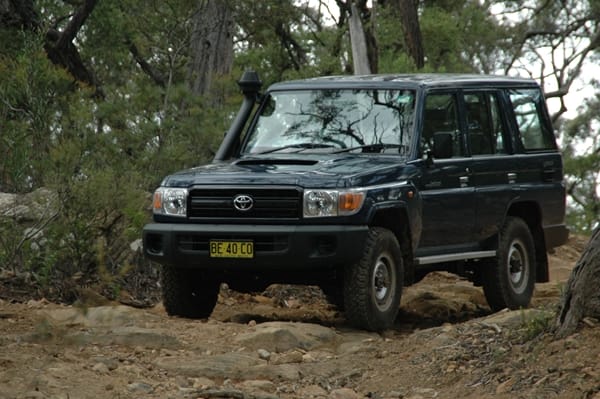 Toyota's indestructible Landcruiser 76 Series Workmate Wagon is one of the few 4WD's that I would confidently drive from the showroom to the centre of Australia.
The Toyota 70 Series hasn't changed much style wise in the past 20 years. From the outside it really is a box on wheels.
The inside of the Workmate is spartan. With the latest facelift they received a snorkel, bonnet scoop, driver and passenger airbags, ABS and a different stereo to the previous models and this has resulted in a redesigned dash to accommodate them.
The cloth seats are adequate with firm padding and relatively good adjustment, though as usual with me they don't go back far enough. I found that the driving position was a bit of a compromise as the pedal placement caused my foot to ache. Rear seats have a 42mm longer squab.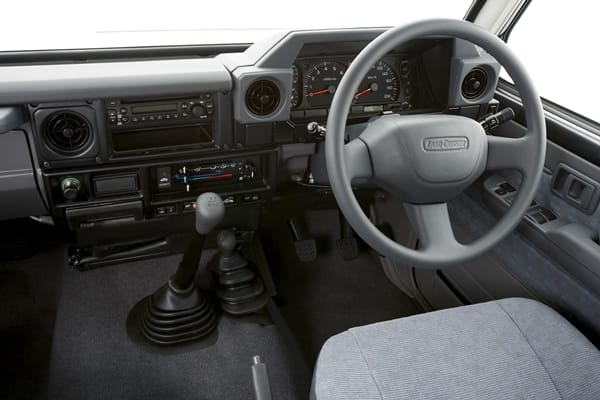 On road, the ride is on the poor side because of the chassis design and is something people new to the off-road market may have ever experienced. The floor is practical vinyl.
The heart of the mighty Tojo is 4.5 litres of V8 turbo diesel putting out 151kW and 430Nm of torque available from 1200rpm – 3200 rpm. All this power is transmitted through a 5-speed manual and dual ratio transfer. There is no auto option.
The ladder frame chassis with live axles is the ideal setup for load carrying and off-road work. Leaf springs at the rear provide the best compromise for load carrying, comfort, price and service life but they are rough unless you have a bit of weight in them. On the front they have gone with live axle and coil springs to provide higher levels of comfort while still maintaining strong off-road ability.
Both axles were fitted with the factory optioned diff locks. This is great but I found them a bit fiddly to use and the fact that you can't engage them separately is a bit annoying. The rotary switch has the first point on the turn engaging the rear locker and the second activating the front as well. As a failsafe they can only be engaged in low range.
The only down side is 16in steel wheels and 7.50 R 16 light truck tyres which are a good tyre for playing in the bush but they are only a light construction in the side walls which means you need to be a bit more careful when watching out for puncture hazards on the track.
The Workmate will tow 3500kg with ease. As the old adage goes, you can't beat cubic inches. Every manufacturer and his dog makes aftermarket accessories for these so all your bases are covered when it comes to fitting one out for whatever you want to do.
If you are looking for a no compromise weekend warrior or a heavy duty work rig then this should be up there on your list of vehicles to choose from. It is not cheap but there are few as robust. However if I was to try and use this as my daily commuter then I think I would go a bit crazy.
What is good:
• Engine power & torque
• 4WD capability
• Towing capacity
What is not so good:
• Rough ride
• Pricey and spartan
• Hard to live with daily
Model Toyota 76 Series Workmate Wagon
Model Price $66,038 RDAP
Drivetrain 4WD 4.5L V8 TD diesel 6 speed man
Power 151 Kw @ 3,400 rpm
Torque 430 Nm @ 1,200 rpm
Safety N/A
CO2 Emissions 313 g/km
Green Vehicle Rating 2 Star
Economy (ADR comb) 11.9L/100km
Tow Capacity – Max 3500 kg
Tow Ball Rating 350 kg
Servicing Capped $ 3yrs/60,000km
Warranty 3yr/100,000km with full roadside assist
Overall OzRoamer Rating 74/100
Behind the Wheel 5
Comfort 4
Equipment 5
Performance 8
Ride & Handling 6
Practicality 10
Fit for Purpose 10
Towing Ability 10
Off Road Ability 10
Value for Money 6