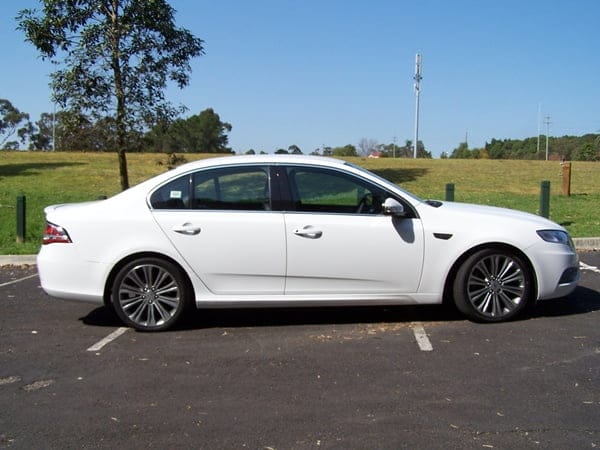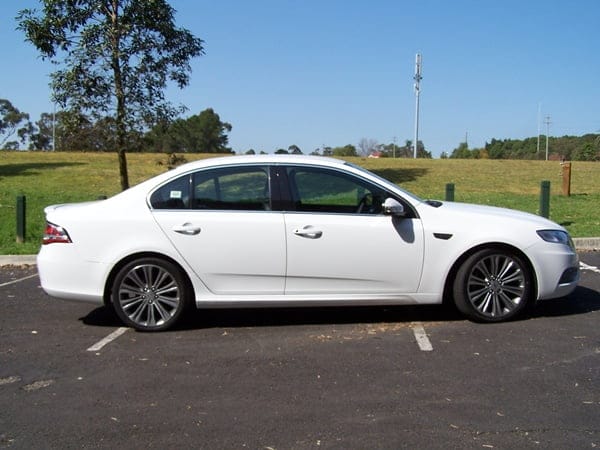 Ford is celebrating its 50th Anniversary with the Falcon G6E Turbo 50th Anniversary model. Power is 270kW, with 533Nm of torque coupled to a ZF 6-speed automatic with sequential sports shift.
Ok, you have $55,000 hard earned or painfully borrowed burning a hole in your pocket, you believe with that sort of cash your minimum wheels list should have: a fabulous engine, be an auto; handle like a sports car, great interior, plenty of space and be value for money, so- what do you buy?
Of course, at this point you could go and buy European. Such as BMW 320i auto or Benz C200K but they are a bit piss ant in size. So what are you going to buy? Well the Blue oval badge ticks all those boxes and some.
Let's check it out:
Behind the wheel
Unless you have been living on another planet, you would have heard about the 50th Anniversary program Ford Australia is running and the added value on offer. With a host of additional equipment at no extra cost and some very sharp drive away price points, you would have to say the 50th Anniversary G6E Turbo offers an exceptional level of luxury and passenger comfort and real value. The leather-upholstered seats offered excellent comfort on long distance journeys, thanks to the impressive side support on both the base and the seat back.
The Ford has lengthy standard feature list, and interior feel made a great first impression. The dash in the G6E is impressive with easy to use controls for both the ventilation system and radio. All the switch gear is positioned close at hand and the high mounted LCD screen offers an assortment of display options including radio, heater setting, reversing camera and satellite navigation system.
However the system looks a bit cheap and is a mongrel to use, probably because of the annoying remote control which has a cheap looking storage pouch in the centre console, along with the iPod cable. Space throughout the vehicle was good and entry in and out of the rear seats has improved over the previous model. Unfortunately the only rear cup or bottle holders are hidden behind the fold down arm rest in the rear seat back, which is a bit ordinary considering the amount of cheaper and smaller cars around have multiple cup and bottle holders.
Performance
Power is 270kW, with 533Nm of torque coupled to a ZF 6-speed automatic with sequential sports shift. So this top of the line G6E series Falcon is not only very luxurious and comfortable to drive, it also has the power and performance to make you want to play. And play you can, just flick the transmission into sport mode and yehaaa! The free revving inline turbo six has no trouble moving this bulky Falcon along.
The G6E Turbo's engine may have a cast-iron block (yes I know aluminium is lighter), but it sure is packed to the hilt with technology expected in a thoroughly modern engine. Such as dual-mode split plenum composite intake manifold, fast burn cylinder head, independently variable double overhead cams and four valves per cylinder – and super smart ignition and fuel-control electronics.
Handling
The G Series has special edition 19-inch 10-spoke alloy wheels and 245/35 R19 tyres so the steering feels relatively heavy, the ride is firm but not overly so. When you look under the front end, you'll find high tech aluminium double A-arms and front-mounted steering rack setup that is certainly superior to many of its opposition. At the rear, the Ford's Control Blade suspension is a brilliant four-link design.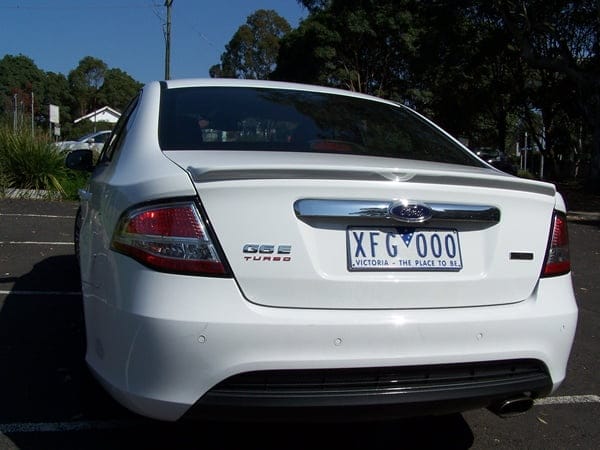 For control, it's up there with the best around or better. It's well set-up and feels like it's ready to race. But the car feels heavy, as though it would be happier on Conrod Straight than the narrow and twisty Sydney roads. Even with aids like ESP (Ford calls it DSC); the Falcon's system uses the same hardware that's current in Europe, combined with control software developed in Australia. So in a nutshell, very firm and refined. It tracks brilliantly through corners for something of this size and bulk, this car sometimes feels limited by its dynamic stability control as it can even make the Falcon Turbo understeer bit through corners. Turn off traction and it's much fuller of energy through corners, without the front outside wheel pushing wide.
Comfort
The Falcon has also grown up on the inside and the G6E Turbo offers an exceptional level of luxury and passenger comfort. Sitting inside you immediately realise that the electronically adjustable driver's seat with leather bolsters is very comfortable and in combination with a height and reach adjustable sports leather steering wheel with multi controls, you are able to obtain a good driving position. Bespoke anniversary features for the G Series models includes new leather detailed seat trim with embroidered "50th Anniversary" logos, 50th Anniversary badge, fender feature and carpet floor mats, along with special interior trim on the centre console, ICC, instrument panel and front door spears.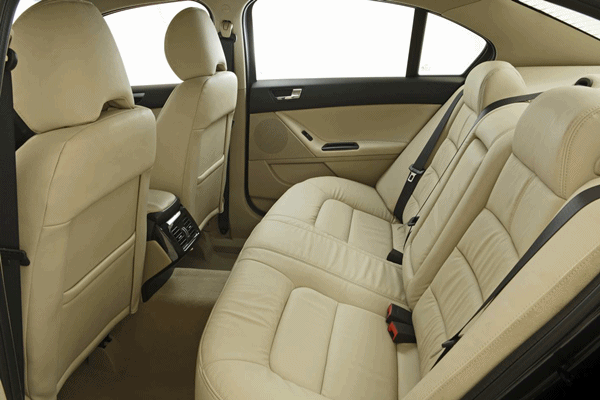 The dash layout in the G6E was also impressive with easy to use controls for both the ventilation system and radio. All the switch gear is positioned close at hand. The interior appointments are up to standard and the front seat comfort is very, very good. The boot has a large litre capacity, but space is somewhat restricted by the bulky trim covering the large sub-woofer in the boot. The boot's floor is set in levels so packing large suitcases or boxes can be a challenge. A wide angle reversing camera as well as reverse parking sensors are standard on the G6E making this one of the easiest cars on the market to reverse and park.
Practicality
I'm driving a car that has a definite purpose, the Ford Falcon is a very practical vehicle. It's a big, roomy sedan with more than enough room for the whole family, to transport a family and tow things in comfort. It's not an econobox motor car, but in line with other great towing vehicles. The Falcon G6E Turbo will tow 2300kg as long as the trailer is braked (more than some SUVs and crossover vehicles), and that's enough for a pretty significant boat, caravan or horse float. Boot space is generous, with the Ford Falcon offering 504 litres
Equipment
To list all the standard equipment available in this vehicle, would bore you and I to death, suffice to say it has all the fruit. Ford has done a lot of work on the interior ergonomics and functionality with this car. The premium stereo now gets a much better and more intuitive graphics package audio system with 7″ colour display, AM/FM radio, 6-disc in-dash CD, 8 speakers plus 150 watt amplifier and sub-woofer (total 262 watts) providing a solid wave of sound throughout the car. I'm not a big fan of the heater and air conditioning controls though, preferring dials as opposed to buttons for temperature and fan control. Other features include dual zone temperature control air conditioning, front and rear power windows, and memory adjustable pedals with alloy pedal controls. Rear passengers are treated the same in terms of comfort and luxury as the front and room is the same as the base model.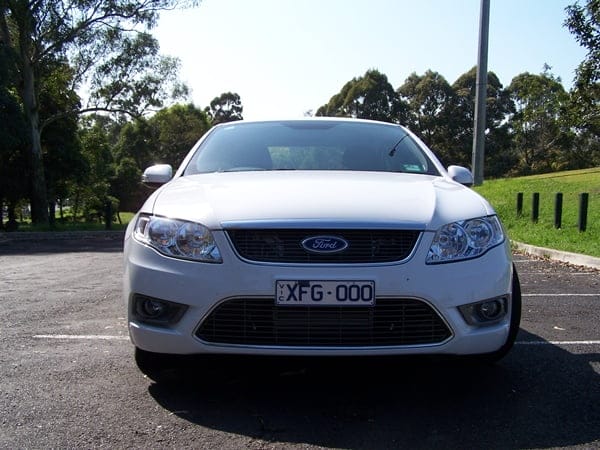 Safety
This new FG Falcon is the first Australian-built car to receive a five-star safety rating from the Australasian New Car Assessment Program (ANCAP). It scored 34.6 out of 37 points, and was awarded five stars for occupant safety. Ford performance over 5,000 simulated crash tests and 426 full vehicle-representative physical crash tests during development.
Supporting the structural integrity are driver safety features such as Dynamic Stability Control (which includes traction control and electronic brake assist), pretension seatbelts, dual stage front airbags and side airbags. ABS and electronic brake force distribution to make sure the maximum braking power is going to each wheel.
Summary
Go fast Falcons have been around since the 1960's in various sensational GT guises, powered by big grunty V8 engines. The longest running vehicle name in Australian motoring history marked its 50th birthday. It will be half a century after the first XK Falcon rolled off Ford Australia's Campbellfield production line. The Falcon G6E Turbo is loaded with equipment, making it a comfortable place to travel. Like all new Falcons, it benefits from the more thoughtful interior design and extra headroom liberated in the front.
While it's not cheap, there's plenty of value to be seen in the new G6E Turbo, especially considering the V8-beating performance and handling. Check it out, push to go peddle to the metal and I guarantee you will be screaming yehaaa!!!
What is good and not so good?
What is good?
· Genuine good-value
· Brilliant smooth engine
· Surprisingly quick
What's not so good?
· The annoying remote control for Sat Nav
· The shiny black centre console
· Loose rear end