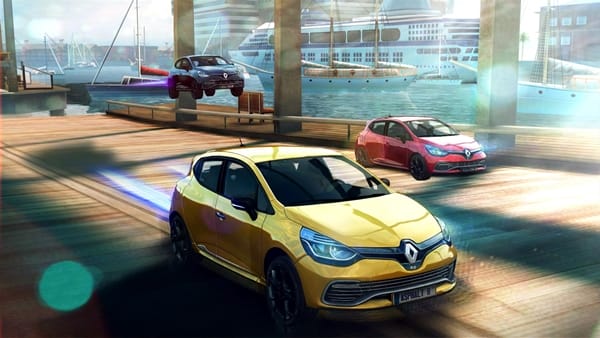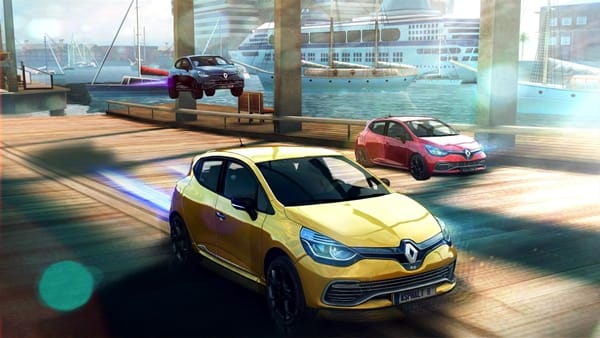 Video game aficionados now have an extra-special reason to look forward to 2014.
The first update to Asphalt 8: Airborne makes it the only game to feature the Clio Renaultsport 200 Turbo EDC, the latest performance model from Renaultsport, which goes on sale in Australia in December.
The electronic version will be available at the App Store and soon via Google Play.
Following the success of the Alpine A110-50 in Asphalt 7: Heat, Renaultsport and Gameloft – a leading global publisher of digital and social games – have worked closely to add the Clio Renaultsport 200 Turbo EDC to the 47 high-performance cars present in the latest game in the series.
Clio Renaultsport 200 Turbo EDC is the latest model to have been developed by Renault Sport Technologies. In addition to its outstanding performance credentials and versatility, it incorporates a number of hi-tech enjoyment-enhancing features, such as steering wheel-mounted paddle-shift gear changes, an R.S. Monitor 2.0 data acquisition system and the R.S. Drive button to adapt the car to the way the driver wants to drive (Normal – Sport – Race).
Renaultsport shares with Gameloft a spirit of community that brings together sports car and video game fans alike.
An arcade game at the cutting-edge of technology Asphalt 8: Airborne, the latest game in the successful Gameloft series, enables players to compete in arcade races like never before courtesy of a new, high-performance physics engine and new game modes.
Thanks to this update, fans of Clio Renaultsport 200 Turbo EDC will be able to pull off breath-taking airborne feats, travelling through the air in a way that would be impossible in real life.
"For me, the most enjoyable aspect to this project was convincing Renaultsport to include Clio Renaultsport 200 Turbo EDC in a game in which the car will spend the majority of its time flying and gliding through the air, whereas Renaultsport's engineers are far more renowned for their chassis and suspension design expertise!" notes Geoffrey Vion, Client & Digital Marketing Manager.
"We are delighted to be able to offer our fans and those of Renault a chance to drive Clio Renaultsport 200 Turbo EDC in Asphalt 8: Airborne. We are continuing to upgrade the series with an increasingly comprehensive catalogue of cars and new, breath-taking game modes," adds Gameloft's Alexandre Tan, VP Brand & Partnership.
New Hi-Fi quality engine noises have similarly been incorporated by the Gameloft developers to guarantee an even more realistic sound immersion.
Given that it would be rude not to share your passion for driving, the multi-player mode allows up to eight people to compete against one another in the same race, or in asynchronous challenges. The game also enables players to compare their best scores with those of friends and drivers worldwide.
A source of inspiration for the Renault Sport Technologies teams, Asphalt 8: Airborne will come alive in the form of a video entitled 'Challenge Us If You Can! #4'.
The fourth in a series of viral videos produced by Renaultsport, it puts Clio Renaultsport 200 Turbo EDC at the heart of the action and illustrates the company's partnership with Gameloft. An eclectic selection of drivers takes each other on in the Clio Renaultsport 200 Turbo EDC, with numerous references to the video game itself.
These drivers come from a number of very different backgrounds:
Charles Pic, F1 driver for Caterham F1 Team
Jean Ragnotti, legendary rally driver and Renault Sport ambassador
Nelson Panciatici, a product of the Formula Renault 3.5 feeder series
Margot Laffite, driver and journalist
Dmitri Mangiagalli, Gameloft designer responsible for the integration of Clio R.S. into Asphalt 8: Airborne
Marco Prince, actor and lead singer of the group FFF
The new Asphalt 8: Airborne update is downloadable for free on the App Store and soon on Google Play.