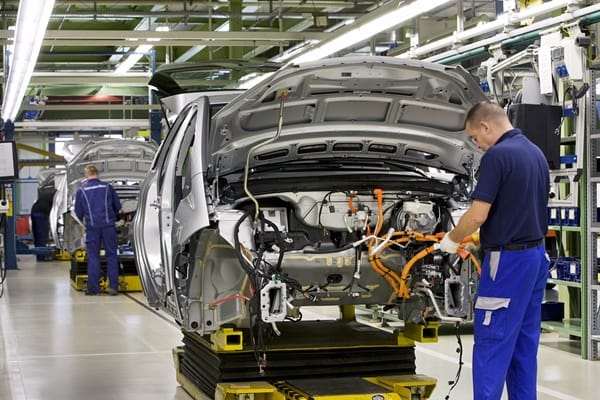 Australia could again be manufacturing cars in as little as ten years' time if we understand the changing nature of technology and the industry and governments develop some vision and consistency in encouraging automotive businesses and their continuing importance to the Australian economy.
These are the thoughts of Geoff Gwilym the Executive Director of the Victorian Automotive Chamber of Commerce.
The VACC has just released a major report Directions in Australia's Automotive Industry.  The report shows that the automotive industry is still a massive part of our economy.
"I think it's important for the public to know that whilst we bemoan the fact that automotive car manufacturing is leaving our shores that nearly four fifths of the industry is made up of people that repair them and sell them and keep the 18 million vehicles that we've got on the roads every day", Mr Gwilym said.
In 2016 the automotive industry contributed $37.1 billion to the Australian economy (2.2 percent of GDP).
VACC says that this is the first comprehensive analysis of the nation's automotive industry in three years.  It was launched by Senator Nick Xenophon and explores the full scope of the industry.
Mr Gwilym's belief in re-establishing vehicle construction is not a vain hope to go back to a time past.  Technical developments, especially the electric car, mean that vehicle manufacturing will become a significantly different process.
"My view is in 10 years we might be making cars again.
"I think we can revisit that and I think that's realistic. That's not pie-in-the-sky. I think if you approach manufacturing particularly in electric vehicles there's a whole set of different rules that apply there.
"And the reason I say that is if you're moving towards an electric vehicle fleet, those electric motors can arrive in a box that actually what you're looking at is building a framework, a chassis integrated chassis of course, a body shell for a vehicle that is a completely different arrangement than building a car with an internal combustion engine.
"If you go into an automotive manufacturing environment, the building of the engine is a significant part of that build of that vehicle. If you took the engine away and you started to focus on building the body shell the interior and the technology that goes inside that electronics you're talking about something completely different.
But his optimism for the whole industry is not only based on the construction of the vehicle.  Vehicles are a compilation of many parts from many different supply areas.  The design and manufacturing of components is a huge business and will continue to grow.
In 2016 Australia still exported nearly $3billion worth of goods associated with the automotive industry.
Manufacturing is becoming more versatile and adaptive to customer needs.  This again opens opportunities for new styles of business.
"So if businesses are able to request, and we're actually seeing that amongst other dealerships as well online, being able to tailor your vehicles the specifications to order and that makes that more useful and more productive for our business being able to order it in the exact specification that they want without things that they don't need on the course", Mr Gwilym said.
One of the other strong recommendations in the report is that the government develop and remain consistent to positive policies that encourage the industry which will otherwise struggle in an environment of uncertainty.