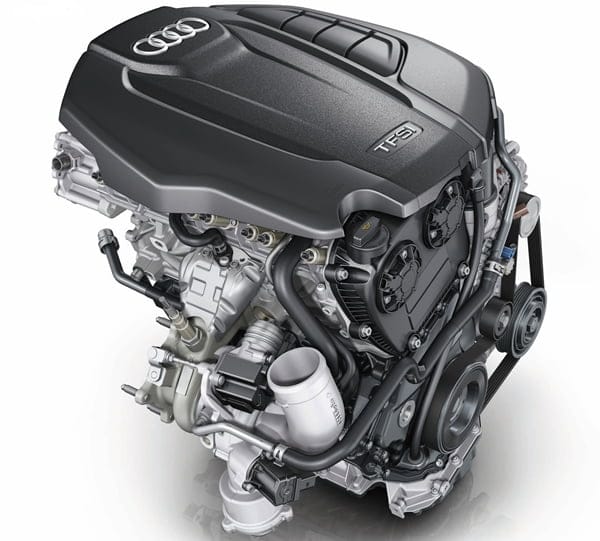 Audi is launching a new 1.8 TFSI engine showcasing the full extent of Audi's technological competence. With consumption reduced by a whopping 21 percent, the new 1.8 TFSI is more fuel efficient than many hybrids.
The high-end four-cylinder engine displaces 1,798 cm³ and delivers a brawny and constant 320 Nm to the crankshaft between 1,400 and 3,700 rpm. Peak output of 125 kW is achieved at 3,800 rpm. With a manual transmission, the 1.8 TFSI can accelerate an Audi A5 Sportback from zero to 100 km/h in 7.9 seconds on its way to a top speed of 230 km/h.
Despite all this power, the 1.8 TFSI is more fuel efficient than many hybrid vehicles, consuming just 5.7 litres of fuel per 100 km on average, which corresponds to outstanding emissions of just 134 grams of CO2/km. Consumption has been reduced by a massive 21 percent compared with the previous model engine.
The all-new 1.8 TFSI is scheduled to debut in Australia in the A5 Sportback in the first half of 2012.
Combustion behaviour was a particular focus of the development work. In addition to FSI direct injection, the 1.8 TFSI also uses indirect injection. This system injects the fuel at the end of the intake manifold near the tumble valves, where it is swirled intensively with the air. Indirect injection is used in the part-load range. It reduces fuel consumption and particulate emissions to such an extent that the four-cylinder engine already complies with the limits of the future Euro 6 standard, which does not come into effect until 2015.
The rail pressure of the FSI system has been increased from 150 to 200 bar. The direct injection system is active when starting off and at higher loads. It can perform two or three individual injection operations per work cycle. To further optimise gas exchange, the valve control system has been given greater operating freedom. The Audi valvelift system, which adjusts the lift of the valves in two stages, is active on the exhaust side. The two camshafts can be adjusted through 30 or 60 degrees of crankshaft angle.