If you and your friends are planning a road trip or you just decided to do something spontaneous, the excitement that comes with preparing for a new adventure can't be beaten.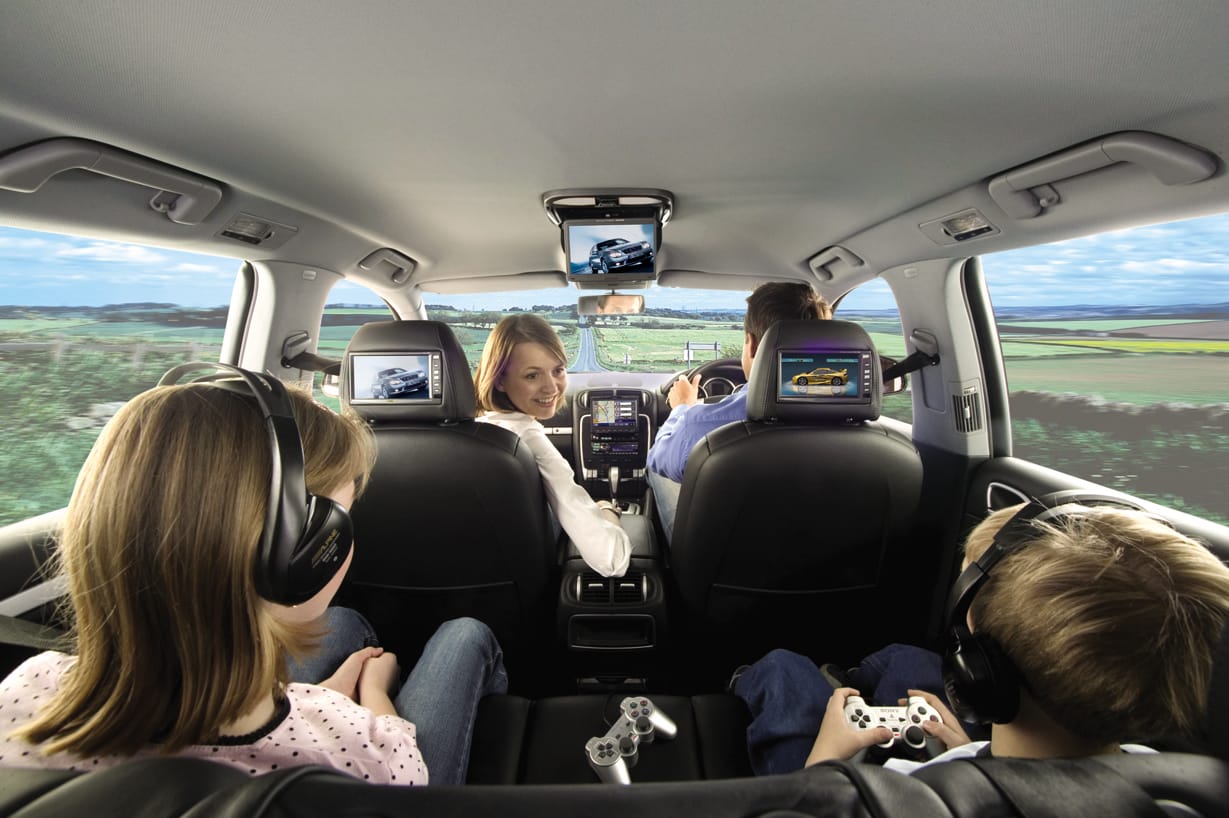 Once you have your itinerary and routes mapped out, however, you may be thinking about how to keep boredom at bay during the long hours between stops. Read on for some of the best ways to keep busy and have a blast as the miles pass by.
#1. Listen to a podcast or audio book
A really great podcast or audiobook can keep everyone in the car entertained for hours (including the driver) and really makes the miles fly by before you know it. Not only will everyone in the car be engaged, but you'll also probably learn something too!
There are thousands of great podcasts out there to choose from and if podcasts aren't your thing, you can find any book on Audible or borrow audiobooks from your local library's digital collection.
If you're not driving, you can also plug in your headphones and watch a movie on Netflix or another streaming service. Best not to distract the driver with exciting visuals if you're in the front seat. It will still be a few years yet driverless cars allow all passengers to fully relax!
When listening to a podcast or an audiobook as a group, it's fun to pause the audio every 30 minutes or so to ask each other questions and discuss what you just heard. This can make for stimulating conversations in which you learn more about your travel buddies and everyone
Hot Tip: It's a good idea to download all of your podcasts, audiobooks, or movies in advance of your trip in case you run into areas with spotty data service or no Wi-Fi. Save your roaming for emergencies and start your trip prepared with all of your digital files prepped ahead of time.
#2. Listen to music
Oh, the time-honoured road trip tradition: listening to some of your favourite tunes! Before you depart on your journey, create an awesome road trip playlist with a good mix of genres to make sure everyone finds something they like. You can also make themed playlists with specific genres or artists, in case the other passengers are wanting to listen to something in particular.
Another fun way to enjoy some music on a road trip is to play battle of the bands. If you haven't heard of this game before, it's really easy and engaging for everyone in the car. All you do is have one person come up with a scenario. Next, everyone thinks of a song that would best fit the scenario. The first person judges which song works best and the winner gets to go next!
#3. Play slots on your mobile phone
Smartphones have really revolutionized the traditional road trip for the better. Your mobile device is now a virtual ticket to all kinds of entertainment including movies, books, and especially, games.
There are thousands of cheap or free mobile gaming apps that you can download and play to pass the time as you make your way across the country. There are action games, puzzle games, card games, role-playing games, battle royale games, arcade games, and so many more.
But why just play when you could play and win some money too? There are a staggering number of incredible mobile slot games out there with the best quality graphics, music, and nonstop action.
Enjoying slots doesn't have to be risky or expensive, especially if you use no deposit bonus codes which can be found using AustralianCasinoClub. Just make sure to download the apps before you leave to save your data for playing!
#4. Play some good, old-fashioned car games
If you haven't taken a road trip before, you may not be familiar with the oldies like the License Plate Game, I-Spy (or Scavenger Hunt), and Alphabet Signs, but these analog activities are still good fun. Encouraging creativity, inspiring some laughs, and unplugging everyone from their devices, you'll be at your next stop before you know it with these old favourites.
#5. Document your road trip
Documenting your adventure might sound like a task rather than an activity, but hey, you've got nothing but time on your hands — take advantage of it! Start by stopping often to take pictures, especially signs, to remember the path you took and even the meals you had along the way.
You can also write down your favourite sites, sounds, and experiences in a journal, saving ticket stubs to stick in later. This can be done online as a blog series too! Creativity is key here and makes for a memorable souvenir of your trip.
Hit the road!
Road trips are a ton of fun and one of the best ways to travel and see interesting sites that may be off the beaten track. Going on a road trip with friends and family, you'll have unforgettable experiences and make memories that will last a lifetime. And with a few boredom-busting car activities, the journey will be all the sweeter.