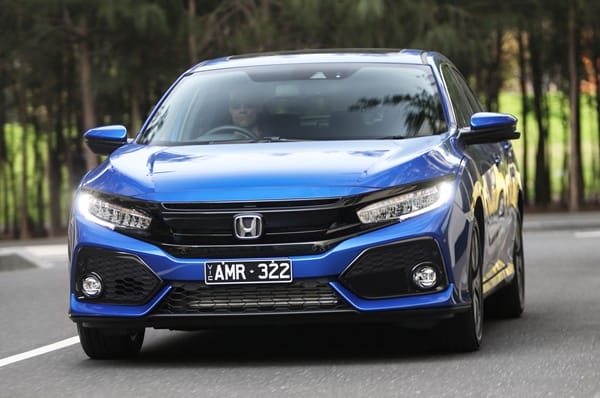 We drove the sedan version of Honda's newest popular model at its Australian launch, and we thought it was a ripper.
Previously, the Civic hatch and sedan were two different cars. The hatch was made and designed in the UK. The sedan was designed in Japan, and built in either Thailand of Japan.
Although they shared much, their differences were huge.
Now, not so much.
Outside:
At first, there were a few particular elements that I didn't like much at all.
The rear door has an odd kink, like the sedan, and the rear lights looked too big and googly.
But something mystical happened when I drove it, and suddenly it all made sense, and it all clicked into place.
Once it the concept gels, the design gains a cohesive look, and the lighting clusters have a daring cutting edge feel, rather than a tacked-on look.
The pin-sharp LED headlights curve around on to the masculine bulge of the front guards. Large intakes give the protruding nose an angry edge. It looks like it's been taking extra hours with a celeb personal trainer.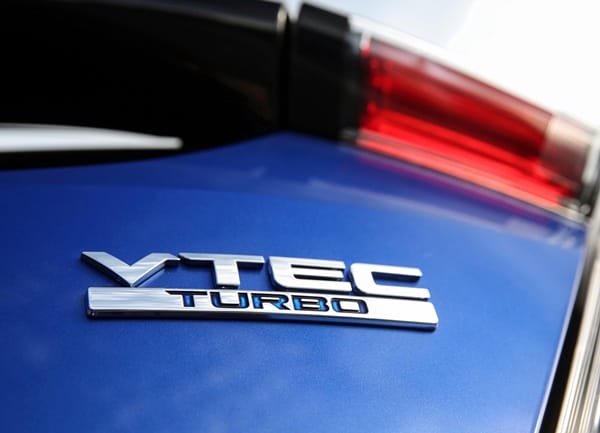 There is a touch of "gamer" about the look, but I like it very much.
They've made the lights look properly integrated into the central bar that runs right across the front end. Although they are separate elements that blend like the perfect outfit.
Extended nose cones feature in modern cars to protect careless pedestrians.
Mechanicals are kept away from the front end to help in an impact, should you sweep up a hapless jogger. While I might make light of it, it is a serious matter. The engine is kept clear of the bonnet too so deformation by a pedestrian won't contact the block.
The rear end has the huge claw-shaped LED lights.
I didn't understand the shape, until I held my hand in front of my face.
Go on, you do it too. Hold your hand side on, as if you're picking up a glass, then turn it down 90 degrees. That's the line taken by the cluster. This is further accentuated by streaks of light outlining the lens which protrudes the bodywork.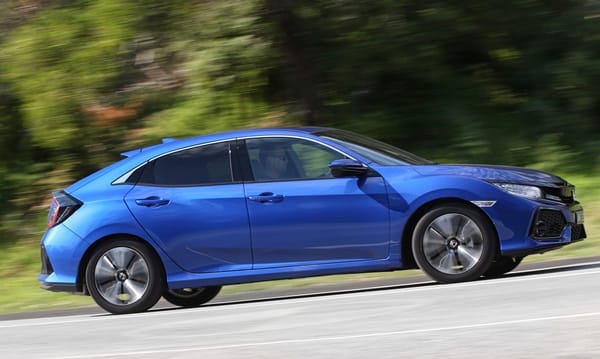 Be careful loading through the hatch. Don't let anything rest on top of the peaky lenses because the lights stick out so far. It's a design thing, but how far should it go?
The doors open wide to give easy access to the cabin.
The aperture facilitates simple ingress motion. You won't need fold get a chiropractor after every exit either.
There are small German hatches who shall remain nameless, with front doors so small, that you need to be an expert in origami to get in. It's hard enough on a good day, but almost impossible when your back is acting up ornery.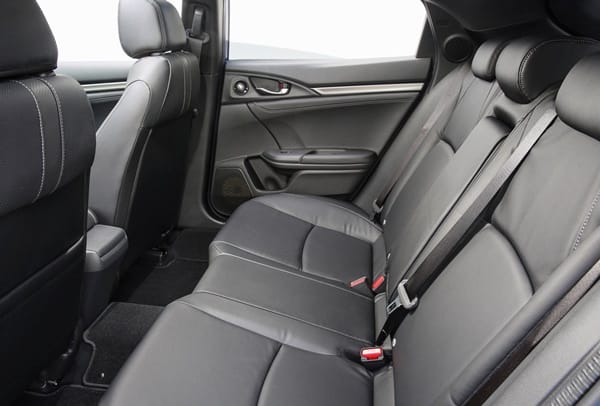 Locking and unlocking is done with the key secreted about your person. Pressing the rubber locks the car, and gently grabbing the handle will unlock. If you want to avoid a swearing fit, don't test the doors to see if you've locked them, because they'll unlock again.
The key can stay in secreted, because all models have a large friendly starter button instead of a key hole. More brands are using this handy bit of tech as buyers ask for more convenience, and that is very convenient.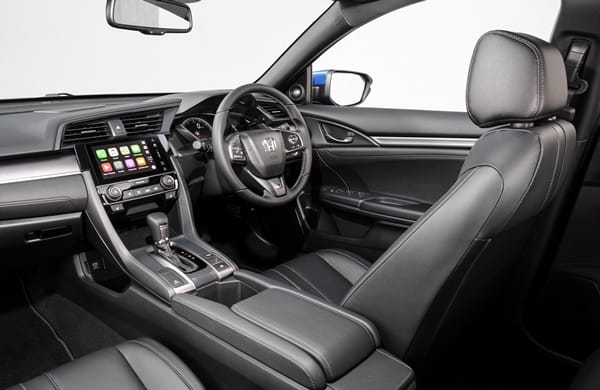 Inside:
The cabin is laid out giving careful thought to the way it is used..
Instruments are clear, with switches in places that fall easily to hand, and are easy to use..
Driver instruments have a central LCD flanked by conventional analogue readouts. There is a digital speedo with a scroll-through info menu on the same screen.
All menus are intuitive and easy to navigate, including those on the infotainment system.
Honda could have pushed this further by extending the LCD the full width of the driver's binnacle, as per the 12" VW group virtual dashboards. This one is in several sections divided by plastic bars. It doesn't need to be that way, and looks untidy.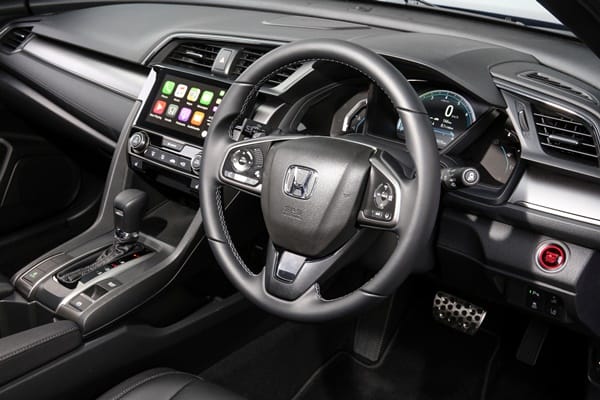 Seating is incredibly comfortable with good quality interior upholstery. Most the surfaces inside have the same attention to detail.
There is a mix of real and simulated leather. Real leather comes from a cow, and simulated come from a machine. Contact areas have the real stuff, with the vinyl on the sides and back.
Although the rear seats are roomy, four large occupants are going to feel cozy. It's not a criticism, just an observation.
Support from all seats is excellent. They're firm and supportive without being hard as nails.
We spent a lot of time in the sedan, and even after hours of continual driving, there was no discomfort. Many hours in the saddle won't have bits of your body screaming for mercy like some seats I've been in recently.
There is good lateral support keeping you in place during a spirited cornering, but the Type-R will have even larger side bolsters if the pictures are anything to go by.
The infotainment system features a large touch screen with fixed touch-buttons down the right-hand side. Excellent resolution and fast response make it easy to use.
Connection is via a single standard cable instead of the apple cable needing and HDMI partner as in the old Honda system.
Apple CarPlay means true hands-free handling of music, calls, and messages. Say "Hey Siri" without touching any buttons, and Apple will do the rest for you. My companion pointed out that Siri had less bitterness in its voice than I did when dictating the message.
Some people are impossible to please.
Some of the texts will have you laughing, so don't say "send" before you've properly assessed content. You just might be telling people things not fit for their ears.
I'd prefer a physical dial for volume, but most brands are moving to virtual software controls, so virtual controls it is then.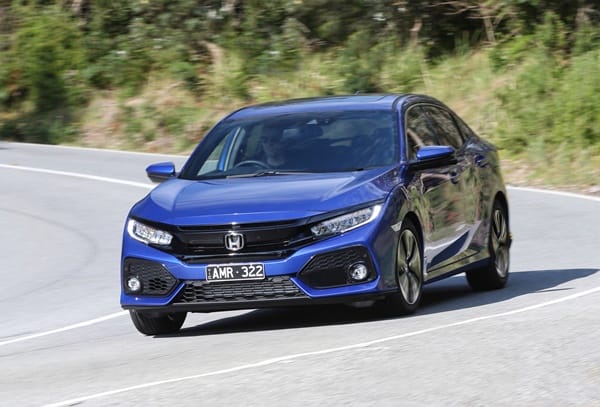 It is not all beer and skittles though, there are a few problems.
The centre console has a handy tray for mobiles to rest in while being charged. That's the good news.
There is a gap at the back of the tray where the cord can be passed through to the USB sockets in a space below. That's where things go wrong.
That space is incredibly hard to get to, and impossible while find on the move. There is no light, so feeling your way round means you have the open the door to do it from outside the cabin. Each socket has a little hinged cover just drive home the point.
What an awful oversight for a company that is almost OCD in their attention to detail.
There is another grumble too, but only a small one.
The gear selector is a bit naff. Considering the quality feel of the interior design, the selector feels cheap and nasty. The notches feel lightweight, and although the leather covered knob looks good, it feels bargain-basement.
Otherwise it is all good.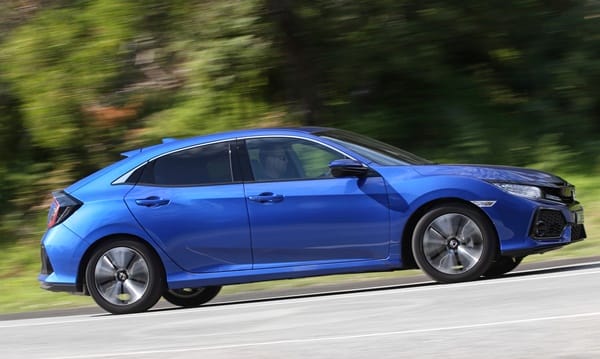 On the Road:
It is a peach, or, since it is the same as the sedan, perhaps a pair might be more accurate
There is something called "Honda Sensing", which is a suite of safety gizmos that make motoring a little less of an effort.
It includes some of life's little necessities likw: lane departure warning, forward collision warning, collision mitigation with AEB (autonomous emergency braking), Active cruise control with traffic assist function, and active lane keeping.
Honda doesn't have blind spot monitoring. Instead, it has a rear facing camera on the passenger's side. Once you're used to it, you can't live without it. If you're coming from a car with a little light on the driver's side too, you're going to miss it I'm afraid
The rear view side camera is a breeze to use. Indicating left brings up a view on the centre console's LCD. There is no blind spot, and can be handy when parking too. As well as being activated by indicator, it can be turned on at any time with a stalk-mounted button.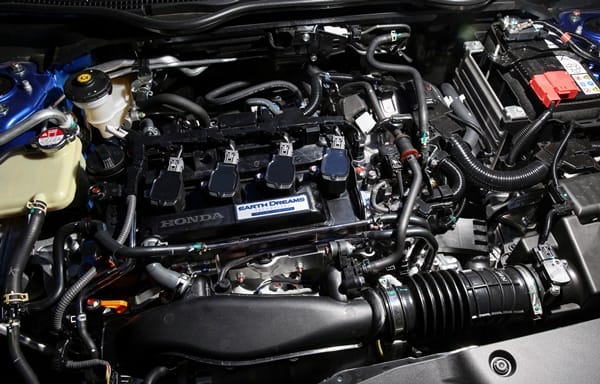 The sedans and hatches have identical engine/transmission combinations, which means they have the same performance.
Lower models have a 104kw 1.8 4 cylinder non-turbo. The VTI-L, RS and our VTI-LX have more poke, with a 127kw/220Nm, 1.5 turbo on board.
All have Drive-by-Wire throttles, with a 6.4 L/100k fuel figure for the top 3 models.
We had to content ourselves with timing the 0-100 on an IPhone since Honda hasn't provided an official figure. We got to around 8 seconds for the dash which is fairly good.
The 1.5 turbo emits 142g of CO2 each kilometre. Not bad, but could be better, as the Euro standards tighten.
The internal combustion engine is in its twilight years. It's nice to see car makers still putting so much effort into doing the current crop justice.
Honda's turbo units are so incredibly smooth. They tread the fine line between performance and economy. There is no vibration, even with the loafer firmly planted in the carpet.
As mentioned above, the Type-R will be along in due course and will fill the gap at the top of the performance board.
Acceleration is smooth. Shoving the foot to the boards brings the CVT into a mode that steps through predetermined ratios, more like a conventional automatic. Otherwise, the unit moves through the power band steadily as speed increases, without making the engine over rev like CVTs of old.
The top models get steering wheel paddles. This gives the driver manual control over the fixed ratios, and simulates manual operation of an automatic gearbox.
CVTs react quickly to input, and for my money, I don't see the point in these paddles. However, I'll bet you a million bucks I'd criticise Honda had they left them out. We are a fickle bunch, aren't we?
Steering is light yet responsive.
Body control is excellent, especially for a model geared more towards comfort than handling. The VTI-LX is built so the ride is excellent, but they haven't had to sacrifice handling altogether.
Honda haven't given in to the bean counters when it comes to suspension either. Whilst a Macpherson front end isn't all that unusual, they opted for a sophisticated Multi-Link rear set up.
Many car makers, and you know who you are, have cheaped out, using a bit of twisting steel rod instead. Torsion bars are cheaper apparently. It's a bit rich to ask people to pay for cost cutting in my opinion.
Multi-link suspension not only makes the ride supple, but gives the handling a smoother, more predictable nature.
The rear doesn't want to step out on rutted corners, but it will if you venture too near the raggedy edge.
Conclusion:
While Civic is not remarkable, it signals a return to form for Honda.
It is your favourite jumper, you favorite whisky, your favourite cake.  It is a sensible shoe.
It is the one you always reach for before you open the front door, even if you don't realise you're doing it. It is familiar, and reliable.
It is one that gives a buyer confidence in quality and safety. Compared to a Mazda 3, Ford Focus, Holden Astra, and VW Golf, Civic comes up favourably.
There is a distinct Japanese flavour to the design, inside and out. Those German cabins can be a bit Teutonic where innate warmth gets lost in translation. The Civic on the other hand, feels warm and friendly.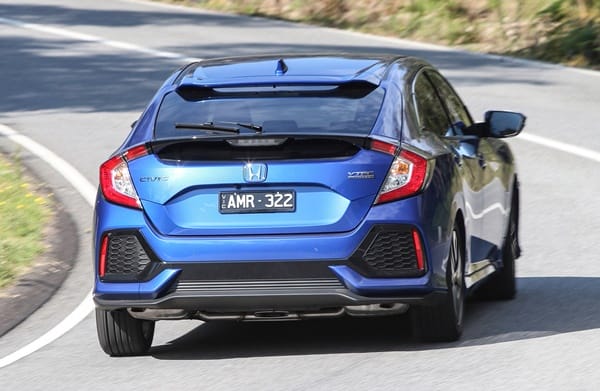 For years, Honda languished behind in the hi-tech world of driver aids and cabin tech, but not anymore. They rode out the GFC, Tsunami, and Thai floods which drained their development coffers like a plug at bath time.
They've come back with a vengeance, with pricing from $24,990 RDAP with the VTI-LX $37,339
Bring on the Type-R please.