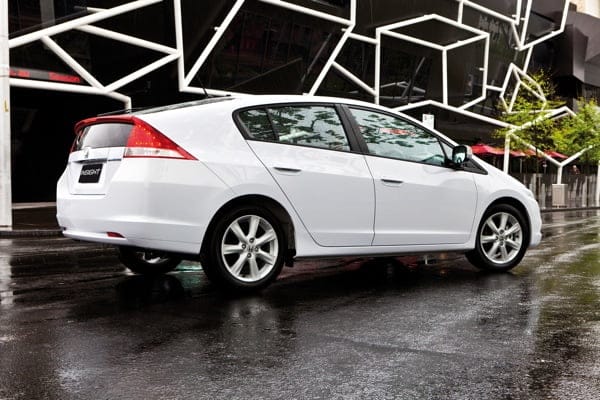 Doing our bit for the environment plays such a big role in our day to day lives currently and the need to decrease our carbon footprint stems mainly from our emissions from our cars, hence the release of a variety of hybrid cars. Honda's contribution to this new range of eco-friendly cars is the Insight, and I was given the top of the line VTi-L to drive for the week.
First impressions of the car is that it is not as ugly as most manufactures seem to feel the need to make their hybrid cars. The Insight does have the appearance of a very long car, but its lines and chic and sleek, giving it an overall streamlined look. Even the front light, which are automatic and have fog lights, are all fitted in a sleek design. Coming in a standard six colours, the Insight looks like a relatively normal car from the front, however it is the boxy rear end that is slightly more unappealing.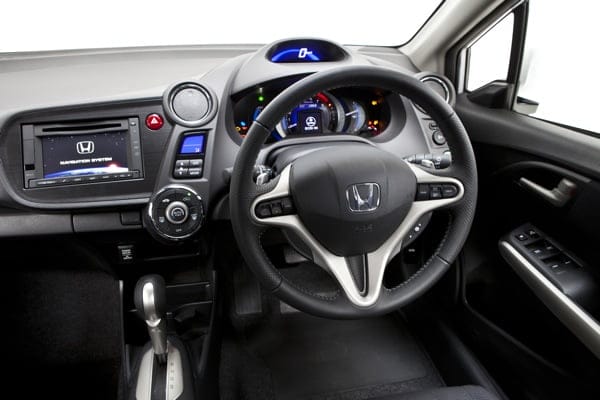 Inside, the Insight provides a feeling of spaciousness and the dash is incredibly appealing. The windscreen is very large and offers optimum sight, also adding to he feeling of space. Equipped with a satellite navigation and audio display system in the middle, the climate controls are quirkily set off center towards the driver, which while unique, is a bit tricky and fiddly to adjust from the passenger seat. The most unique thing is the dash. A digital speedometer illuminates green for when you are diving fuel efficiently and blue when the car is being assisted. The multi-information display shows the driver a variety of information including current fuel consumption, average fuel consumption, distance till empty, outside temperature, odometer, trip meter and a seat belt warning sign. Storage is fantastic with a roomy glovebox, center console, 8 cup and bottle holders, usable door pockets and back seat pockets. The large looking rear from the exterior is due to a big 408L boot capacity. The cloth seating is comfortable for all, and the Insight can fit 5 people, although seat adjustmentscould be improved to find a more comfortable driving position.
Audio wise, the Insight VTi-L has FM/AM radio, CD player, MP3 compatibility, Bluetooth and 4 speakers and 2 tweeters. The leather bound steering wheel is equipped with controls for ease. While the VTi-L does have a USB port for your iPod it does not have an AUX cable unlike the VTi which is really quiet strange.
The Insight has a 5 star ANCAP Safety Rating made possible by ABS, EBD, side, front and curtain airbags, ACE, progressive crumple zones, seatbelt pretensioners, seatbelt ELR and ALR along with VSA and TCS. The Insight also has an engine immobiliser and security alarm system. It also boasts Honda's G-Con technology which aims to reduce the g-force of a collision and reduce injuries to occupants.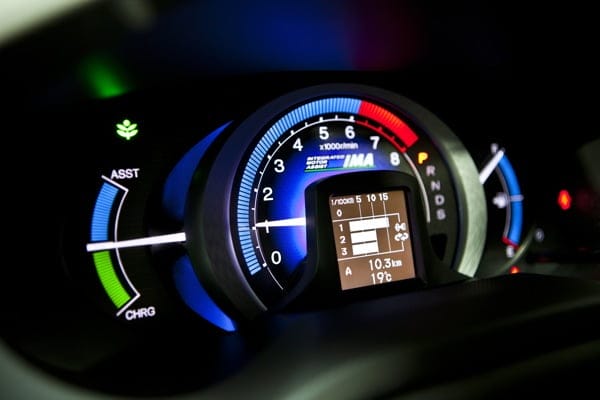 The Insight only comes in automatic CVT with Grade Logic Control and is powered by a 1.3L engine. It puts out 72Kw of power @ 5800rpm and 167Nm of torque @ 1000-1700rpm. The electric motor contributes up to 10 kilowatts at 1,500 rpm and 78 Newton metres at 1000 rpm to the Insight's powertrain, assisting in acceleration and cruising at low-to-mid vehicle speeds (depending on conditions). The motor also acts as a generator during braking, steady cruising, gentle deceleration and coasting to
capture kinetic energy and recharge the battery. While Honda suggests it has a combined fuel consumption of 4.6L/100km I could only get it down to 5.8L/100km which is impressive nonetheless.
To improve and encourage fuel economy, the Insight is equipped with an Ecological Drive Assist Program. The Insight has the option to turn on and off the economy mode by pressing the ECON button which activates and deactivates economy mode. With the Eco Assist system, Honda has introduced a fun way to track how your fuel economy is going with a little picture of a tree. As the tree grows, your fuel economy is increasing. It is a fun and quirky way to promote fuel economy.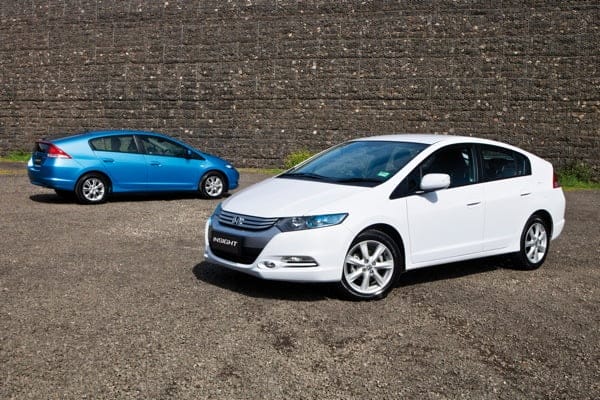 Overall the Honda Insight is a great little car. Starting at a MLP of $33,490, the Insight is a relatively affordable hybrid car but is a little out of the price range of most young people. While the car is incredibly quirky and very good for the environment, it isn't exactly appealing to the overall Generation Y market and I think that all manufactures have a long way to go in this department. This car is fantastic if this the the type of car you are after and if your in the market for a hybrid, I probably wouldn't look too far past the Honda Insight.
P-Plate Positives:
1. It is incredibly fuel efficient saving you lots of $$
2. The Insight is quirky and unique and full of new technology
3. Safety is at a maximum
4. It is very spacious inside
P-Plate Negatives:
1. While it does have a USB port it doesn't have the more easily used AUX
2. Its looks, while better than most of its competitors, still look a lot like a future contraption rather than a car to drive around in
3. Bit pricy for most young drivers
Rating: 3.5/4 out of 5