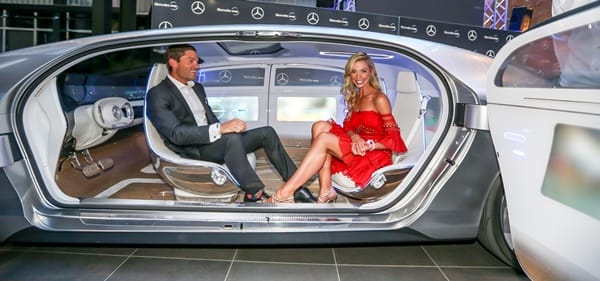 Mercedes-Benz has placed its own unique stamp on Melbourne's vibrant café scene with the opening of the world's ninth Mercedes me store, in the heart of the Melbourne CBD.
As well as an interactive brand experience, Mercedes me Melbourne offers contemporary architecture, plus top-class coffee and gastronomy, courtesy of the acclaimed hospitality partner ST ALi, as well as the ability to host events in an architecturally designed, multi-level central location.
The establishment of Mercedes me at the bustling and iconic corner of Melbourne's Collins and King streets has been preceded by similar stores in Hamburg, Tokyo (city & Haneda/airport), Osaka, Hong Kong, Munich, Moscow and Beijing. Each has been sympathetically designed to reflect and complement their own urban environment.
"It is a great reflection on the importance of our local market to open a     Mercedes me store in Australia," says Mercedes-Benz Australia-Pacific CEO and Managing Director Horst von Sanden. "To open such a facility amid Melbourne's world-renowned food and drink scene is a great honour and we are sure that we can do Melbourne and Mercedes-Benz proud."
In other established Mercedes me stores around the world, the combination of engaging digital design elements with modern food and events has increasingly attracted more young people to a first experience of the Mercedes-Benz brand in a relaxed setting.
The store's central location – looking directly onto one of Melbourne's premier boulevards and at the foot of the landmark Rialto Towers – was carefully chosen to make it easy for Melburnians to grab a barista-made coffee, sit down to a quality breakfast or lunch from ST ALi, or attend an after-hours event.
"We want to be a place that people love, and look forward to coming back to," says Mercedes me Melbourne's general manager, Simon Johnson. "Whether that is just coming in and enjoying the atmosphere, or the great hospitality, or finding out more about the Mercedes-Benz brand.
The Mercedes me stores around the world are about celebrating each city's particular culture. Of course, in Melbourne we knew that had to be the city's famed café culture, and the streetscape itself.
As well as being a place for fans and customers to enjoy, Mercedes me Melbourne opens up the Mercedes-Benz brand to people who may not have previously considered it. It's not a merchandise store nor a retail outlet, but an access point to the brand, in what is an entirely new approach in Australia."
The space was designed by architects Jackson Clements Burrows (JCB) with Mercedes-Benz, in collaboration with ST ALi.
JCB's Simon Topliss says the aim was to develop a design language that would be reflective of the home for Mercedes-Benz. "We found these wonderful images of some of the Mercedes-Benz factories of the '50s, and these beautiful factory spaces with amazing, fine steelwork. It was spare and minimal … and incredibly ordered.
"It became our inspiration, the driving force behind how we can develop the language of the metalwork, and that became simply articulated in this one gesture that we have repeated, which is the frame. Just taking this one simple idea of the frame, which then becomes the balustrade, which then becomes the lighting frame, and so on. It became this one element we could wrap around the space."
Clearly distinct from a brand or concept store, Mercedes me Melbourne is sectioned into a number of discrete areas that each provide a unique experience. Corporate signage is minimal, yet there are still surprise-and-delight opportunities for fans of the brand – from a menu that draws inspiration from the carmaker's storied heritage to sections such as The Garage, where some of the most famed models come to life in spectacular audio-visual format.
Elsewhere, customers can dine in 'The Living Room' downstairs or grab one of the "Air, Land, and Sea" booths that pay homage to the three points of the    Mercedes-Benz star. Venturing up to the floating loft area framed by a metalwork superstructure, a ST ALi coffee bar pumps out quality coffee all day. Customers can perch in The Library area and enjoy the relative quiet to work or think, or book a private meeting in The Drawing Room, or even take in bespoke live craftsmanship with Meet the Maker.
"The Meet the Maker space is designed so someone like a milliner or a bootmaker can show their wares and creative process, and it gives customers an opportunity to get an insight into the craftsmanship and artistry in Melbourne," Johnson says.
The double-sided kitchen, which has a bar servery in front and a chef's table on the side, is on display as a showcase of St ALi's renowned coffee and food offerings. "A whole hospitality operation is going on live," says Topliss. "We didn't want to hide the kitchen away; we wanted it to be part of the experience."
Sharing centre stage is a continually changing display of some of the finest Mercedes-Benz vehicles, chosen either from its latest range or the company's rich history of conceptual or rare classic vehicles.
ST. ALi's Salvatore Malatesta said: "We love being part of early adopter projects … and working with the team at Mercedes-Benz on this project takes things to another level."
ST. ALi and Mercedes-Benz, have together created an innovative, one-of-a-kind coffee roaster using patented technology and parts from Mercedes-Benz vehicles. It's this special roaster that will create three new and unique coffee blends for Mercedes me, each inspired by a different vehicle. The AMG Blend is specifically brewed for espresso drinkers, roasted with maximum performance in mind. The S Blend, the flagship roast, has a smooth, sophisticated taste profile, while the A Blend is light and bright, but still packs a punch.
By night, Mercedes me Melbourne will transform into a brand new event space, showcasing art, food, fashion, sport, design, innovation and collaboration, and also harness existing Mercedes-Benz partnerships such as the National Gallery of Victoria, the Australian Grand Prix and Virgin Australian Melbourne Fashion Festival.
Mercedes me Melbourne is now open from 7am to 5pm Monday to Thursday, and until 6.30pm on Friday.