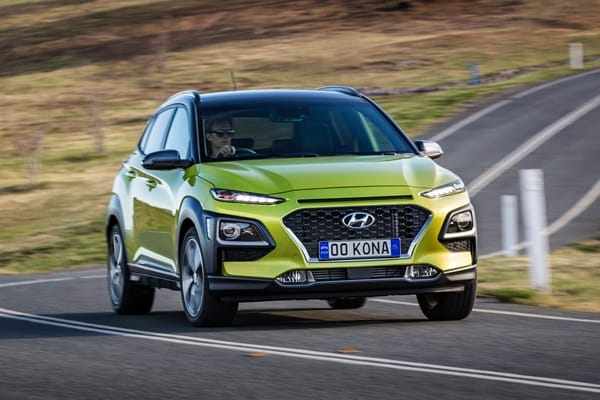 Hyundai has launched the all new Hyundai Kona this week. Based on the same platform as the recently launched i30, the Kona is aimed at the urban lifestyle population.
This is for those buyers that want a combination of style, safety and comfort in a small package. Some of these buyers will look to be adventurous on the weekends and will opt for the AWD version. Some will be happy with the look and opt for the 2WD version, not needing the benefits of AWD.
The Hyundai Kona comes in
One body style
But in reality two different cars
2WD Version comes with

2.0 L 4 Cylindar petrol engine
Producing 110kW @ 6,200rpm of power & 180Nm @ 4,500rpm of torque
mated to a 6 speed Automatic Transmission

AWD Version comes with

1.6 l Turbo 4 cylinder engine
Producing 130Kw @ 5,500 rpm of power and 265 Nm from 1,500 – 4,500 rpm of torque
mated to a 7 speed DCT

Four models in the line up

Active
Active plus Safety pack
Elite
Highlander
How will the Kona fare in what is already an established and crowded market. You can either jump in to get the first mover market advantage or wait for others to establish the market and hopefully develop something better than the competitors. Hyundai has done neither. However that doesn't mean that the Kona isn't a good thing. It's just not a category killer.
Well it certainly has the looks to attract the target market, The Kona looks chunky, not in a Jeep Renegade style but with more character than the Mitsubishi ASX, but less 'style' than the Toyota C-HR.
Alan Zurvas and Rob Fraser take the Kona for a drive and just have a chat about it here.
If you want a more indepth review of the interior design Alan chats to the designer Kevin Kang HERE 
David Brown from Driven Media has had a look at the exterior details HERE 
We have also reviewed the Kona in more detail HERE